Master of Finance
Kickstart Your Finance Career
Maryland Smith's Master of Finance (MFin) program gives you the advanced knowledge you'll need to launch an exciting career in finance. Our students are data-informed, analytical thinkers who are interested in applying the latest finance technologies to careers in corporate investment, risk management and asset allocation.
Why Get a Smith Master of Finance Degree?
Maryland Smith's MFin program provides you with a sophisticated, high-level understanding of finance. We'll help you acquire in-demand technical skills, critically think through financial obstacles and explore ways to communicate complex financial ideas to others.
Alumni Profiles
Our MFin students pursue competitive and exciting finance opportunities in their fields after graduating. Their experiences at Maryland Smith helped them to expand their network, solidify their career goals and prepared them to perform their job responsibilities a step above the rest.
"The finance career coach, Pauline Ma, is like my mentor — or even family. Pauline helped me explore who I am as a person, which allowed me to find opportunities that triggered my interests."
Fang Yu (Louis) Liu
Master of Finance '21

"Professor Kozak went above and beyond to make sure I had a deep understanding of the material."
Michelle Weinfeld
Master of Finance '20
Forensic Investigation and Litigation Support Associate, BDO
"Doing hands-on projects allowed me to better understand model development, quantitative analytics and technical programming. I was more than prepared to explore the finance world after graduating."
Xinyue (Sherry) Zhang
Master of Finance '16
Risk Analyst, World Bank Group
Master of Finance at a Glance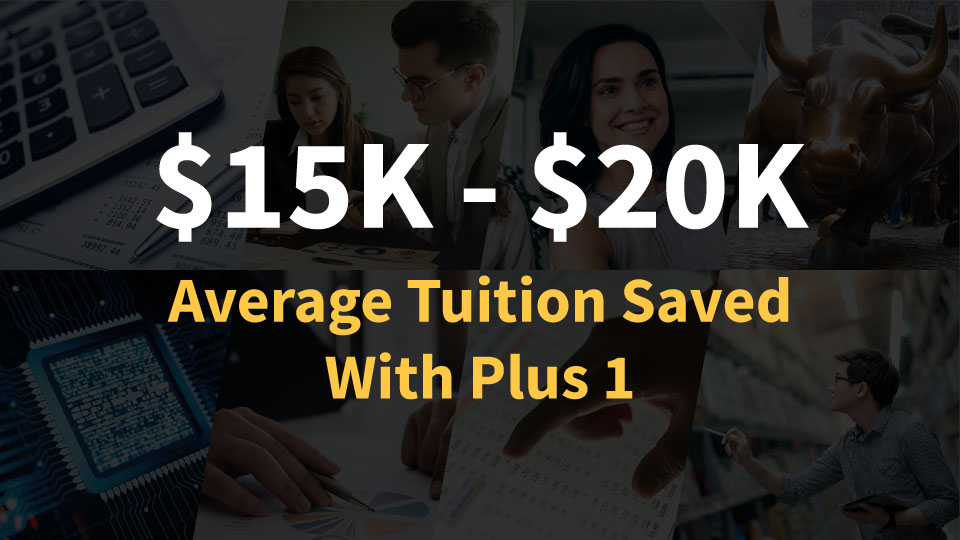 Available as a Plus 1 Program
If you're a current University of Maryland freshman, sophomore or junior, you can pursue your Master of Finance degree through the Plus 1 program. You'll save time and thousands of dollars on graduate tuition though this accelerated business master's program.
Apply and Receive Admissions Benefits
Maryland Advantage can make it easier for applicants who have completed their undergraduate and/or graduate degree in the United States to transition into the business master's program by helping them save money on tuition, skip graduate entrance exams and get personalized career counseling before starting their program.
Acquire Valuable Skills
As a Master of Finance (MFin) student, you'll lean into a wide range of concepts ideal for a career in corporate finance, risk management or asset management. You'll also put your quantitative skills to full use as you explore concepts and tools, such as:
Big data and machine learning in finance
Corporate and credit risk management
Credit risk modeling
Financial data analytics
Financial strategy
Institutional asset management
Mergers and acquisitions
Portfolio management
Python
Quantitative investment
SAS
Valuation and business modeling
Venture capital and private equity
Specialized Career Tracks
Choose a specialized track to acquire the targeted skills you'll need in your finance career.
Learn from Expert Faculty
Your professors are savvy, well-connected finance leaders whose research has changed the world of finance. They will push you to take your skills to the next level and offer valuable guidance as you navigate your coursework and career.
His seminal 1985 paper, nicknamed Kyle '85 by Nobel laureates and others, changed the thinking on the way markets operate.

Co-creator of an entire field of finance research – market microstructure (The Kyle Model).

Expert in market microstructure, corporate finance, asset pricing and management, and private equity.
Founding executive director of the Federal Statistical Research Data Center at Maryland Smith.

Expert in mergers and acquisitions, investments, and corporate governance.
Former financial consultant for Goldman Sachs, U.S. Department of Treasury and the Securities and Exchange Commission.

Bank of America Professor of Finance and Allen J. Krowe Teaching Award recipient.

Expert in mutual funds, securities markets, microfinance, quantitative equity strategy and stock price setting for institutional investors.
Academic Director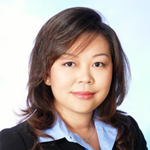 Liu Yang
Academic Director, Master of Finance & Master of Quantitative Finance Programs
lyang@rhsmith.umd.edu
Faculty
Where Your Degree Can Take You
$72K
Average starting salary for our MFin graduates within six months of graduating*
41%
Average salary increase of our MFin alumni three years after graduating
68%
Percentage of our MFin grads who have secured employment within six months of graduating*
Sources: Financial Times, 2018; Maryland Smith's Office of Career Services; U.S. Bureau of Labor Statistics
*Data for 2021 graduates who reported their salaries to Maryland Smith's Office of Career Services. Please note these figures do not meet the 75 percent MBACSEA reporting threshold.
Picture Yourself in These Job Roles
"There are professors at Smith who are renowned across the world for their theories in finance. It was a unique opportunity to learn material from people who were creating those theories."
Yulia Ogorodova
Master of Finance '15
VP of Asset Management; Independence Realty Trust, Inc.
Businesses who have hired our Master of Finance Grads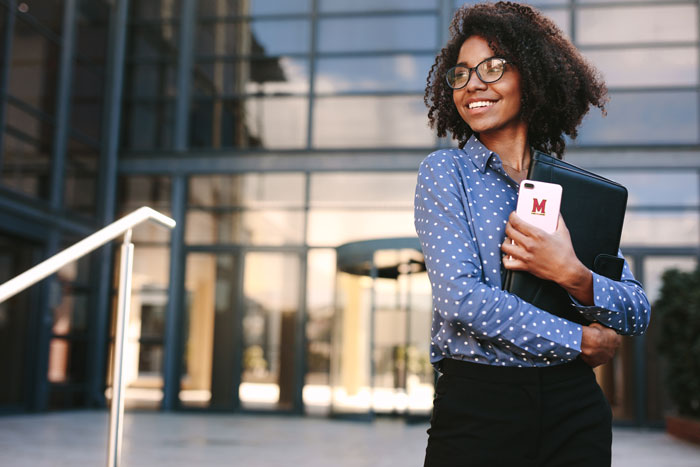 Boost Your Professional Skills 
Maryland Smith's Office of Career Services (OCS) can help you bridge the gap between being a student and an employed professional. You'll have one-on-one access to a career coach who will provide you with personalized tips on how to articulate your strengths when interacting with your future employer.
Connect With Your Classmates
You'll have plenty of opportunities to make connections at Smith and engage in exciting social activities through the Smith Masters Student Association. You can join an accounting-related club or others that provide you with general connections and skills.
Contact Us
Business Master's Office
2303 Van Munching Hall
College Park, Maryland 20742-1815
Phone: 301-405-2559
E-mail: SmithMasters@umd.edu
Hours: 8:30 a.m. to 4:30 p.m. Monday-Friday
At the Center of Business
The Washington, D.C. - Baltimore region is a hub of opportunity for networking, experiential learning, internships and jobs.
Home to federal agencies, corporate headquarters, world-class think tanks, and national and international nonprofits, it's an engine of innovation and explosive growth in digital technology and biosciences.
With 30,000 of our 60,000+ alumni living in the metroplex that includes Baltimore, Northern Virginia and Washington, D.C., our location gives you easy access to the region's largest alumni network of business leaders.