UMD Howard Center Begins Publishing 'Printing Hate' Project on Historic Role of Newspapers in Fueling Racial Hate, Violence
The University of Maryland's Howard Center for Investigative Journalism on Monday began publishing its latest collaborative project, "Printing Hate," a thorough exploration of the racist pasts of newspapers.
From the end of Reconstruction to 1940, newspapers were the most powerful news medium in America. Those run by white supremacist publishers and editors printed headlines and stories that fueled racial hate, inciting massacres and lynchings of Black citizens. Read more.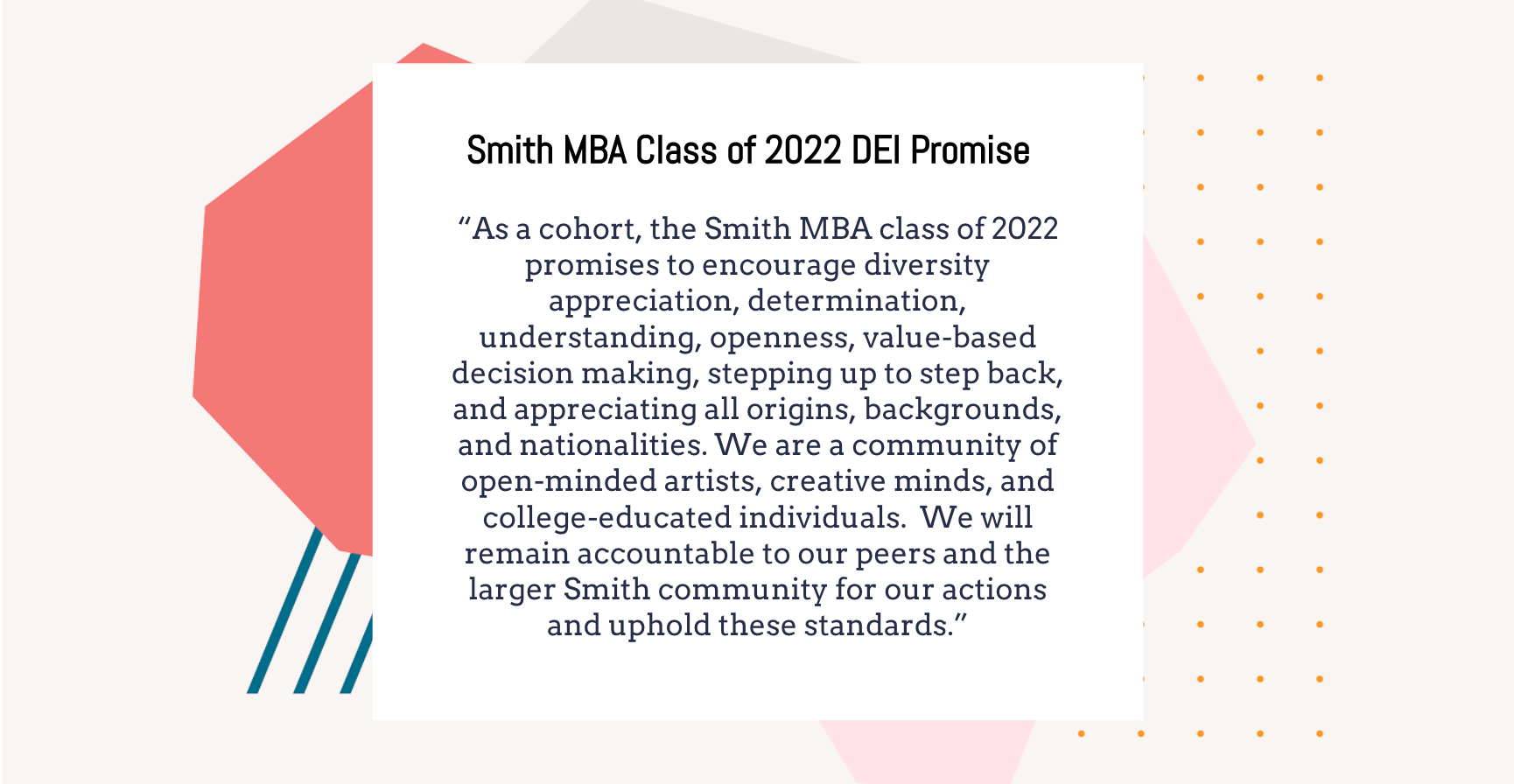 Smith MBA Class of 2022 DEI Promise
"As a cohort, the Smith MBA class of 2022 promises to encourage diversity, appreciation, determination, understanding, openness, valued-based decision making, stepping up to step back, and appreciating all origins, backgrounds, and nationalities. We are a community of open-minded artists with creative minds, and college-educated individuals. We will remain accountable to our peers and to the larger Smith community for our actions and uphold these standards."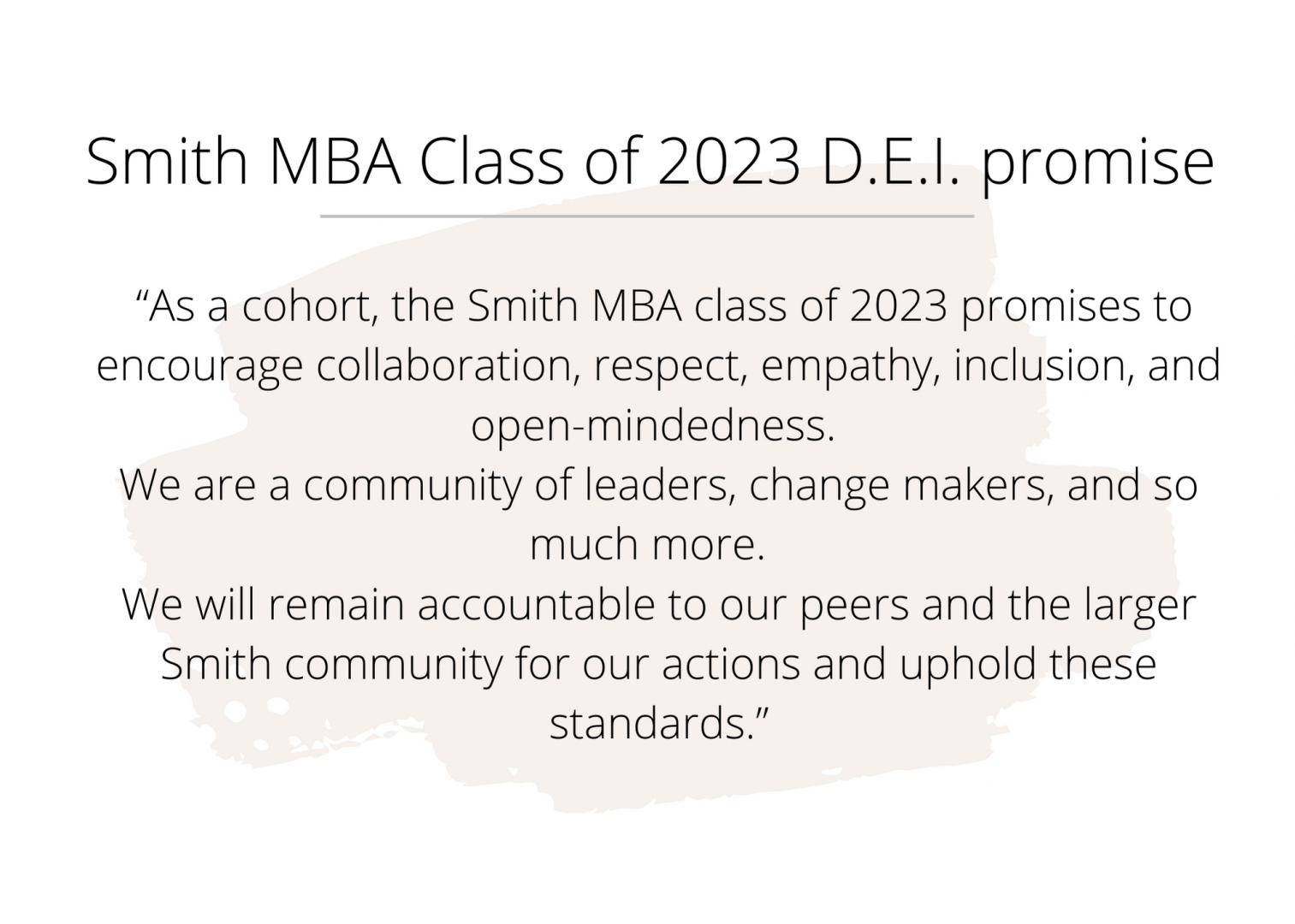 Smith MBA Class of 2023 DEI Promise
"As a cohort, the Smith MBA Class of 2023 promises to encourage collaboration, respect, empathy, inclusion, and open-mindedness. We are a community of leaders, change-makers, and so much more. We will remain accountable to our peers and larger Smith community for our actions and uphold these standards."
Clubs & Associations
Student clubs and organizations keep you involved with campus life — a vital part of the Smith experience. Participating in the many opportunities for learning and achieving that exist everywhere at Smith will change your perspective, your focus — even your life.
'A Family:' How Smith Builds Community and Keeps Graduation Rates High
At Maryland Smith, and at organizations across the business world, our diversity is a strength. At Smith, that strength shows through in numbers.
"It shows because of the things that we do to nurture students and support students," says Victor Mullins, associate dean of Undergraduate Studies at the University of Maryland's Robert H. Smith School of Business.
Land Acknowledgement
Every community owes its existence and strength to the generations before them, around the world, who contributed their hopes, dreams, and energy into making the history that led to this moment. Some were brought here against their will, some were drawn to migrate from their homes in hope of a better life, and some have lived on this land for more generations than can be counted. Truth and acknowledgment are critical in building mutual respect and connections across all barriers of heritage and difference.
As the Smith School Diversity and Inclusion Committee, we believe it is important to create dialogue to honor those that have been historically and systemically disenfranchised. So, we acknowledge the truth that is often buried: We are on the ancestral lands of the Piscataway People, who were among the first in the Western Hemisphere. We are on indigenous land that was stolen from the Piscataway People by European colonists. We pay respects to Piscataway elders and ancestors. Please take a moment to consider the many legacies of violence, displacement, migration, and settlement that bring us together here today.