Full-Time MBA
Earn Your MBA Where Business and Power Meet
In the internationally recognized, top-ranked full-time MBA program at Maryland Smith, future leaders develop strong analytical skills and an understanding of the way business functions like marketing, finance and operations interact.
Testing, Booster and Masking Updates
The University of Maryland announced January 7 that all faculty, staff and students will be required to remain up to date with the vaccine mandate by obtaining an mRNA (Pfizer or Moderna) vaccine booster by Jan. 24 or within 14 days of becoming eligible. They must be tested by a rapid antigen test (including home tests) no more than 48 hours before coming to campus on Jan. 24. The indoor mask-wearing mandate from Prince George's County remains in effect.
Smith MBAs learn to leverage big data to make better decisions and explore their career options in a tight-knit community that encourages collaboration and intelligent risk-taking. With a Smith MBA, you'll be ready to lead fearlessly in any industry.
An MBA Changes Your Trajectory
An MBA is an investment in yourself—a purposeful step toward a carefully articulated vision of your future. A Maryland Smith MBA is transformative—dream-fulfilling, even—when you combine it with hard work and a passion for what you do.
Change has come fast for Knabe since he stepped away from his career as an alternative rock drummer in 2000 and enrolled in business school. During his post-MBA journey at PepsiCo, Campbell Soup and now McCormick and Co., Knabe has guided major consumer brands through multiple marketplace disruptions.
In the past year, Harvey has visited Kenya, Tanzania, South Africa, Colombia, Argentina, the Netherlands, Bali, the Philippines, Thailand and Japan. The adventures were hard-earned for Harvey, who—after years of climbing the corporate ladder—decided to branch out as a consultant while simultaneously jet-setting across continents.
As a child, Goddard watched his parents do good around the globe, setting up water and sanitation projects in neglected areas. Knowing he wanted to change careers while impacting the world, he turned to the Smith Full-Time MBA program.
When it comes to the intersection of business and technology, Bradford stresses the importance of both worlds being in constant collaboration.
Maryland Smith by the Numbers
#15
Most Innovative University
(U.S. News & World Report, 2019)
67,000+
Maryland Smith Alumni
5,200
Maryland Smith Students
34,000+ Local Smith Alumni
Smith's local alumni networks extends throughout the region, its industries and the top offices of the federal government. Tap your fellow Smith Terps for an introduction, informational interview or a simple cup of coffee.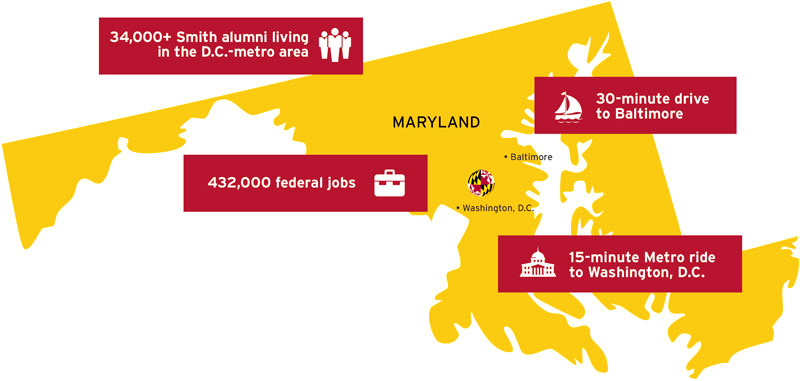 Our Faculty is Top-Ranked and it Shows
Maryland Smith's faculty are passionate about creating new knowledge and sharing it with students. They regularly serve as consultants for large financial institutions, multinational corporations and government agencies. And in the classroom, they'll share those same techniques they use to help corporate clients implement their own data-driven decision making.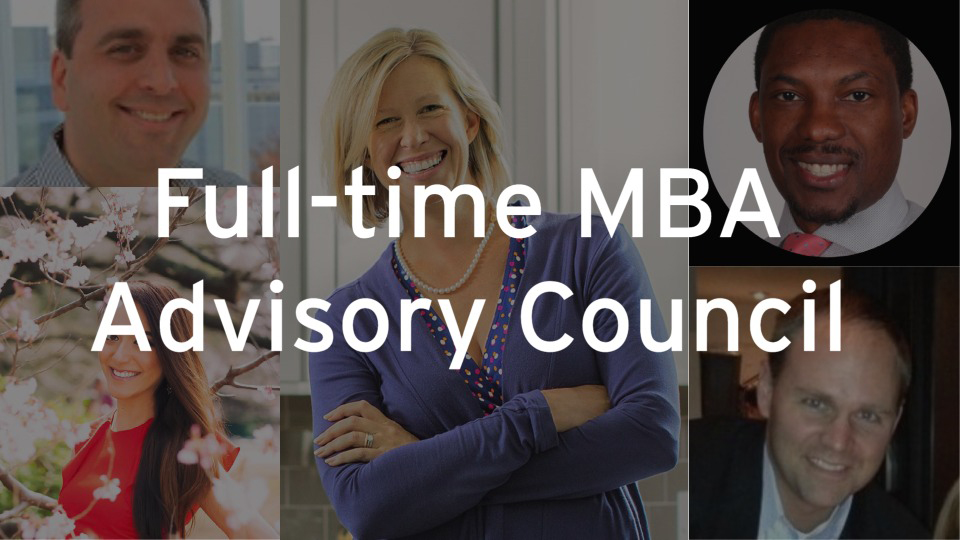 Full-time MBA Advisory Council
Advisory Councils keep us actively engaged with industry leaders and experts, who bring their real-world experience to help shape what students learn, match classroom lessons to real-world needs, and widen the pipeline for internship and job opportunities.
"The Smith MBA program is built around world-class faculty, cutting-edge research, case discussions and data-driven decision making in order to build a more resilient and articulate business leader."
—Jared Turetsky
"The product innovation class was great because it gave me some hands-on marketing experience to talk about in interviews. As a career transitioner, it was helpful to have that experience as a reference."
—Tia Konitzer
"I enjoyed being encouraged to take part in extracurricular activities and leadership positions within the program. This allowed me to meet and engage with classmates that I might not have taken classes with and build more meaningful connections."
—Maria Herold
"Smith was the right choice for me because they have world-class professors and a tight-knit community. I knew that attending Smith would also allow me to build strong relationships with my peers which is one of the most valuable aspects of business school."
—Evan Shields