Master of Science in Business Analytics
Discover the best ways to analyze big data in today's fast-changing, data-driven world. The Master of Science in Business Analytics (MSBA) program gives you a deep understanding of how to analyze large amounts of data and provide innovative solutions to modern business challenges. Our program attracts students from diverse academic backgrounds who are seeking to strengthen their quantitative abilities and want to specifically address how companies can fuel growth and change through data.
International students who need an F1 visa must have a submitted and completed their application by April 20 to be considered for Fall 2022.
Why Get a Smith MS Business Analytics Degree?
Maryland Smith's MSBA program teaches you how to solve pressing business challenges by applying analytics tools, software, programming and other technologies to your work. Whether you have a liberal arts or quantitative undergraduate degree, we offer resources that introduce you to code, IT and key mathematical concepts so that you'll leave the program competent and confident in your skills. You'll also gain a solid business management foundation that will help you communicate your findings to leadership and get ahead in the business world.
Alumni Profiles
Our MSBA students pursue competitive and exciting opportunities in their fields after graduating. Their experiences at Maryland Smith helped them to expand their network, solidify their career goals and prepared them to perform their job responsibilities a step above the rest.
"My data analysis courses not only sharpened my SQL, Python and analytical skills, but also helped me present findings in the best way. I frequently use these skills when I handle business data requests from my clients at work."
Lavanya Rallabandi, MSBA '19
BTech Electronic Communications and Engineering
Associate, Axtria
"I'm grateful for the amazing friendships and opportunities Smith has provided me. The environment is inclusive and this community is behind me all the way."
Pearl Yu, MSBA '19
BS Business Administration and Management

"I was confused about which elective to take. I emailed Tunay Tunca, and he gave a detailed response about each course. His accessibility was extremely valuable."
Sahitya Angara, MSBA '20
Business Intelligence Engineer
Google
"Being able to interact and share experiences with students from all over the world is a rare opportunity. I've learned and expanded my knowledge of people from places I didn't know much about."
Bing Wu, MSBA '19
BE Materials Science
Data Scientist, SAP
MS Business Analytics at a Glance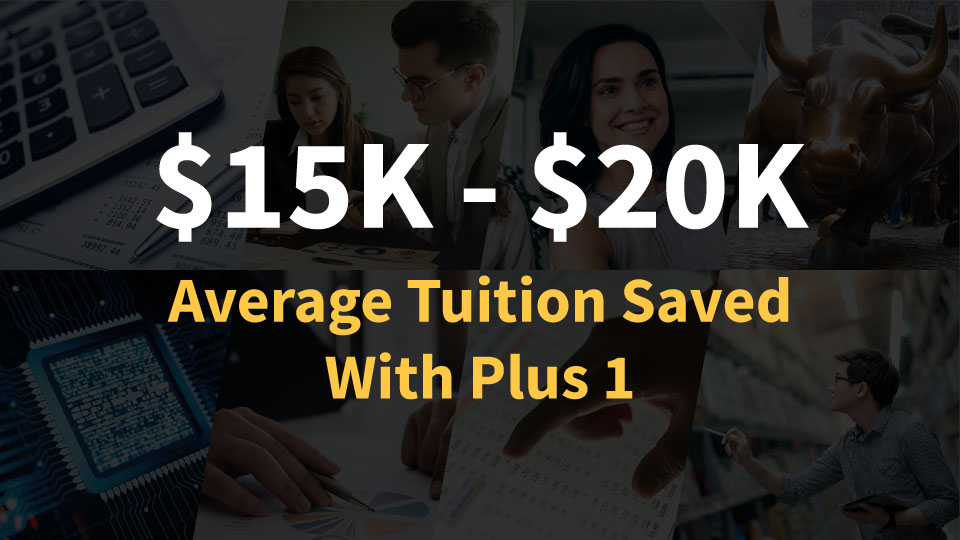 Available as a Plus 1 Program 
If you're a current University of Maryland freshman, sophomore or junior, you can pursue your MS Business Analytics degree through the Plus 1 program. You'll save time and thousands of dollars on graduate tuition though this accelerated business master's program.
Apply and Receive Admissions Benefits
Maryland Advantage can make it easier for applicants who have completed their undergraduate and/or graduate degree in the United States to transition into the business master's program by helping them save money on tuition, skip graduate entrance exams and get personalized career counseling before starting their program.
Acquire Valuable Skills
Our Master of Science in Business Analytics (MSBA) students are data-informed thinkers who excel in calculus, linear algebra, statistics and other quantitative subjects. We'll build on your talents by teaching you the ins and outs of  popular tools and concepts, including:
Amazon Web Services
Artificial Intelligence
Business Value of Big Data
Digital Marketing Strategies
Excel Solver and Solver Table
Google Analytics
Hadoop
Hive
Linear, Integer and Nonlinear Optimization
Machine Learning
Monte-Carlo Simulation
Price Optimization
Price-Response Functions
Python
R
Spark
SQL
Structured Problem-Solving Process
Text Analytics
Time Series Forecasting
Learn from Expert Faculty
Your professors are savvy, well-connected leaders whose research has changed the world of business analytics. They will push you to take your skills to the next level and offer valuable guidance as you navigate your coursework and career.
Where Your Degree Can Take You
70%
MSBA Students Who Secure Employment within Six Months of Graduating
$75K
Average Starting Salary of our MSBA Graduates


25%
10-year job growth for operations research analysts
Sources: Maryland Smith's Office of Career Services, GMAC, Bureau of Labor Statistics
Picture Yourself in These Job Roles
"My team worked with an international retailer, using Google Analytics to run a marketing campaign for their business. I used data to drive their decision making."
Bryce Trezise
BCom Economics
MS Business Analytics '19
Advisory Consultant, Deloitte
Businesses who have Hired our MS Business Analytics Grads