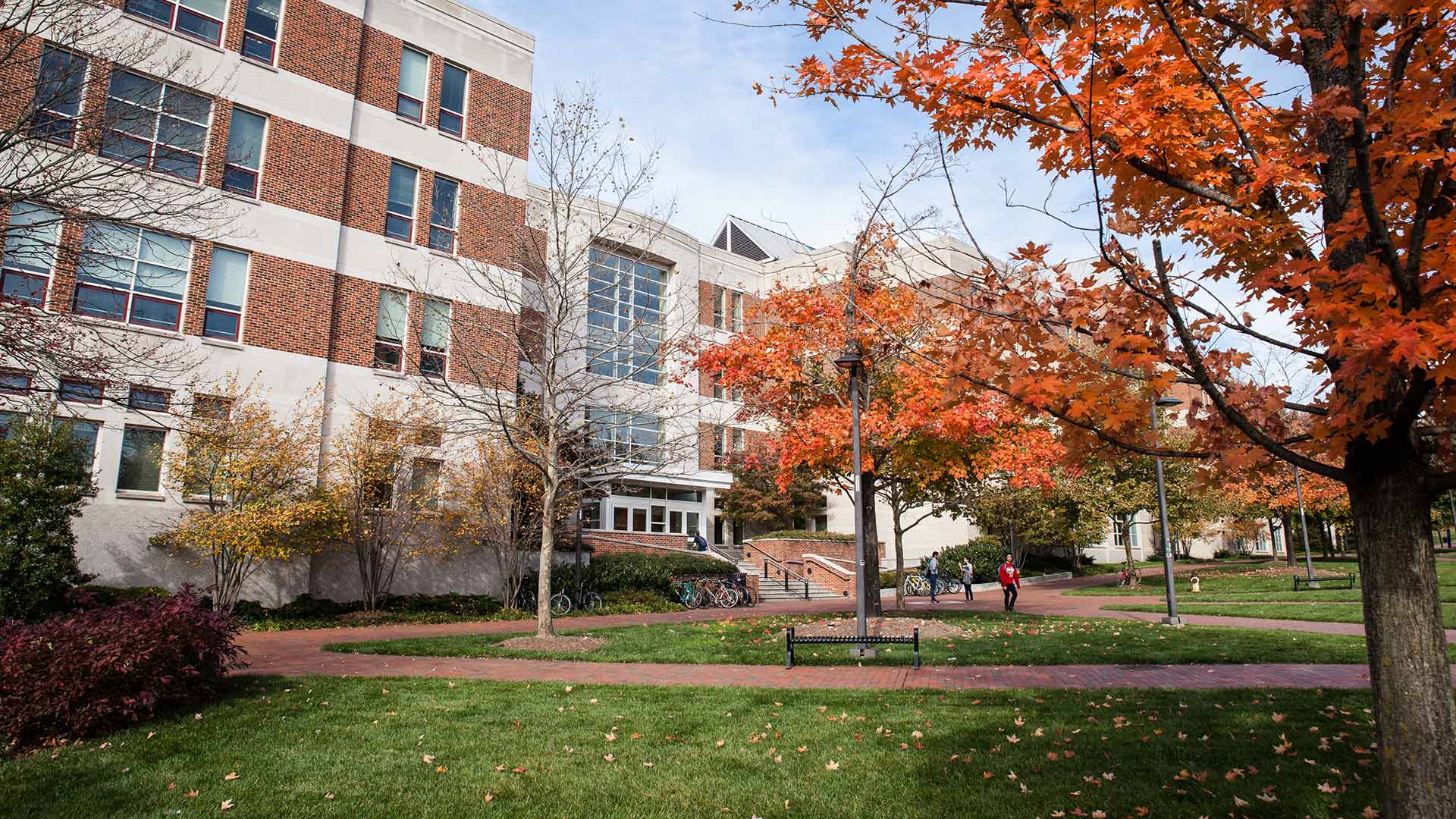 About Maryland Smith
Inspired Business Education
In the global economy, business success requires knowledge and skills that are nothing short of inspired.

At the Robert H. Smith School of Business at the University of Maryland, inspired business education is our business. Our faculty is world class. Our research is cutting edge. Our learning is experiential and rooted in the real world. And our students learn to think like entrepreneurs.
One of 12 colleges and schools at the University of Maryland in College Park, the Smith School is plugged into the business, government, nonprofit and professional networks of the Washington, D.C., metroplex.
Our community of scholars and practitioners is deeply supportive of learning while equipping students to succeed in an often contentious marketplace.
Our broad range of programs, certificates and degrees are designed to prepare working professionals to hit the ground running in a world economy that is in flux, with technology and global competition accelerating the pace of change.
To do that, we offer undergraduate, online and on-campus business master's, full-time, part-time, online and executive MBA, and PhD degree programs, and non-degree and executive education programs.
The world economy is in flux. Technology and global competition are accelerating the pace of change.  Entrepreneurs are working relentlessly to find the next big ideas and take them to market and to scale.  The future is uncertain but filled with boundless opportunity.
Are you determined to seize opportunity? Do you want the analytical skills you need to build exceptional organizations? To learn more about how our top-ranked faculty, supportive academic community and global connections will inspire you to thrive, contact the Smith School at 301-405-2189.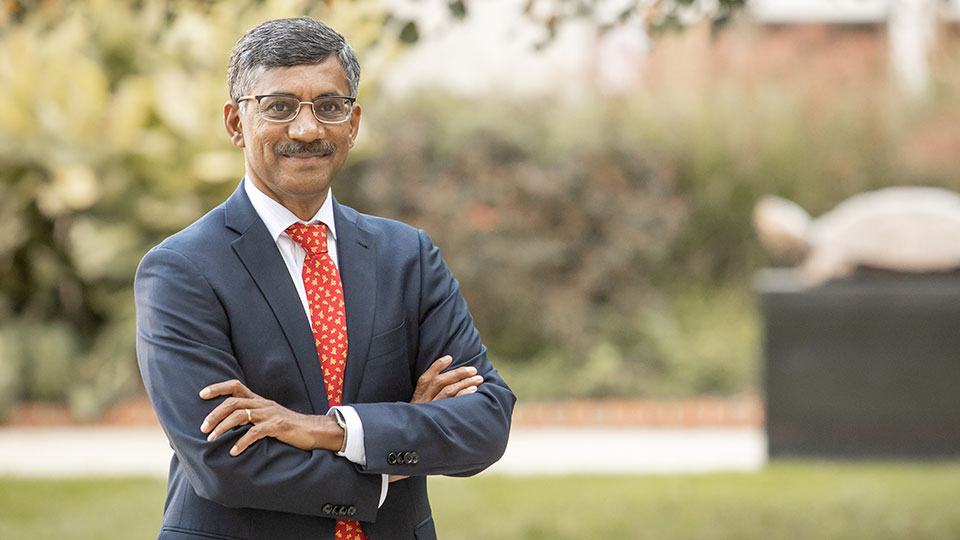 Smith Leadership
Prabhudev Konana became Dean of the Robert H. Smith School of Business on January 2, 2021. In this role, he leads Maryland Smith in its mission to promote research excellence, sustainable innovative programs, and an inclusive learning environment that fosters intellectual discovery, and equip current and future leaders to assess complex problems and deliver innovative solutions.
Mission and Values
Mission
The Smith School's mission is to create knowledge, promote an inclusive learning environment that fosters intellectual discovery, and equip current and future leaders to assess complex problems and deliver innovative solutions. 
Values
We act with integrity and practice intellectual honesty
We treat each other with respect, embracing diversity of viewpoints and values
We see beyond our own interests and seek to have a lasting impact on those around us
We advocate for equity for all members of our community
We're passionate about the pursuit of new insights in research
We're fearless about incorporating new methods and ideas into our classrooms
We champion intelligent risk-taking and learn from our failures
We fearlessly communicate around issues of inclusion to create a welcoming environment for all
We make decisions based on rigorous examination of the evidence
We practice what we teach in all areas of management
We collaborate to create long-term value for our students, our university, our communities and our state
We value diverse teams as critical assets that drive business excellence
Faculty and Staff,
Today, we are proud to jointly support "#ShutDownAcademia," an initiative designed to highlight the need for all of us to confront anti-Black racism and our unconscious biases, actively work for equality and opportunity, and champion diversity and inclusion in colleges and universities. The initiative also includes "#ShutDownSTEM," a specific effort to highlight the need for diversity in STEM disciplines and the particular challenges Black academics and professionals face within these disciplines.
We encourage you to participate in the grassroots action and awareness campaigns taking place today in any way that is meaningful and productive to you. Each of our university's colleges and schools will participate in different ways. However, we urge everyone to spend time and energy today learning more about the cultural, institutional and academic inequalities highlighted in these campaigns—as well as how they contribute to blocked access in higher education.
Some UMD resources for learning include TERP Allies, which raises awareness of the biases that emerge in everyday work settings, and the Office of Diversity and Inclusion, which provides training on how to recognize and respond to anti-Black racism. You can also visit go.umd.edu/UMDSolidarity for events and opportunities to connect, reflect, learn and act.
Our hope is that—among a variety of other initiatives and conversations—today will help raise awareness of anti-Black racism in higher education and lead us to actions that will create a more just, equitable and inclusive campus.
We look forward to joining today's effort with you.
Signed,
Ritu Agarwal
Interim Dean, Robert H. Smith School of Business
Gregory F. Ball
Dean, College of Behavioral and Social Sciences
Craig Beyrouty
Dean and Director, College of Agriculture and Natural Resources
Robert Briber
Interim Dean, A. James Clark School of Engineering
William A. Cohen
Dean, Office of Undergraduate Studies
Lucy A. Dalglish
Dean, Philip Merrill College of Journalism
Bonnie Thornton Dill
Dean, College of Arts and Humanities
Steve Fetter
Dean, The Graduate School
Adriene Lim
Dean, University Libraries
Donald Linebaugh
Interim Dean, School of Architecture, Planning and Preservation
Boris D. Lushniak
Dean, School of Public Health
Keith Marzullo
Dean, College of Information Studies (iSchool)
Robert C. Orr
Dean, School of Public Policy
Jennifer King Rice
Dean, College of Education
Amitabh Varshney
Dean, College of Computer, Mathematical, and Natural Sciences
As tens of thousands of people across the country protest senseless police brutality against African Americans in the wake of George Floyd's death in Minneapolis, the University of Maryland's Robert H. Smith School of Business is asking important questions. Notably, this one: How do we move forward?
Dear students, staff, faculty, and administrators,
The University of Maryland community must be even more committed to our mission of building a supportive, respectful and inclusive environment. Words aren't enough. We have to act! We must learn to be anti-racist in the face of racism whenever and wherever it occurs. Our system is broken as evidenced by disparities in education, criminal justice, income levels, housing, and health. We are all part of this broken system. It is our human responsibility to co-create a new system that is more responsive to inequities. It is difficult, yet pivotal, to consistently recognize, interrogate and disrupt ourselves in all of this. For many of us, our human tendency is to grieve every time a Black or Brown person is killed, to affirm enlightening media posts from friends, to engage in deep conversations, and then to return to our lives. And so that cycle continues. We have to do something different to disrupt the cycle.
Please join the Office of Diversity & Inclusion for a Week of Solidarity & Reflection. As human beings, our need right now is to slow down and honor the many feelings that we are carrying in our bodies and our communities. Righteous rebellion is occurring across the country right now, because for too long the traumatizing effects of racism have been ignored. The passion and anger that we are seeing is a call to honor unmet and unseen needs. Let us begin by responding to this call for community solidarity and reflection.
Next week, we will turn toward a Week of Action. We hope to engage in more community-building, truth-telling, and action-planning for UMD.
Please join us for these events and stay tuned on our Facebook, Twitter, and Instagram for updates on other events and opportunities for solidarity and reflection. If your department or organization is planning a program to promote solidarity and/or reflection, please let us know at DiverseTerps@umd.edu.
Victor C. Mullins
Diversity Officer
Email: vmullins@rhsmith.umd.edu
Thursday, April 30, 2020
Dear Smith School faculty,
We write to you today with important reminders on academic accommodations and open lines of communication. 
A Maryland Smith student, who recently lost her father, shared on social media an email exchange with a faculty member. We want to assure you that we are working to address the student's concerns and will ensure that appropriate and compassionate accommodations are made.
Let's all remember that this is an extraordinarily difficult time for all of us and our students. Struggles both seen and unseen are occurring all around us. In some cases we may be aware of what a student is going through, but in many others we are not.
When students reach out to us, it is our responsibility to find the appropriate accommodations, be flexible in our approach, and be compassionate and considerate in our communications. We know that many of you are going to extraordinary measures to assist students through difficult times, and we thank you. We continue to encourage everyone to be empathetic to students' circumstances. Please make accommodations and be flexible as necessitated by the needs of your students. 
Thank you for showing kindness to our students as they are trying to finish this very challenging semester.
Best,
Ritu Agarwal
Interim Dean
Distinguished University Professor and Dean's Chair of Information Systems
Director, Center for Health Information and Decision Systems
Michael O. Ball
Dean's Chair in Management Science
Senior Associate Dean for Faculty and Research
This statement was emailed to faculty on April 30.
Maryland Smith
A premier, global business school.
The flagship home of business education in Maryland.
A recognized leader in education and research.
With a rich mix of innovative programs.
Serving students, employers, alumni, business, government, nonprofits.
Where We Are
Campuses: In Maryland, in College Park, Baltimore and Rockville; in Washington, D.C., and in Beijing, China.
10 minutes from Washington, D.C., the seat of the U.S. government and home to international consulting firms, global advocacy and nonprofit firms, financial institutions, hospitality headquarters and technology businesses. There's no better place to be.
What Distinguishes Us
Our analytics-focused curriculum;
Our world-renowned faculty; and
Our thriving and diverse community.
Our People
Faculty: 177 faculty members
Staff: 221 staffers
Students: 47% out-of-state, 53% in-state; from 38 states, 86 countries
2,898 undergraduate students
139 full-time MBA students
492 part-time MBA students
345 online MBA students
764 specialty master's students
80 PhD candidates
39 executive MBA students
Alumni: 66,000+ worldwide, 35,000+ in metro D.C.
Robert H. Smith '50, prolific real estate developer and the visionary behind the interconnected underground Crystal City complex in Arlington, Va. The namesake of the University of Maryland's Robert H. Smith School of Business
Leo Van Munching '50, former CEO of Heineken, North America
Allen J. Krowe '54, former CFO, EVP of IBM; former CFO, Vice-Chairman of Texaco
Ed Snider '55, former chairman of Comcast-Spectacor and owner of the Philadelphia Flyers
William Mayer '66, MBA '67, founder of Park Avenue Equity Partners and former CEO of First Boston Corporation, now Credit Suisse
Gary Williams '68, Former Head Coach of University of Maryland Men's Basketball
Robert "Bob" Basham '70, co-founder of Outback Steakhouse
Michael J. Ward '72, former chairman, president and CEO of CSX Corporation
Eric Billings '77Chairman/Founder of FBR Capital Markets, Chairman and CEO of Arlington Asset Investment Corp
Carly Fiorina, MBA '80, former CEO of Hewlett-Packard
Rob McGovern '83, founder of CareerBuilder.com
Brenda Freeman, '87, MBA '91, CEO of Arteza
Andrea Brody '87, CMO at Riskonnect
Richard Dickson '90, president/COO of Mattel
Beatriz Perez '91, SVP, chief communications, public affairs, sustainability and marketing assets officer at Coca-Cola
Marguerita M. Cheng '93, founder and CEO of Blue Ocean Global Wealth
Lisa Anders, MBA '95, vice president of business development at MCN Build
Kristen Welch '90, MBA '96, Chief Financial Officer at Illustrative Mathematics
Kevin Plank '96, founder and executive chairman of Under Armour
Roy Schwartz '98, MBA '01, Axios co-founder
Jigar Shah, MBA '01, President and Co-Founder of Generate Capital, founder and former CEO of SunEdison
David Quattrone, MBA '05, co-founder and CTO of Cvent Inc.
Sherika Ekpo, MBA '09, global diversity and inclusion lead at Google AI
Donna Blackman, MBA '10, Chief Accounting Officer and Treasurer for K12
MBA
Deloitte
Citi
IBM
Northrop Grumman
Amazon.com
PepsiCo
Specialty Master's
PwC
EY
KPMG
Deloitte
Capital One
Amazon Web Services
Undergraduate
Accenture
Capital One
Deloitte
EY
KPMG
Northrop Grumman
PwC
MBA
Technology
Consulting
Financial Services
Consumer Packaged Goods
Specialty Master's
Technology
Financial Services
Consulting
Undergraduate
Professional Services
Financial Services
Technology
Consulting
1921: Business curriculum launched by Department of Economics and Business Administration, University of Maryland.
1938: Department becomes College of Commerce.
1942: College renamed College of Business and Public Administration.
1966: Doctoral program established.
1973: College's business administration department becomes College of Business and Management.
1995: College becomes Maryland Business School.
1998: Robert H. Smith, '50, pledges $15 million; school renamed Robert H. Smith School of Business.
1999: Leo Van Munching Jr. '50 donates $6 million to help finance the expansion and renovation of Van Munching Hall, which will give Smith the most advanced information technology infrastructure and learning environment in the nation.
1999: The Smith School launches a Baltimore-based, part-time evening MBA program
2000: The Smith School launches a part-time, evening MBA program in Washington, D.C.
2003: The 18-month executive MBA (EMBA) program is launched.
2005: Smith launches the Center for Health Information and Decision Systems (CHIDS).
2005: Smith launches its Undergraduate Fellows Program.
2006: In response to a critical shortage of auditors after the Sarbanes-Oxley Act, Smith launches its Master of Business in Accounting program. It will become the first of several new MS programs.
2006: A $1.4 million grant from the Department of Education allows the Smith School to launch the Center for International Business Education and Research. It would later be called the Center for Global Business.
2009: The Smith School launches the Center for Social Value Creation
2009: The Center for Financial Policy is launched.
2010: The Center for Leadership, Innovation and Change is launched.
2013: The school's first online degree program, the online MBA, is launched