Executives in Residence
Phyllis Caldwell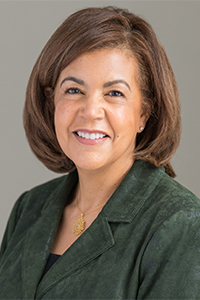 Phyllis Caldwell has extensive experience in the housing and financial services industries, both in the private sector and as a senior government official. She currently serves as Chair of the Board of Directors for Ocwen, where she has served as a director since January 2015.
Ms. Caldwell is the founder and managing member of Wroxton Civic Ventures, LLC, which provides advisory services on various financial, housing, and economic development matters. Previously, Ms. Caldwell was Chief, Homeownership Preservation Office at the U.S. Department of the Treasury, responsible for oversight of the U.S. housing market stabilization, economic recovery, and foreclosure prevention initiatives established through the Troubled Asset Relief Program, from November 2009 to December 2011. From December 2007 to November 2009, Ms. Caldwell was the President and Chief Executive Officer of the Washington Area Women's Foundation. Prior to such time, Ms. Caldwell held various leadership roles during her eleven years at Bank of America until her retirement from Bank of America in 2007, serving most recently as President of Community Development Banking.
In 2021, Ms. Caldwell began terms of service on the Board of Trustees of JBG Smith (NYSE: JBGS) and the Board of Directors of OneMain Financial (NYSE: OMF). She is also on the board of Chemonics International. Her previous corporate board membership includes service as an independent director of American Capital Senior Floating, Ltd. (NASDAQ: ACSF) (until 2018) and City First Bank of DC. Ms. Caldwell has also served on the boards of numerous non-profit organizations engaged in housing and community development finance. Ms. Caldwell received her Master of Business Administration from the Robert H. Smith School of Business at the University of Maryland, College Park, and holds a Bachelor of Arts in Sociology, also from the University of Maryland.
Alan R. Einhorn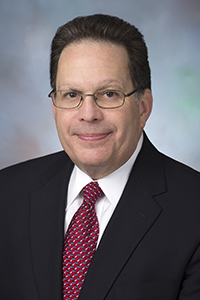 Over his forty-year career in the tax profession, Alan Einhorn has distinguished himself as a nationally recognized expert in the areas of risk management and professional standards. He was the recipient of the 2012 Arthur J. Dixon Memorial Award, the highest award given by the accounting profession in the area of taxation.
Mr. Einhorn retired from a twenty-year career with Deloitte Tax LLP in May 2016 after serving as the practice's Chief Quality Officer from 2008-2015, as well as its Chief Succession Officer from 2015-2016. In addition, he served as the vice-chairman of the Board for Deloitte Tax LLP, a member of the Board of Directors of Deloitte Tax Services India Private Limited, and a member of the Deloitte Tax LLP Operating Committee. In 2014 Mr. Einhorn served as co-chair of Deloitte LLP's nominating committee resulting in the selection of the first female CEO of a "Big Four" accounting firm.
As Chief Quality Officer, Mr. Einhorn reported directly to the Deloitte Tax CEO and established a world-class Quality and Risk Management program across a number of areas including ethics and professional standards, taxpayer and preparer responsibilities, protection of client confidential information, while also guiding leadership in strategic matters. In addition, he represented the firm in regulatory and legislative tax matters with members of Congress, the United States Treasury, and the Internal Revenue Service (IRS).
Prior to joining Deloitte, Mr. Einhorn gained valuable experience working for a major hospitality services company and owning his own CPA firm. He also served in a number of IRS and US Treasury liaison roles, including service on the IRS Commissioner's Advisory Group.
He was chairman of the American Institute of CPAs (AICPA) Tax Division from 2008-2010 and chairman of the AICPA Relations with the Bar Committee from 2012-2016.
Mr. Einhorn actively supports local non-profit organizations in Southwest Florida and serves on the Board of Directors for Artis––Naples. He is the chair of the Audit and Risk Committee. At the University of Maryland's Robert H. Smith School of Business he currently serves on the Board of Advisors, is an Executive-in-Residence and serves on the Accounting and Information Assurance Department Advisory Board.
Mr. Einhorn received his BS in accounting from the University of Maryland and his JD from George Washington University. He is married to Victoria Cooper and has two children who reside in northern California.
Ab Krall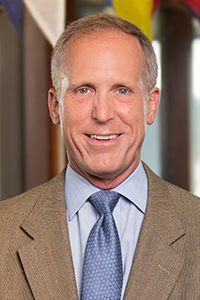 A 40+ year veteran of the consulting industry, Albert "Ab" Krall enjoyed success at Accenture (known as Arthur Andersen Consulting when he started there) as well as Deloitte Consulting. Primarily focused on the domestic telecommunications marketplace with clients that included Verizon, Iridium, AT&T and BellSouth, Ab developed a global mindset while living and working in Japan and Australia. He retired from Deloitte in 2017 as a managing director.
A long-time member of the Smith School Advisory Board, Ab served as chair during the 2014-15 academic year and is also active with the board's committees. For the last few years, he has taken been co-teaching several Smith courses including the Full-Time MBA Business Consulting Practicum, a course where MBA students are paired with companies for four-month consulting projects. To formalize his relationship with Maryland Smith, Ab became an Executive-in-Residence in 2016.
Ab earned a BS in information systems from Smith in 1981.
Bill Longbrake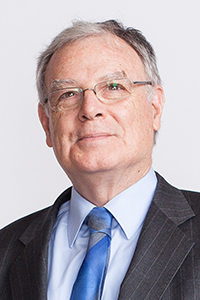 Bill Longbrake has extensive experience in finance and investments, macroeconomics and monetary policy, risk management, housing, and public policy. He has served in business, academic and government organizations.
Since June 2009 Bill has been an Executive in Residence at the Robert H. Smith School of Business at the University of Maryland and participates in the Center for Financial Policy. Bill regularly mentors students, engages with faculty on research endeavors, and writes a monthly commentary on economic conditions entitled the Longbrake Letter.
He is chairman of the board of HOPE LoanPort, a non-profit organization that provides a data management and communications web portal to housing counselors and home mortgage servicers. He is a nonvoting member of the Washington State Investment Board, which manages over $100 billion in public employee retirement funds, and serves on the Audit and Public Markets Committees. He is a director of City First Bank of DC and serves on the Compensation, Governance, and Loan committees. He is a director of Boeing Employees Credit Union and serves on the Governance and Finance and Risk committees.
He is a member of several committees of the American Bankers Association, including those for Federal Home Loan Banks, government sponsored enterprises, and mortgage markets. He is chairman of the board of trustees of and the College of Wooster; chairman of the board of trustees of Lift Up Africa, a charitable organization that finances humanitarian and sustainable development initiatives on the continent of Africa; and is president of the Longbrake Family Foundation.
He was a trustee of Auburn Theological Seminary from 2008-14; a director of First Financial Northwest, a community bank located in Renton, Washington from 2008-10; a director of the Federal Home Loan Bank of Seattle from 2002-10; and a director of the Washington Financial League from 2002-10.
Between September 2006 and December 2008 he served on a half-time basis as the Anthony T. Cluff Senior Policy Advisor for the Financial Services Roundtable. Members of the Roundtable include the largest financial services companies in the U.S. He assisted in the preparation of "The Financial Services Roundtable Blue Ribbon Commission on Mega-Catastrophes: A Call to Action" and "The Blueprint for Financial Competitiveness". During his time at the Roundtable he also advised the HOPE NOW Alliance and was responsible for coordinating the collection of loan servicing and loss mitigation data.
Longbrake joined Washington Mutual, Inc. in August 1982 and served in many positions until his retirement in September 2008, except from February 1995 to October 1996 when he was chief financial officer and deputy to the chairman for finance at the Federal Deposit Insurance Corporation (FDIC). During his years at Washington Mutual, he helped build the company from a $2.5 billion mutual savings bank located in Washington State to the sixth largest depository institution in the nation.
From 1982 to 1994 Longbrake was chief financial officer of Washington Mutual except for a two-year stint when he was the principal executive responsible for retail banking and home lending. When he returned to Washington Mutual from the FDIC in 1996 he resumed the position of chief financial officer until 2002 when he became the bank's first chief enterprise risk officer. In 2001, Longbrake was named CFO of the Year in the Driving Revenue Growth category by CFO Magazine. From 2004 until retirement he served in a non-executive position as the company's liaison with regulators, legislators, industry trade organizations, and government-sponsored enterprises.
He began his career in Washington, D.C. in 1970, where he served in various government positions until 1982, including acting senior deputy comptroller for policy and senior deputy comptroller for resource management for the Office of the Comptroller of the Currency and financial economist, acting controller and special assistant to the chairman at the FDIC.
He earned his bachelor-of-arts degree in economics from the College of Wooster in 1965, graduating with honors. He earned his master's degree in monetary economics in 1968 and his master of business administration degree in 1969 from the University of Wisconsin. He received his Ph.D. in finance from the University of Maryland in 1976.
Longbrake is active in numerous academic, business and community service organizations, particularly those involving issues surrounding affordable housing and education. He chairs the Washington State Citizens Commission for Performance Measurement of Tax Preferences. He is a member of the Governor's Council of Economic Advisors and was a member of the Infrastructure Financing Task Force for Washington State. He is a member the University of Maryland's Robert H. Smith School of Business Advisory Board. He is Chairman Emeritus of the Financial Services Roundtable's Housing Policy Council.
He was a member of the University of Washington's Michael G. Foster School of Business Advisory Board from 1998 to 2014. He previously served as chairman of the Washington State Affordable Housing Advisory Board, Threshold Housing, the Capitol Hill Housing Improvement Program, and served as a member of the board and chaired the Audit Committee of the Local Initiative Support Corporation (LISC), which provides affordable housing nationwide. He is past president of the Washington State Chapter of Financial Executives International and the Puget Sound Council of Financial Institutions. Previously he was a member of the Fannie Mae National Advisory Council, the Thrift Institutions Advisory Council of the Federal Reserve Board of Governors and the board of directors of America's Community Bankers. From 1993 to 2002 he served on the board of directors of the Presbyterian Publishing Corporation.
Longbrake has published extensively and currently writes a monthly economic newsletter which is distributed by Barnett, Sivon and Natter. He has taught courses in business administration and finance at the University of Maryland and Seattle University. In 2007 he received the Distinguished Alumnus of the Year award from the Robert H. Smith School of Business of the University of Maryland.
William MacDonald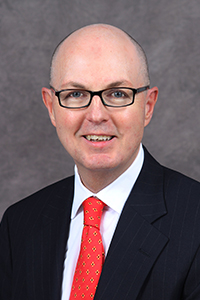 Bill MacDonald recently retired from Bank of America Merrill Lynch after a lengthy career that brought him to just below the C-Suite level. As Global Head of Loan Products for Corporate & Investment Banking, he was responsible for a $2B revenue P&L business unit with operations in New York, Boston, Charlotte, London, Singapore, Tokyo, Mumbai and Sao Paolo. Designated a "person of control", he had regular interaction with federal regulators, including the FRB and OCC.
Prior leadership roles included Head of Americas Corporate Banking for over a dozen industry coverage verticals; Risk Executive; Workout & Restructuring; Transition Executive for the FleetBoston Financial merger, as well as mid-Atlantic Commercial Banking.
Current activities include Instructor in Finance for the Robert H. Smith School of Business at the University of Maryland; Vice Chairman & ALCO member of the Treasury Department Federal Credit Union and an executive coaching & consulting practice.