Liu Yang Directory Page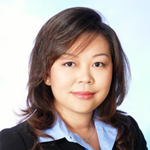 Liu Yang
Ph.D., University of Maryland
Contact
4419 Van Munching Hall
---
Liu Yang is an Associate Professor in Finance (with tenure) at the Smith School of Business of the University of Maryland. She is also the founding Executive Director of the Federal Statistical Research Data Center at the University of Maryland.
Dr. Yang's primary research interest is in the area of corporate finance, including labor and finance, entrepreneurship, mergers and acquisitions, corporate governance, and banking and financial institutions. Dr. Yang's work has been published in all three leading academic journals in finance including the Journal of Finance, the Journal of Financial Economics, and the Review of Financial Studies.
Before joining the Smith School, Dr. Yang was on the faculty at UCLA's Anderson School of Management. She received her Ph.D. in Finance from the University of Maryland, her M.S. (in both Economics and Statistics) from the University of Illinois and her B.A. from Peking University. Prior to earning her doctorate, Liu Yang worked as a Senior Financial Analyst in the Structured Finance group in Federal Home Loan Mortgage Corporation in McLean, VA.
Publications
Working Papers