Plus 1
Plus 1
Accelerated Business Master's Degree
Earn an accelerated business master's degree in as little as one year or less.
Save time and money. Elevate your career.
The Maryland Smith Plus 1 program allows current UMD undergraduate students to earn a business master's degree for less time and money than a traditional graduate student. You'll take graduate-level coursework at undergraduate-level tuition rates and finish both degrees in one additional year.
Plus 1 students completing their bachelor's and applying to their graduate program for full-time study will receive information in January (spring bachelor's graduates) or September (fall bachelor's graduates).
In-Demand Degree Programs
Gain specialized skills, valuable connections and access to career resources from a highly ranked business school.
Save Money on Tuition
Save on tuition costs by paying undergraduate course tuition rates instead of graduate course rates while you're still pursuing your bachelor's degree.
Accelerated Degree Completion
Depending on the graduate program, the number of graduate-level credits you have taken during undergrad and the availability of courses, you can earn your business master's degree in as little as one extra year or less.
Waived Test Scores and Fees
Complete your Plus 1 and business master's program applications without submitting GMAT/ GRE test scores or paying any application fees.
Priority Award Consideration
Plus 1 students are not eligible for the Double Terp Scholarship, but you get priority consideration for other merit-based financial awards for your master's program.
$15k-20k
Average tuition money saved by pursuing a business master's degree through the Plus 1 program compared with a traditional graduate program path.
"The Plus 1 program allowed me to save time and money, and the competitive advantage of getting a master's helped me secure an internship at my dream company, Google."
Mia McIntyre
MS Marketing Analytics '20, BS Marketing/Finance '19
Music Publishing Operations Coordinator, TikTok
Start Taking Graduate Courses 
Once approved, you can begin taking up to 10 graduate-level business credits at the undergraduate tuition rate as you complete your bachelor's degree. You'll also continue to work with your Plus1-specific academic advisor.
Complete your Graduate Program 
Complete your program as a full-time graduate student at UMD College Park.
Meet the Team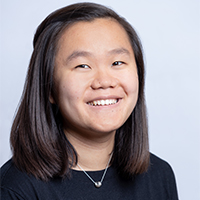 Lian Kish
Assistant Director, MS Plus One Admissions
Nicole Lemme
Coordinator, MS Plus One Admissions