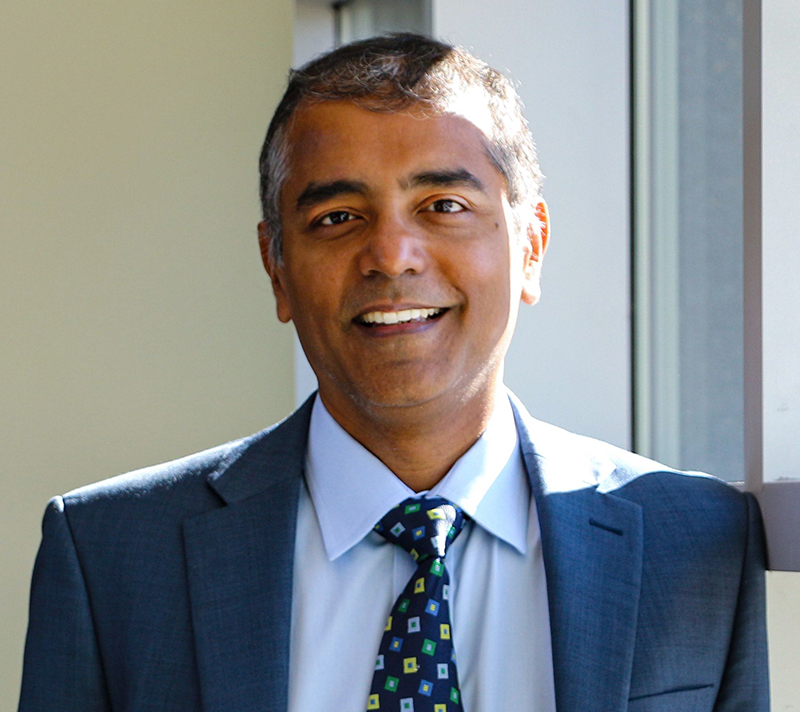 In a reinforcing move amid expanding its artificial intelligence and machine learning curricula — including for its recently STEM-designated MBA programs, the University of Maryland's Robert H. Smith School of Business has hired Balaji Padmanabhan as a full professor of information systems.
Padmanabhan, with a PhD from New York University's Stern School of Business, brings expertise in AI, machine learning and business analytics from 25 years of research, teaching and working extensively with businesses. He was among the earliest business school faculty members to bring machine learning content into MBA programs and designed one of the first technology-focused electives ("Enabling Technologies") for an MBA program while at the University of Pennsylvania's Wharton School of Business.
"Balaji will strengthen our research and focus on developing future leaders in a changing world driven by artificial intelligence and grand challenges like AI bias and dis/misinformation" says Smith Dean Prabhudev Konana. "His arrival not only bolsters our information systems faculty with a highly accomplished scholar and industry consultant, but also positions Smith's MBA and MS curricula to be transformational by contextualizing AI for the future."
Padmanabhan, Konana says, "will strengthen the already highly ranked MS in Information Systems, MS in Business Analytics, and online business analytics MBA programs, while influencing our portfolio of MBA programs." Integral, he adds, will be "contextual AI," a specialty of Padmanabhan.
Padmanabhan says: "We are at a pivotal moment for business where AI is going to play an increasingly transformation role – mostly positive. But there are challenges. AI is still very expensive both in terms of total cost for business as well as troubling carbon footprints, still somewhat unpredictable as we've seen, remains vulnerable to biases and amplifying them, and has its share of security risks.
Plus, the challenges extend to uncertainty in intellectual property issues and legal environments in different countries. However, with great challenges come great opportunities."
He explains: "The MBAs and other graduates we produce in business schools will be counted on to strategically guide organizations through sound and thoughtful business and policy decisions around AI in different contexts – and be able to distinguish hype from actual potential and capabilities. Decision-making in, with, and about AI in specific business and policy contexts will be key; and we must equip our graduates with the tools to be able to make these decisions well."
Padmanabhan has researched and designed analytics-driven algorithms for solving business problems in publishing 60-plus papers in premier journals and conferences in the field. He also serves on several of those editorial boards and has applied his findings and broader insight in various machine learning and analytics initiatives for several companies. He arrives at Smith from the University of South Florida's Muma College of Business where he directed the Center for Analytics and Creativity.
"AI has always been about 'intelligence,' and it is particularly exciting that we are at a point in time where we can build systems in some areas to have not 'just' human intelligence, but 'supra' human capabilities," Padmanabhan says. "However, realizing all this potential for business and society, while mitigating and managing harms and transitional challenges, will require a level of understanding of AI that most business school MBA curricula currently aren't equipped to provide. Figuring that out soon will be crucial."
Read more about the graduate and undergraduate programs at the University of Maryland's Robert H. Smith School of Business.
Media Contact
Greg Muraski
Media Relations Manager
301-405-5283  
301-892-0973 Mobile
gmuraski@umd.edu 
About the University of Maryland's Robert H. Smith School of Business
The Robert H. Smith School of Business is an internationally recognized leader in management education and research. One of 12 colleges and schools at the University of Maryland, College Park, the Smith School offers undergraduate, full-time and flex MBA, executive MBA, online MBA, business master's, PhD and executive education programs, as well as outreach services to the corporate community. The school offers its degree, custom and certification programs in learning locations in North America and Asia.