Admission Standards for Shady Grove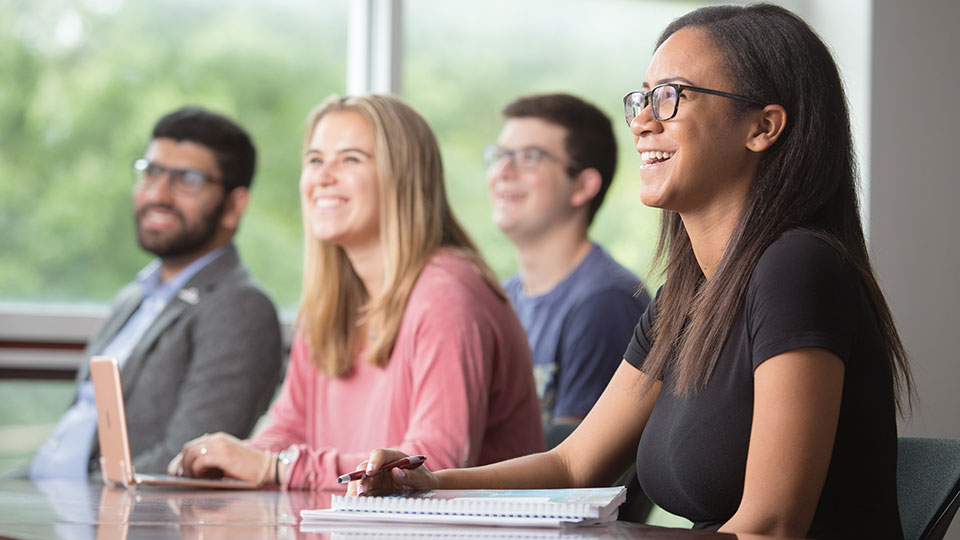 All students who wish to apply for admission to the Robert H. Smith School of Business program at Shady Grove should plan on attending a Smith School at Shady Grove info session, a Universities at Shady Grove open house event or visit the information table when a representative is on your campus for a transfer visit. You may also contact the Smith Undergraduate Programs Office at Shady Grove by calling 301-738-6079 or by email at smithugradsg@umd.edu with questions regarding the program at Shady Grove.
Please note that admission into the Smith School at Shady Grove is during the fall semester only.
Admission Criteria
To be considered for admission to the Smith School at Shady Grove, applicants must complete the following admission requirements and the additional courses/requirements listed below:
Minimum 3.0 cumulative GPA (preferred, may vary based upon the applicant pool)
Earned a minimum of 45 credits.
Completion of Gateway courses, all with "C-"or better:
BMGT 220 Principles of Accounting I
MATH 120, 130 or 140 Calculus I
In addition to the admission requirements above, it is expected that all students entering a Smith School major at Shady Grove will have completed 60 credits and successfully completed the following courses/requirements.
All General Education requirements3 with the exception of Professional Writing
Smith School's Public Speaking Requirement
BMGT221 Principles of Accounting II
ECON200 Principles of Micro-Economics
ECON201 Principles of Macro-Economics
1 The following courses are approved substitutes for BMGT230: BIOM301, CCJS200, ECON321, EDMS451, GEOG306, PSYC200, and SOCY201.
2 The following courses are approved substitutes for BMGT231: ENCE302, ENEE324, ENME392, or STAT400.
3 University of Maryland General Education (or CORE if matriculated in Maryland community college prior to Fall 2012) requirements are explained at www.gened.umd.edu.  
Applying
Admission to the Smith School is highly competitive and based on a holistic process.  We are searching for a diverse, engaged, and academically talented pool of students.
Academic record, co-curricular involvement, leadership experience and honors and awards will be considered in the admission decision.  Students are strongly encouraged to submit a resume and letter detailing their accomplishments and experiences with their applications.
We encourage you to meet with your current academic advisor to review your schedule and make sure you are meeting the academic qualifications for your Smith application. 
Current UMD Students:  Be sure to use the Limited Enrollment Program application specifically for current University of Maryland students seeking admission to the Smith School at Shady Grove. Access the application.
Learn more about the suggested formatting for the internal transfer application.
Outside of UMD Students:  Individuals who are not UMD students must complete the Coalition application online.  If you would like to be considered for admission to the main campus in College Park for any major in addition to the Smith School at Shady Grove, please select the "Both" option under "the locations for which you would like to be considered for admission." in the application.  Access the coalition application.
Application Deadlines for Students: The priority application and International applicant deadline is the first business day of March. The regular deadline is June 1, and applications submitted after the deadline are considered only on a space-available basis. The Robert H. Smith School of Business program at Shady Grove admits students ONLY in the fall semester on a competitive and rolling basis and rolling admissions will continue until each major is filled.
Transfer Guides
Transfer Guides - Articulations (for students transferring to the Smith School at Shady Grove)