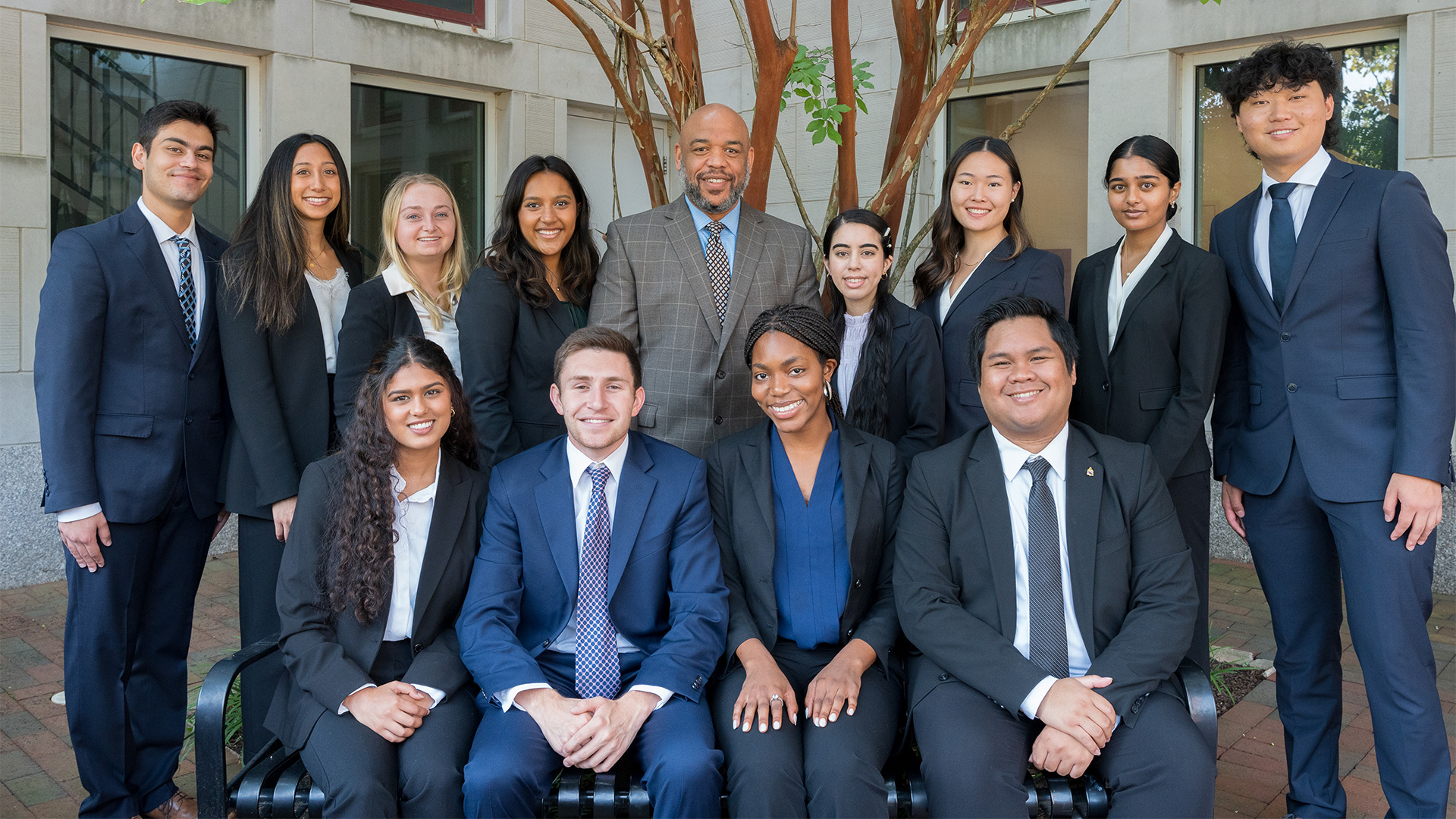 Dean's Student Advisory Council
The Dean's Student Advisory Council (DSAC) serves as the voice of Smith to help ensure that there is a constant enhancement of programs, classes, and procedures so that Smith continues to grow into a truly world-class program so recognized by our peers and top companies. DSAC is comprised of 11 undergraduate students who continually meet with Smith faculty, advisory boards, students, and leaders to elicit ideas and to facilitate the implementation of meaningful, productive changes. All students who have taken on the role of being a DSAC member have done so, not for notoriety, but because of their commitment to work behind the scenes to do their part to ensure that Smith is as great as they know it can be!
Smith's undergraduate administration enables DSAC members' growth and development, both as individual business students and as a group through our work experimenting with, and implementing, new projects and procedures within the Smith School of Business. Every decision which we make has been strategically calculated, deliberated, and thereafter implemented only after in-depth presentations and meetings with upper-level faculty and administrators. I have had the pleasure to serve on the Dean's Student Advisory Council with the best and brightest minds that the Robert H. Smith School has to offer. Never did I think when I came to our business school, that I would have had such an opportunity, as I have had on DSAC, to develop my leadership, mentoring, and team skills or to have been such an integral part in the selection, development and implementation of new events, protocols, and programs in our business school.
We are proud to say that since DSAC's inception in the fall of 2012, student leaders under the guidance of the administration, specifically Dean Mullins, have implemented various new programs which have focused on academic, admissions, engagement, and community aspects of the life before, during, and after the students' undergraduate experiences at the Smith School. The numerous changes facilitated by DSAC, coupled with the strategic mission and continued devotion by the undergraduate team are helping to make our students the very best, which in turn propels our Smith School of Business into becoming one of the best institutions of its kind in the world!
2022-23
Alexia Ayuk, Ishaan Kapur, Emmanuel Corporal, AaliyaHusain, NamraShaikh, AnishaKosuri, EricBlackman, Siri Rao, Miranda Chung, Zoe Nicholson, Neena Sengupta, Michae lZhao
2021-22
Eric Blackman, Caroline Fleetwood, Natalie Hirsch, Emmanuel Corporal, Abe Browne, Katish Sussman, Ally Merwitz, Siri Rao, Alexia Ayuk, Katherine Robinson
2020-21
Angela Yang, Faaiq Zarger, Dan Alpert, Ally Merwitz, Joshua Chen, Alex Kristal, Julia O'Malley, Nathan Yuen, Sarah Alkon, Kunal Harmalkar, Katherine Robinson
2019-20
Alex Bergman, Ariana Riske, Nikhil Modi, Sophie Lin, Mario Menendez, Jared Remien, Brooke Rankin, Angela Yang, Faaiq Zarger, Dan Alpert, Ally Merwitz
2018-19
Derek Xiao, Dan Alpert, Faaiq Zarger, Ariana Riske, Jacob Lapidus, Lauren Black, Brandon Lucas, Aaron Yang, Zachary Azrael, Parker Rist, Alexandra Bergman
2017-18
Cece Ukejianya, Lina Bauer, Aaron Yang, Jordan Arndt, Zachary Azrael, Parker Rist, Helen Liu, Alexandra Bergman, Malik Sulieman, Jacob Vietch, Edmond Lee, Chad Gruzin
2016-17
Cece Ukejianya, Jordan Arndt, Gopal Srinivasan, Allison Leap, Bobby Crumbaugh, Kelly Cosgriff, Jessica Lewis, Nicole Lopez, Lina Bauer, Mimi Verdonk, Ben Hawtof, Aaron Yang
2015-16
Liya Ai, Michael Barnett, Dina Broydo, Kelly Cosgriff, Robert Crumbaugh, Cindy Liu, Beidi Luo, Bridget McManus, Yash Mehta, Praneet Puppala, Christopher Riggs, Chetachi Ukejianya
2014-15
Connie Chou, Robert Crumbaugh, Alex DoQuang, David Engle, Anh Le, Bridget McManus, Yash Mehta, Obed Molina, Claire Naylor, Stefani Pappas, Khalil Pettus, Praneet Puppala, Snigdha Rao, Ittie Rehani, Kayla Santos, Travon Sawyer, Lindsey Weilminster
2013-14
Steven Asifo, Antoine Battle, Austin Carroll, Connie Chou, Lindsay Djuhadi, David Engle, Stephanie Graf, Ehson Kashfipour, Austin Lee, Yash Mehta, Khalil Pettus, Praneet Puppala, Kushaan Shah, Mambwe Sumbwe, Geoff Wang, Lindsey Weilminster
2012-13
Antoine Battle, Hayley Brown, Connie Chou, Michael DeLucia, Pratik Dixit, Aaron Fagan, Brooks Gabel, Chris Grant, Brija Johnson, Julia Klein, Manas Kulkarni, Yash Mehta, Zach Nerenberg, Kishore Radhakrishnan, Hayley Thometz, Mendel Zecher
Smith Undergraduate Student Association
The Smith Undergraduate Student Association (SUSA) is the governing body of Smith clubs, students and community, and is built upon the pillars of accountability, engagement, and service. Externally, SUSA serves as a liaison between the Smith population and student-led organizations. Internally, SUSA seeks to create a connected culture for this and future administrations to grow upon. In addition to providing governance and support for 25 SUSA-recognized student organizations, SUSA seeks to enhance the Smith community through a variety of services and programs for the Smith undergraduate population. These programs hit on all aspects of the student experience, including community, professional development, service and wellness. Some signature events include the Fall Involvement Fair, Smith in the City: New York and DC, and Business Week. Visit our website for more information on how to get involved!
Snider Consulting Group
Snider Consulting Group exists to help University of Maryland organizations achieve their vision of success! Believing that students have the right to experience their passions via extracurriculars, SCG emerged when its founders discovered an intersection between their interest in consulting and the opportunity to assist UMD organizations. Along with providing support to the UMD community through client projects, SCG consultants receive intense professional development via a partnership with Ernst & Young. Students who are passionate about the growth and improvement of the community can apply, and in turn, they can transfer their business acumen to tangible experiences. SCG is always looking for new clubs and organizations to assist!