Women Inspire
Celebrating 10 Years of Smith Alumnae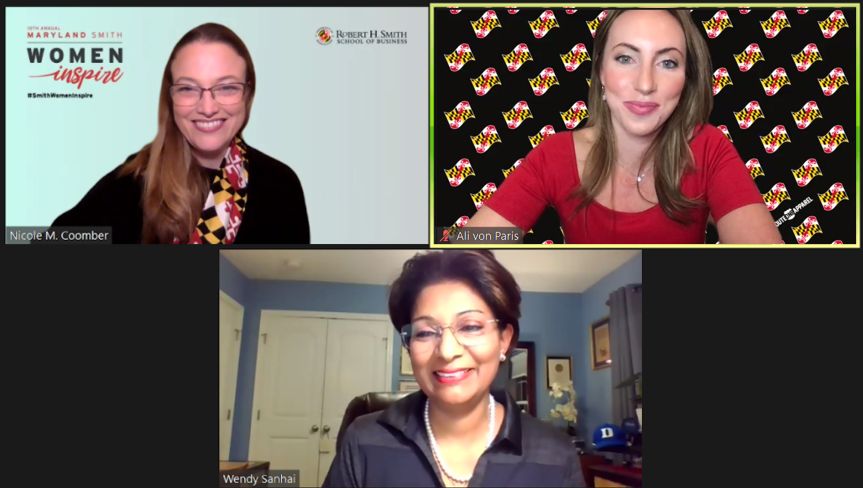 Thank you to everyone who joined us on Thursday, March 4, 2021, for the 10th Annual Maryland Smith Women Inspire!
This year's program had a different format; however, we were still able to celebrate female empowerment and business excellence as displayed by our 2021 Honorees - Wendy Sanhai, PhD, EMBA '09 and Ali von Paris '12. Smith professor Nicole Coomber was the moderator for the virtual conversation, which was followed by a virtual networking hour. In honor of the 10th anniversary, past Women Inspire honorees were also recognized during the event. 
If you missed this year's program, watch the video and check out the Smith News article for event highlights.
For additional insights about women in leadership, check out the following videos:
About Maryland Smith Women Inspire
Women Inspire showcases Maryland Smith's fearless alumnae leaders excelling in business. The annual event celebrates female empowerment that inspires attendees and challenges them to realize and reach their full potential. If you have questions about the program, please contact Mark Forrest at maf31@umd.edu.
Wendy Sanhai, PhD, EMBA '09
Wendy R. Sanhai has extensive experience across a broad spectrum of issues in the pharmaceutical, biotech and medical device industries and regulatory science. Over the course of her career, she has held key leadership roles in academia, at federal research and regulatory organizations including the NIH, the Foundation for NIH (FNIH) and the FDA and, most recently, within private industry. Among her many strengths is her ability to identify critical governance, strategic and scientific gaps, and leverage resources to create innovative approaches in support of large-scale, strategic, scientific, and public health initiatives, all directed to patient benefit.
Her experiences include developing strategies for governance, research, business development, as well as the design, implementation, and management of large-scale scientific collaborations at the NIH, FNIH, FDA, academia and industry. She has worked across multiple therapeutic and disease prevention areas as well as in medical product development, addressing specific product development issues, regulatory challenges as well as global health needs.
Sanhai is a member of the board of directors of Medicines for Malaria Ventures, an associate professor (adj) at the Duke University School of Medicine, senior executive education fellow, and chair-elect for the advisory board at the Robert H. Smith School of Business, University of Maryland and member of the advisory committee at the Burroughs Wellcome Fund Innovation in Regulatory Science. Sanhai received a PhD in clinical biochemistry and structural biology from the School of Medicine, State University of New York at Buffalo, an Executive MBA from the Smith School of Business, and a baccalaureate degree in chemistry from the University of Florida.
Ali von Paris '12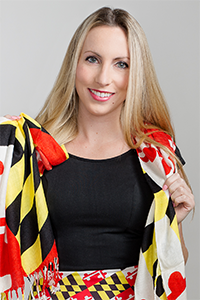 Ali von Paris is CEO and founder of Route One Apparel, the premier source for trendy and affordable Maryland pride apparel and accessories. The company began in 2010 when, while still an undergraduate at the University of Maryland, von Paris designed a t-shirt for her friends to commemorate the closing of a popular local bar. When demand for the t-shirts spread quickly through social media, von Paris began selling them online, and soon she had a budding business.
Ten years later, Route One Apparel offers more than 3,000 unique products and designs that are sported by local icons and fans of all ages. von Paris has secured official licensing agreements with many of the area's most beloved brands, including National Bohemian, Old Bay, and Utz, and wholesale partnerships with more than 100 retailers across the region, and as far away as Las Vegas.
von Paris has received many accolades for her success and entrepreneurship, including the Baltimore Sun's "Women to Watch," The Daily Record's "Leading Women" and "Very Important Professionals Successful by 40," and the Baltimore Business Journal's "40 Under 40." In 2016, she was honored with an "Outstanding Young Alumnus Award" from the University of Maryland Alumni Association and as "Alumni Entrepreneur of the Year" by the Dingman Center for Entrepreneurship at the University of Maryland's Robert H. Smith School of Business. von Paris is a member of Omicron Delta Kappa, one of the country's premier National Honor Societies, and currently serves on the boards of the Maryland Tourism Development Board, the University of Maryland Robert H. Smith School of Business, and Preservation Maryland.
She graduated from the University of Maryland Robert H. Smith School of Business with a BA in finance and supply chain in 2012. To learn more about her company, visit www.routeoneapparel.com.
2020
Meg Goldthwaite, MBA '96
Chief Marketing Officer, NPR
Sherika Ekpo, MBA '09
Global Diversity and Inclusion Lead, Google AI
2019
Carly Fiorina, MBA '80
Chairman, Carly Fiorina Enterprises
2018
Donna Blackman, MBA '10
Senior Vice President of Business Operations, BET Networks
2017
Marguerita M. Cheng '93
Founder and CEO of Blue Ocean Global Wealth
2016
Past Honorees Reunion
2015
Andrea Brody '87
Senior Vice President of Global Marketing, BravoSolution
2014
Brenda Freeman '87, MBA '91
Global Head of Television Marketing, DreamWorks Animation
2013
Kristen Welch '90, MBA '96
Senior Vice President, Global Content Operations, Discovery Communications
2012
Lisa Anders, MBA '95
Vice President, Business Development, McKissack & McKissack