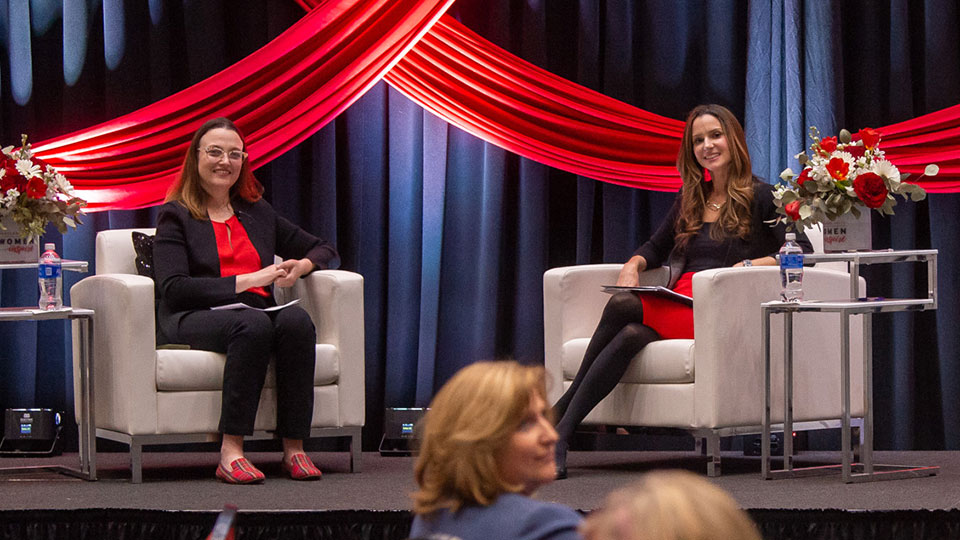 As director of the Office of Management Strategy and Solutions at the U.S. Department of State, Janice deGarmo, MBA '07, knows that succeeding in the higher echelons of the federal government means she can succeed anywhere. 
Since taking on the role in 2021, deGarmo has helped improve the State Department's management platform and advance foreign policy goals. Her work includes leading data-driven initiatives to modernize the State Department's processes toward risk management, the "future of work" and sustainability, among others.
She shared a few of the lessons learned over her 20-year career in government as the keynote speaker during Thursday night's 12th annual Women Inspire event hosted by the University of Maryland's Robert H. Smith School of Business.
"This event helps us acknowledge the extraordinary achievements of our alumnae and hopefully inspires the next generation of leaders," said Dean Prabhudev Konana to an audience at the Samuel Riggs IV Alumni Center. "It serves as an example of one of our major strategic pillars: Business education is everyone's business."
A networking event followed the discussion, moderated by Nicole Coomber, assistant dean of experiential learning and clinical professor of management & organization.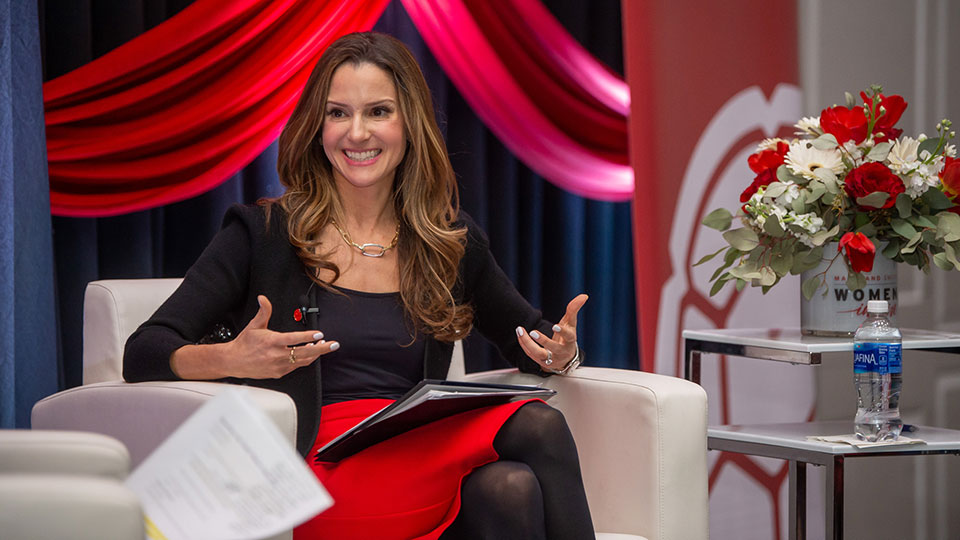 deGarmo offered these career tips to attendees:
Trust the process. Dream big and start small. "Things might not be perfect right away, but keep your focus on small improvements," said deGarmo. "Have the mindset to recognize if something is not working that you're always able to pivot."
Leverage your network. Understand the difference between mentors and sponsors, and the unique role they play in supporting your career. Mentors are those you can call for anything anytime, while sponsors are those who will speak up and advocate for you, deGarmo said. Cultivate both. "Try to find mentors who don't think the same way as you do," said deGarmo. "If they do, that's not a mentor, that's just a friend."
Be brave, not perfect. Personal and professional growth happens when people learn to be comfortable feeling uncomfortable. "There's this great saying that says, 'I know I'm in the right place because things stopped being easy,'" said deGarmo.   
Slow down in the morning. Do something for yourself so that you can start the day in a way you can control, said deGarmo. "I like to drink my coffee and dedicate 30 minutes just to myself, but find something that you like to do and stick with it," she said. "If you can, try not to check emails or social media. Set yourself up to start the day right."
Learn the four Ps of career planning. Purpose, people, power and possibility: Do you believe in the mission? Do you enjoy the people you work with? What's more important: position title or salary? How much possibility does this career transition or position enable? deGarmo said, "How you choose to prioritize those is different for everyone."
Media Contact
Greg Muraski
Media Relations Manager
301-405-5283  
301-892-0973 Mobile
gmuraski@umd.edu 
About the University of Maryland's Robert H. Smith School of Business
The Robert H. Smith School of Business is an internationally recognized leader in management education and research. One of 12 colleges and schools at the University of Maryland, College Park, the Smith School offers undergraduate, full-time and flex MBA, executive MBA, online MBA, business master's, PhD and executive education programs, as well as outreach services to the corporate community. The school offers its degree, custom and certification programs in learning locations in North America and Asia.