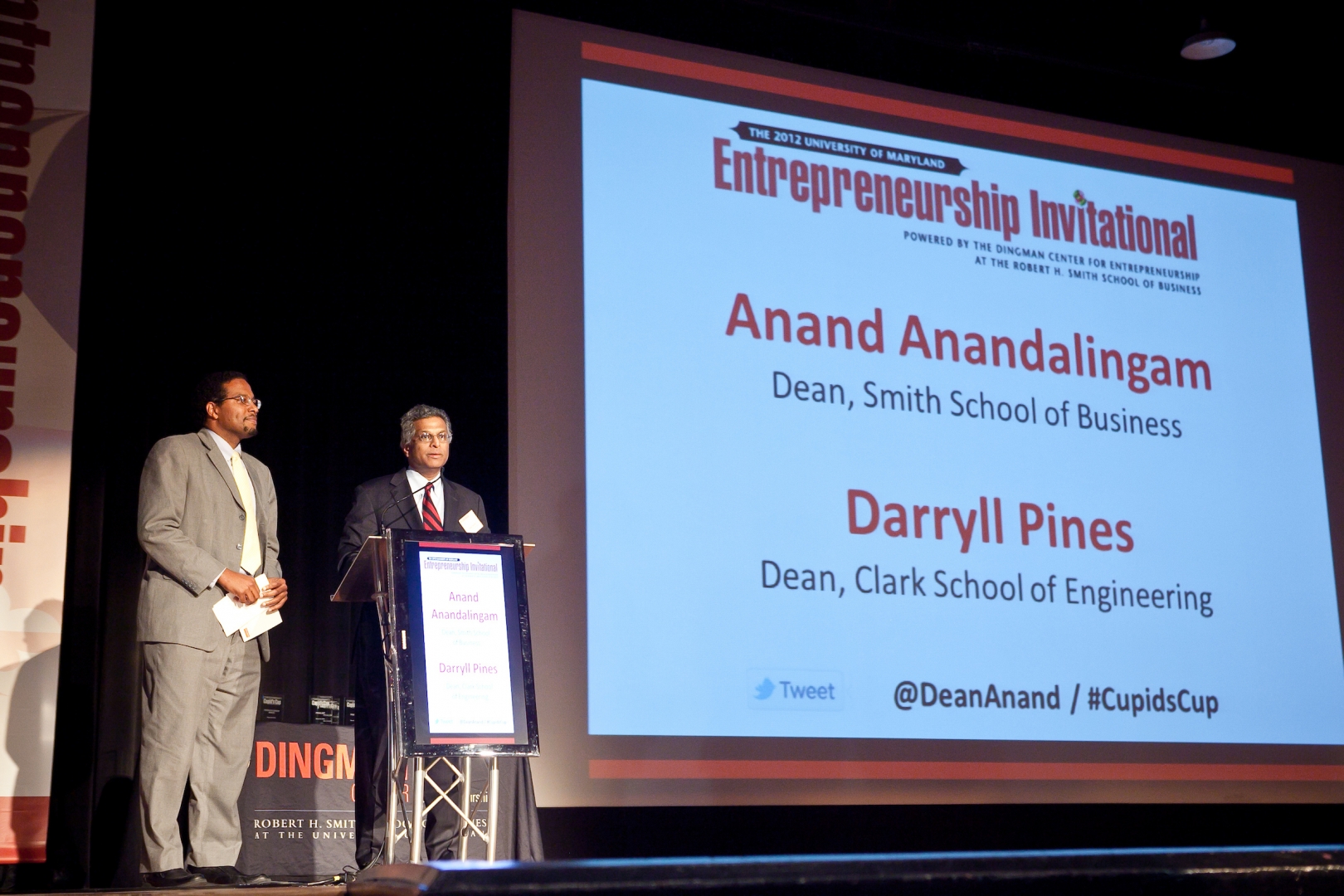 Darryll J. Pines officially takes the helm of the state of Maryland's flagship university on Wednesday, July 1, 2020, becoming the 34th president of the University of Maryland, College Park, and continuing a career of leadership and excellence.
At the Robert H. Smith School of Business, his appointment to the university's top job, back in February 2020, was met with cheers. Understandably – Pines previously served as dean of the A. James Clark School of Engineering, and the Smith School and the Clark School have a long, strong history of partnership.
Maryland Smith and Pines' Clark School have worked closely over the years toward advancing academic studies and in creating opportunities for cross-disciplinary research.
"Darryll Pines embodies all the qualities we hoped to find in our next president. He is an incredibly talented leader with a deep understanding of the transformational power of education for individuals, communities, and society as a whole," said Ritu Agarwal, Maryland Smith's interim dean and director of the Center for Health Information and Decision Systems (CHIDS). "His dedication and commitment to the land-grant mission of the University of Maryland and to the student experience is remarkable."
Pines has a deep understanding of the evolution of higher education and strongly believes in the power that diversity brings to a community, making it stronger than its individual parts. His passion for creating a safe, supportive and vibrant learning environment for all students should excite Terps everywhere, Agarwal said.
Michael O. Ball, Maryland Smith's senior associate dean for faculty & research and Dean's Chair in Management Science, has known Pines for many years. Ball has a joint appointment with Maryland Smith and Clark's Institute for Systems Research, and helps lead NEXTOR-III, an FAA-funded research consortium involving the Smith School, the Clark School and seven other universities.
"(Pines) has been a compassionate and inspiring leader of the Clark School. He possesses strong ethical clarity, an upbeat demeanor and is a pleasure to interact with," Ball said.
The incoming president understands the University of Maryland and displays "a deep affection for it," Ball adds. "He also has a deep understanding of the complexities facing today's business schools. Many of us here at Maryland Smith call him a friend and feel that he shares the same appreciation we have for our school."
Joseph P. Bailey, associate professor of decision, operations and information technologies at Maryland Smith, and executive director of the interdisciplinary QUEST Honors program, said he was "overjoyed" at Pines' appointment, having worked with him over the past decade in his role with QUEST, which spans the Smith School, Clark School, and CMNS.
"Darryll has been a steadfast champion of working across disciplines to keep the University of Maryland on the vanguard of scholarship and education. We are so fortunate to have someone with a great vision for our university as we address the future of higher education in Maryland, the United States, and the world," Bailey said.
"I have no doubt that Darryll will bring his passion for the University of Maryland and ignite our students, staff, faculty, alumni, and corporate partners to do amazing things going forward."
G. 'Anand' Anandalingam, Maryland Smith's Ralph J. Tyser Professor of Management Science, worked closely with Pines from 2009 to 2013, when they were deans of their respective business and engineering schools at UMD.
"He was a great ally in helping put together the framework for campus-wide activities on entrepreneurship," said Anandalingam. "The original pitch for the sponsorship of innovation and entrepreneurship on the Maryland campus was made by us to James Clark and implemented during President Loh's tenure."
Those efforts paved the way for the Academy for Innovation and Entrepreneurship. Anandalingam and Pines also elevated the Cupid's Cup startup competition to have a separate set of contestants on technology business, and together reached out to Under Armour founder and then-CEO Kevin Plank to fund it.
"I am very fond of the work we accomplished together and I know the University of Maryland will continue to thrive under his leadership," Anandalingam said.
Media Contact
Greg Muraski
Media Relations Manager
301-405-5283  
301-892-0973 Mobile
gmuraski@umd.edu 
About the University of Maryland's Robert H. Smith School of Business
The Robert H. Smith School of Business is an internationally recognized leader in management education and research. One of 12 colleges and schools at the University of Maryland, College Park, the Smith School offers undergraduate, full-time and flex MBA, executive MBA, online MBA, business master's, PhD and executive education programs, as well as outreach services to the corporate community. The school offers its degree, custom and certification programs in learning locations in North America and Asia.