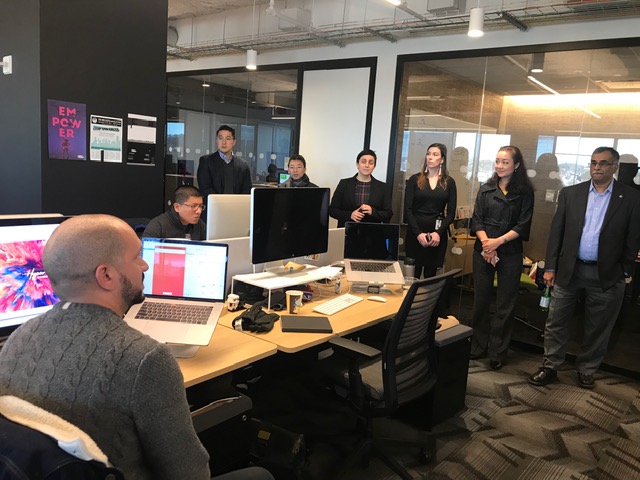 Deloitte hosted seven faculty affiliates of the Smith Analytics Consortium for a meeting of the minds on Jan. 31, 2019, at the company's Greenhouse in Washington, D.C.
"The goal was to introduce Deloitte to our affiliated faculty, who are heavily active in business analytics research," said Wedad Elmaghraby, co-director of the Consortium and a management science professor at the University of Maryland's Robert H. Smith School of Business. "We also brainstormed and identified collaborative activities and opportunities for research."
Deloitte is a founding member of the Consortium, launched in 2016 to inspire and facilitate innovation in analytics among students, faculty and the larger business community.
"We have a long track record of recruiting talented practitioners from the Smith School that both provide the skills we need and fit within our culture," Deloitte Consulting managing director Dave Pierce said at the time of the launch. "Based on that history, we are proud to grow our relationship with the university through the Smith Analytics Consortium."
During the Greenhouse meeting, Deloitte managers presented an overview of software solutions and apps the consulting company has created within the realm of business analytics. Deloitte Greenhouses are cutting-edge physical spaces around the world designed to help clients tackle complex problems.
Besides Elmaghraby, other Maryland Smith faculty participants at the meeting included Margrét Bjarnadóttir, P.K. Kannan, Liye Ma, Michel Wedel, Jie Zhang and Kunpeng Zhang.
Media Contact
Greg Muraski
Media Relations Manager
301-405-5283  
301-892-0973 Mobile
gmuraski@umd.edu 
About the University of Maryland's Robert H. Smith School of Business
The Robert H. Smith School of Business is an internationally recognized leader in management education and research. One of 12 colleges and schools at the University of Maryland, College Park, the Smith School offers undergraduate, full-time and flex MBA, executive MBA, online MBA, business master's, PhD and executive education programs, as well as outreach services to the corporate community. The school offers its degree, custom and certification programs in learning locations in North America and Asia.