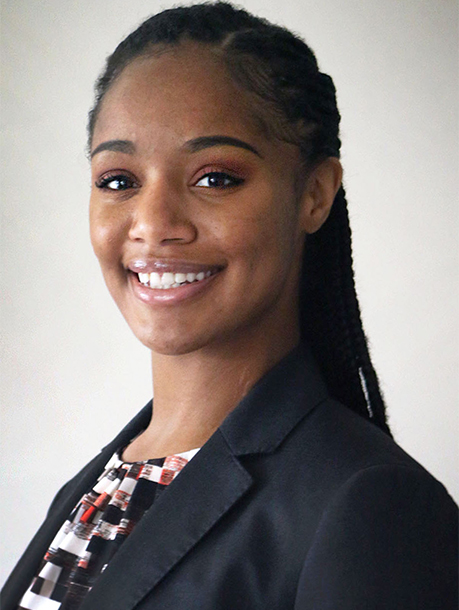 Octavia Davis couldn't picture herself going to college right after high school. She hadn't yet decided what she wanted to do with her life, with her career. Joining the military, she thought, would give her time to decide what she wanted, while giving her a rich, worldly experience.
Media Contact
Greg Muraski
Media Relations Manager
301-405-5283  
301-892-0973 Mobile
gmuraski@umd.edu 
About the University of Maryland's Robert H. Smith School of Business
The Robert H. Smith School of Business is an internationally recognized leader in management education and research. One of 12 colleges and schools at the University of Maryland, College Park, the Smith School offers undergraduate, full-time and part-time MBA, executive MBA, online MBA, specialty master's, PhD and executive education programs, as well as outreach services to the corporate community. The school offers its degree, custom and certification programs in learning locations in North America and Asia.
Labor Day weekend shoppers might have a little extra money to spend, but they will have to work harder to find discounts this year. Supply chain disruptions caused by the continuing pandemic and a series of severe weather events have had retailers struggling to maintain inventories and subsequently less-incentivized to discount items in stock – even for the usual Labor Day sales bonanzas on appliances, mattresses and autos, said Maryland Smith marketing experts Amna Kirmani and Jie Zhang.
Ford set its sights on overtaking Tesla in the electric car market when it announced in May its competitive $40,000 price point for the new F-150 Lightning electric pickup. Scanning consumer sentiment and determining whether it succeeded in winning over popular opinion is typically a difficult process. But new research from Maryland Smith found a way.
Gird yourself—or, actually, don't: The new office dress code is here, and it's very stretchy. After nearly 18 months of widespread telework, many office workers gearing up to head back in are first revisiting their dresser drawers, where they may have to dig past piles of the comfortable yoga pants, cozy hoodies and ratty cargo shorts they've become accustomed to. But once back at their desks, they may stick with some of the sartorial choices they've been making at home.
If there's one thing that can be said about Scarlett Johansson's decision to sue Disney for releasing her latest film, "Black Widow," simultaneously on streaming and in movie theaters, perhaps it's this: Watch for sequels. And as the industry enters its new era, watch for spinoff effects, too, as movie marketing evolves, says P.K. Kannan, the Dean's Chair in Marketing Science at the University of Maryland's Robert H. Smith School of Business.
Subscribe to Marketing