ExporTech™
The Center for Global Business partners with the Maryland/DC District Export Council and U.S. Commercial Service in Baltimore to offer ExporTech™, a national export assistance program that helps companies entering or expanding in global markets. The program applies a structured export strategy development process and an innovative group consulting model to help companies achieve results. It is the only national program through which each company develops a written export plan that is vetted by a panel of experts upon completion.
ExporTech efficiently connects companies with a wide range of world-class experts to help navigate the export sales process. The result is that companies rapidly expand global sales and get connected to resources in Maryland to help them.
ExporTech 2021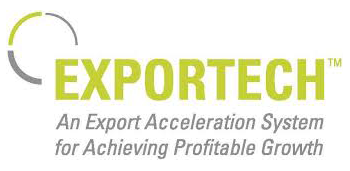 Start growing your business through exporting with customized, action-oriented export expansion strategy development. ExporTech is a proven path to export success: graduates have achieved a substantial sales increase within 6-9 months of completing the program.
Does your company have some experience in international sales, but would like more?
Are you more reactive than proactive to international opportunities?
Are international inquiries increasing, but you're not sure what to do with all of them?
ExporTech may be the program for your company!
Designed for senior executives focused on growth through global markets, ExporTech provides an innovative group consulting model that results in a clear, actionable plan to increase your company's international sales.
How it Works
The ExporTech program is designed to address each company's most pressing global expansion needs. By combining weekly group workshops with individual coaching for each company, the program gives company leaders the tools they need to develop an export plan in just 10 weeks. The program also helps companies build connections with export service organizations and resources to support the successful execution of those plans. Learn more about the curriculum.
The traditional in-person content delivery has been adopted this year (2021) with participants' health and safety in mind; all sessions will be delivered virtually via Microsoft Teams.
To Apply
Applications are not being accepted at this time.
Maryland Smith alumni should contact the Center for Global Business to locate the ExporTech programming local to them and to discuss scholarship opportunities.
For more information, please contact Rebecca Bellinger, Executive Director, rbelling@umd.edu.