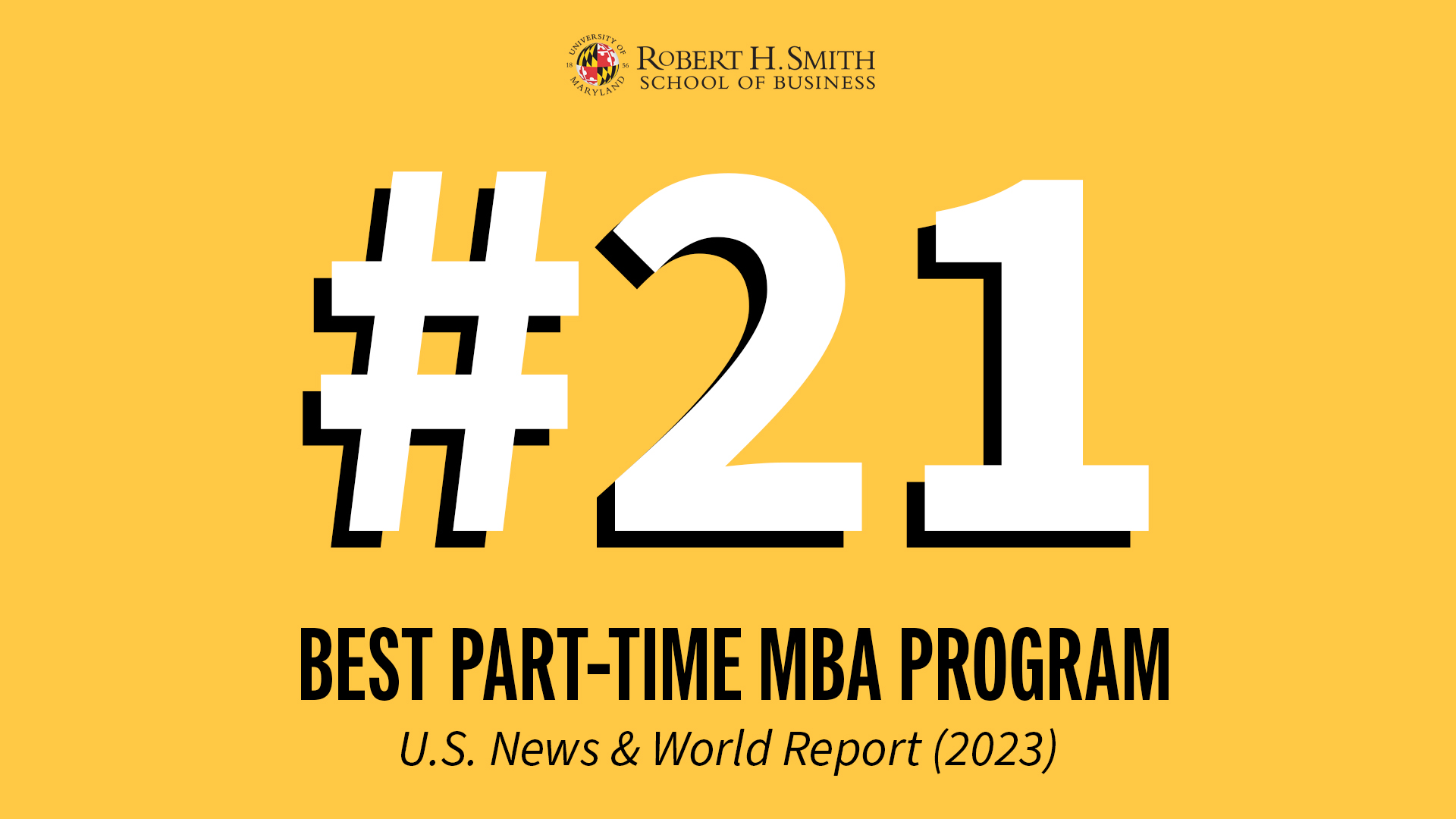 U.S. News & World Report's 2023-2024 Best Graduate Schools shows multiple programs at the University of Maryland's Robert H. Smith School of Business continue to score highly.
The latest rankings include Smith's Flex MBA at No. 21 (up from No. 25) for part-time MBA programs, while MS in Information Systems is No. 11 among peer programs. Full-time MBA is No. 42 (up from 45th).
With operational locations including Baltimore, D.C. and Rockville, Smith's Flex MBA program, as well, recently became STEM-designated, recognizing the analytical, data-informed nature of the curriculum. (Check out the upcoming Flex MBA information sessions)
The STEM designation also applies to Smith's full-time, executive and online MBA programs.
Previous U.S. News rankings include Smith's Online MBA Program in 2022 at No. 12 overall, in addition to online marketing at No. 1, online finance at No. 4, online MBA business analytics at No. 6 and online general management at No. 6.
Read "U.S. News Ranks UMD Graduate Programs Highly," via Maryland Today, and more about Smith's MBA Programs.
Media Contact
Greg Muraski
Media Relations Manager
301-405-5283  
301-892-0973 Mobile
gmuraski@umd.edu 
About the University of Maryland's Robert H. Smith School of Business
The Robert H. Smith School of Business is an internationally recognized leader in management education and research. One of 12 colleges and schools at the University of Maryland, College Park, the Smith School offers undergraduate, full-time and flex MBA, executive MBA, online MBA, business master's, PhD and executive education programs, as well as outreach services to the corporate community. The school offers its degree, custom and certification programs in learning locations in North America and Asia.