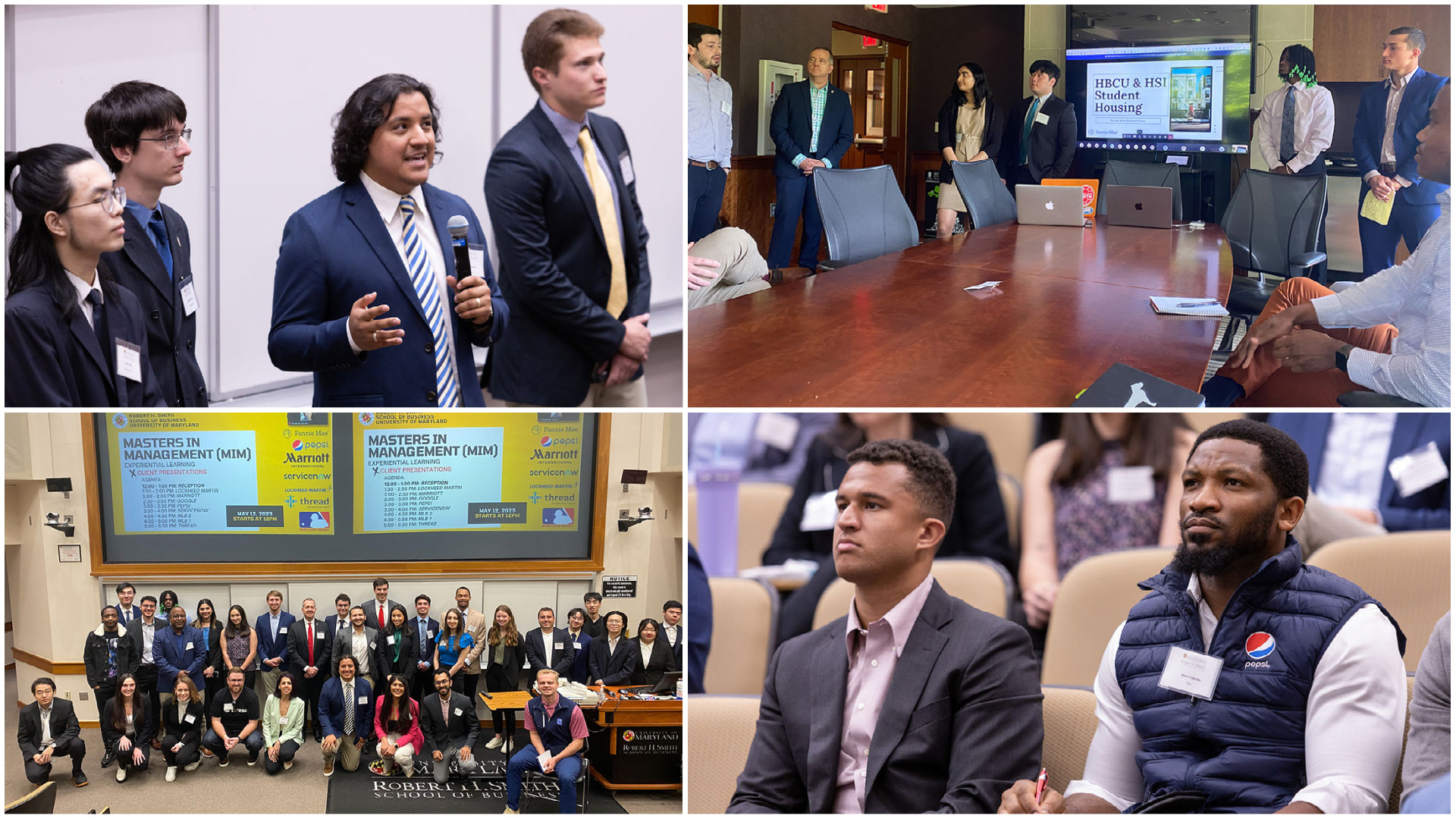 There's a reason corporate and non-profit organizations turn to student teams at the University of Maryland's Robert H. Smith School of Business—they know how to translate classroom knowledge to real-world impact.
This semester, nine interdisciplinary teams of four to five students from Maryland Smith's Master of Science in Management Studies (MiM) program collaborated with real-world clients through the Experiential Learning course.
In the fall, students met with Maryland Smith's MiM advisory council members to learn about their career paths and mark preferences for client partnerships. The following semester, based on those preferences, they were paired with participating clients, including Google, Lockheed Martin, Marriott International, Major League Baseball, PepsiCo, ServiceNow, Thread and Fannie Mae.
Over seven weeks this semester, students leveraged their marketing, entrepreneurship and consulting expertise acquired through the program to deliver actionable and data-driven solutions to their client's needs.
On May 12, eight of the nine teams shared their insights and the culmination of their efforts in a presentation showcase to clients at Van Munching Hall. Students in the Fannie Mae team presented their findings on a date prior to the showcase event.
As one of the latest endeavors in Maryland Smith's mission of creating interdisciplinary learning experiences that prepare students for the changing business landscape, the MiM program offers students an incredibly valuable opportunity to build relationships with clients and see how their work can make an impact in the real world, says Rellie Derfler-Rozin, academic director of the Master in Management Studies (MiM) and Online Master in Management Studies (OMiM) programs.
"The basic vision of the MiM program is bringing people of different academic backgrounds together, not necessarily just business, and helping them realize their passion for business and management," says Derfler-Rozin. "This is their opportunity to see what it's like to work with a real client, gain confidence in their abilities and put classroom theory into practice."
Abby Meyers, MiM '23, who aspires to become a global sports marketing executive, took advantage of the opportunity to work on one of the two teams assisting Major League Baseball. Collaborating on an interdisciplinary team and practicing data-driven decision-making to develop more informed business strategies are skills that will prove to be a boon as she advances her career.
"The good thing about the management studies program is that it touches everything from the financial side to networking and business and economic strategy. That has helped me develop the confidence to step into the real world," says Meyers.
Tyrone Brooks '96, senior director for the MLB's Front Office and Field Staff Diversity Pipeline Program, appreciated mentoring students and gaining insightful outside perspectives to improve MLB marketing operations and identify potential market expansions.
"It's great that they were able to put data behind everything in this process," says Brooks. "Our owners are running companies; they're all about the data and the stories those numbers tell. That's a huge element in all of this."
Zavian Dorah, MiM '23, who was previously part of the UMD student team that won the fall 2022 Interactive Case Competition: Emerging Tech Challenge for its web chatbot, parlayed the experience by working with the Fannie Mae team on its project related to student housing at HBCUs and HSIs. For Dorah, not only was the project valuable because it afforded him real-world experience, but it also enabled him to work toward solutions for important issues.
"It really felt like we were doing something impactful that had a direct impact on underserved communities," says Dorah.
Working alongside Dorah on the Fannie Mae project, Brett Makar, MiM '23, a UMD Lacrosse student-athlete, shared a similar appreciation for the opportunity to work on a project of societal consequence.
"It felt like a 7-week internship. I was able to work under a client and to provide impactful work working with a great group of teammates to solve a problem that is going to make a very large societal impact," says Makar.
Aaron Burstyn '20, Jarrodd Davis, Travis Honaker and Olivia Miller from the Fannie Mae Multifamily Team, who met with their student team weekly to provide mentoring and guidance, noted the students' profound impact on them. Davis congratulated the students for their efforts and expressed appreciation for the potential application of their work through a post on LinkedIn.
"Reflecting on the amazing body of work produced by the talented team that uncovered insights and valuable opportunities to impact renters nationwide. Major kudos to Ami, Zavian, Brett and Kevin for their tireless attention and boundless curiosity," wrote Davis.
Capitalizing on this year's success, the MiM program will continue expanding its offerings to help students maximize their potential in business and management, says Derfler-Rozin. In spring 2024, the program plans to roll out sports management electives on name, image and likeness (NIL) and global sports entrepreneurship.
Starting next semester, Maryland Smith is launching the Online Master of Science in Management Studies program—a purely online and primarily asynchronous version for individuals with limited schedules. Derfler-Rozin says this version will still feature the Experiential Learning course as a required program component. This online program will serve as a more flexible and affordable alternative (approximately $25,000 in net effective tuition) for those seeking to enhance their careers with management education.
"Management education is relevant for everyone no matter where you're coming from," says Derfler-Rozin. "This version is about making management education more accessible and affordable. We're very excited about its future."
Media Contact
Greg Muraski
Media Relations Manager
301-405-5283  
301-892-0973 Mobile
gmuraski@umd.edu 
About the University of Maryland's Robert H. Smith School of Business
The Robert H. Smith School of Business is an internationally recognized leader in management education and research. One of 12 colleges and schools at the University of Maryland, College Park, the Smith School offers undergraduate, full-time and flex MBA, executive MBA, online MBA, business master's, PhD and executive education programs, as well as outreach services to the corporate community. The school offers its degree, custom and certification programs in learning locations in North America and Asia.