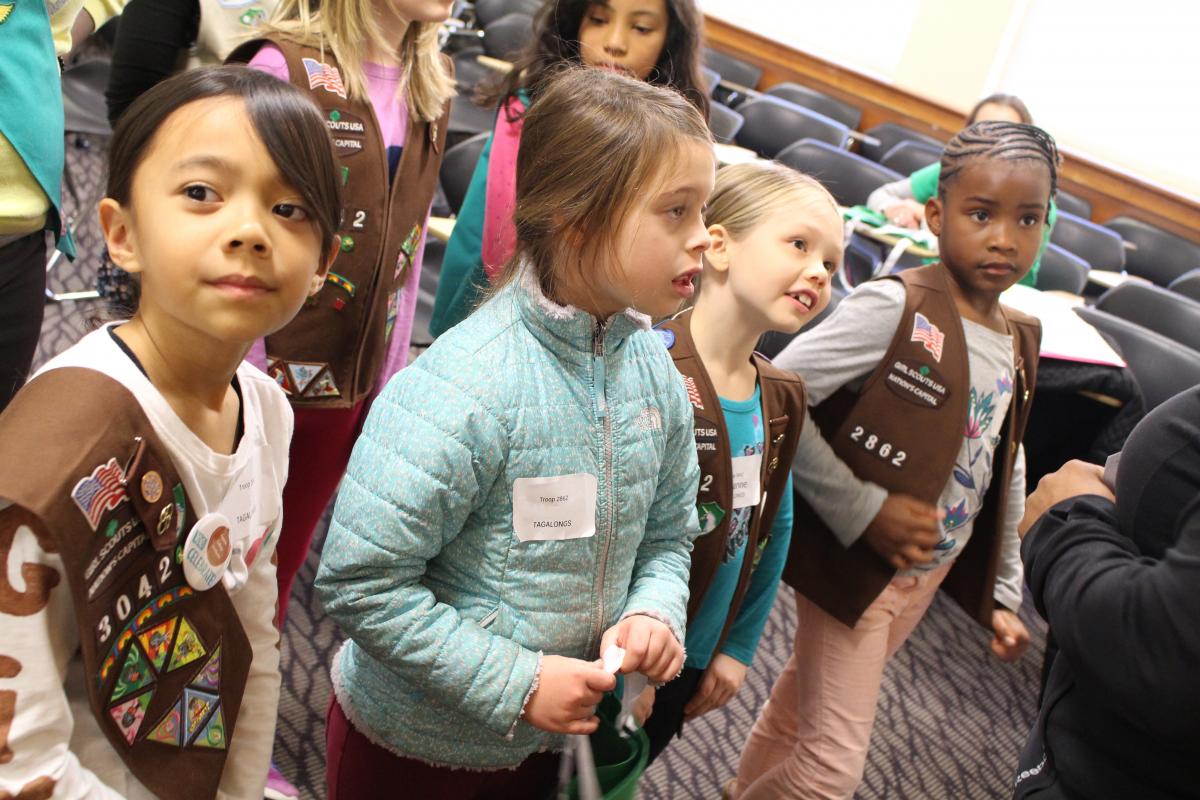 More than 200 Girl Scouts came to Cookie College and learned about the business of selling cookies on Dec. 10, 2016, at the University of Maryland's Robert H. Smith School of Business. "The girls learned life skills like goal setting and money management that will help them in all aspects of life," said Sara Tyler, program specialist at the Girl Scout Council of the Nation's Capital. "It sets them up for life."
Tyler said bringing the girls to a business school provides additional benefits. "It exposes them to higher education," she said. "If you've been there, you see that it's attainable."
Sharon Strange Lewis, senior director of Women and Diversity Programs within the Smith School's Office of Diversity Initiatives, said girls need to see role models in business when they are young. "They need to feel empowered," she said.
Overall, about 225 Brownies and Juniors from kindergarten to fifth grade came to campus, along with nearly 40 teenage volunteers. Tyler said older Girl Scouts serve as "attainable role models" for younger girls while improving their own skills in public presentation and customer service.
"This was a girl-led activity," Tyler said. "If we can get our teens to take on more of a leadership role, it sets them up for success as adults."
The Smith School's partnership with Cookie College is part of the broader 50/50 by 2020 initiative, a pledge to close the gender enrollment gap in Smith MBA programs by 2020.
Media Contact
Greg Muraski
Media Relations Manager
301-405-5283  
301-892-0973 Mobile
gmuraski@umd.edu 
About the University of Maryland's Robert H. Smith School of Business
The Robert H. Smith School of Business is an internationally recognized leader in management education and research. One of 12 colleges and schools at the University of Maryland, College Park, the Smith School offers undergraduate, full-time and flex MBA, executive MBA, online MBA, business master's, PhD and executive education programs, as well as outreach services to the corporate community. The school offers its degree, custom and certification programs in learning locations in North America and Asia.