The QUEST (Quality Enhancement Systems and Teams) Honors Program is a three-year program for University of Maryland undergraduates studying business, engineering, and/or science. Through our five-course curriculum, students complete experiential learning projects and gain unique teamwork, communication, and problem-solving skills that prepare them for their futures. Now in our 31st year, QUEST has become a mainstay at the University of Maryland, College Park, providing a unique opportunity for students who are interested in multidisciplinary, hands-on learning experiences.
258
Business, Engineering, and Science Students
3.74
Average Incoming GPA
47%
Accept Jobs With QUEST Corporate Partners
Information for UMD Students
Each winter, QUEST admits talented freshmen enrolled in a major in the Robert H. Smith School of Business, A. James Clark School of Engineering, and/or College of Computer, Mathematical, and Natural Sciences. Applications for the 2023-24 academic year will open in December 2023.
QUEST was by far the most rewarding experience I had in college. The public speaking and teamwork skills have taken me a long way both in my professional and personal lives, and it is safe to say that these learning opportunities are rare in a college environment. QUEST has also given me many lifelong friendships that I will cherish for years to come. I look forward to always being part of the QUEST family!
Ishaan Kapur, Accounting & Finance '23
Capital One
Information for Corporate Partners
QUEST welcomes the opportunity to partner with organizations interested in contributing to student learning and gaining access to talented undergraduate students in business, engineering, and science. Our corporate partners provide experiential learning opportunities for QUEST students through project sponsorship in both our capstone course and our data analysis course. Corporate partners are also invited to our annual networking event and receive QUEST resume books every semester.
50+
Annual Experiential Learning Projects
92%
Team Recommendations Implemented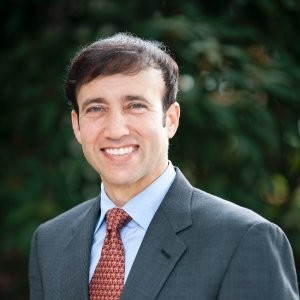 "D&H's success over its 105 years in business has always been predicated upon process improvements. The QUEST students have proven time and time again to be a tremendous partner in this regard, bringing diverse perspectives and solutioning valued outcomes to real world business challenges. In our experience, the QUEST framework, delivering process-oriented ideas which are derived from a multidisciplinary and a team-oriented approach, is second to none and has yielded tremendous ROI for D&H."
— Michael Schwab, Co-President, D&H Distributing
Decades of Proven Success
Debbie Feinberg '96 remembers getting a flier for a new program during her first year as a hyper-focused accounting major. She was intrigued. It was called the IBM Total Quality Management Program, later renamed the Quality Enhancement Systems and Teams honors program – QUEST – a highly selective and intensive three-year series of team-based experiential learning courses and extracurricular opportunities for undergraduates studying business or engineering (and now also students in the College of Computer, Mathematical and Natural Science).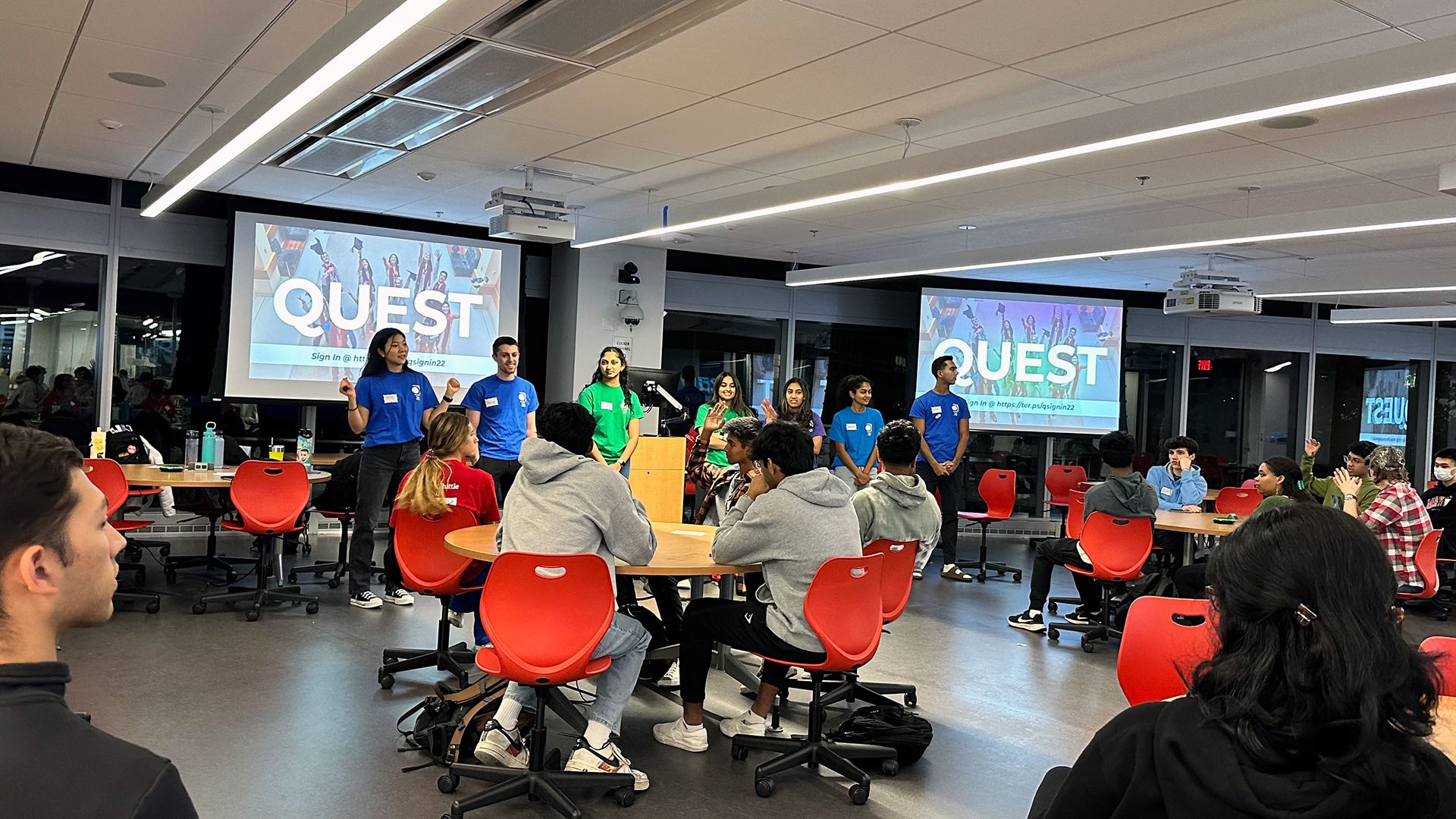 A Three-Decade QUEST
For 31 years, when companies and municipalities have faced especially vexing and persistent predicaments, they've turned to an elite squad of problem solvers: the students of the Robert H. Smith School of Business'QUEST Honors Program.
From navigating the maze that is the Port of Houston to talking in-depth with ExxonMobil executives, QUEST students have gone inside operations to closely observe them, suss out snags and learn critical skills that have helped many go on to become entrepreneurs, founders and logistics masterminds.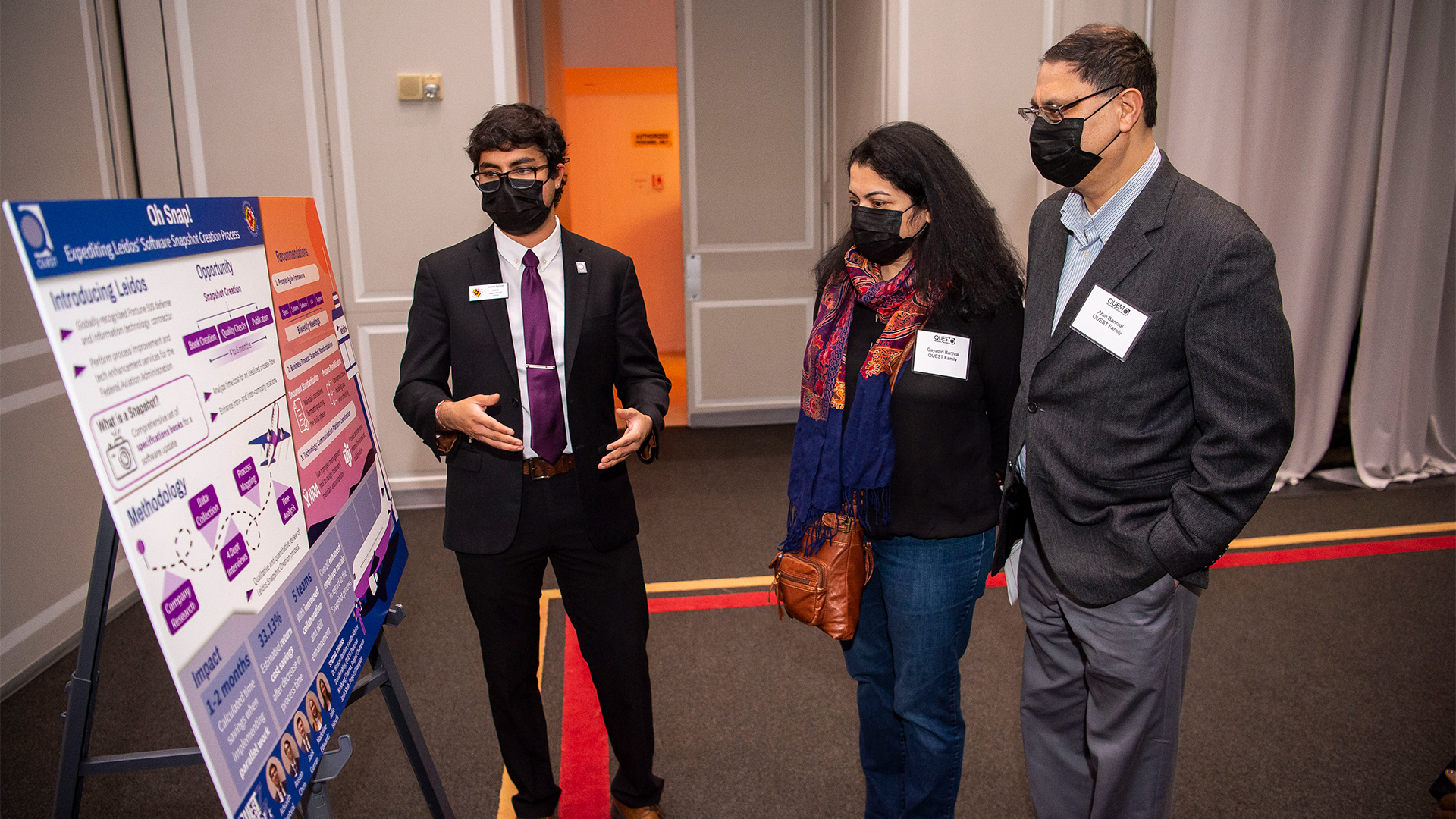 QUEST Undergrads Impress During Capstone Conference
From agriculture and manufacturing to supply chain management, students from the Quality Enhancement Systems and Teams (QUEST) Honors Program are ready to help businesses achieve their operational goals. In December, nine student teams from Cohort 34 showcased their semester-long capstone projects during the bi-annual QUEST Capstone Conference at the University of Maryland.
QUEST Honors Program
7699 Mowatt Lane
1109 Van Munching Hall
University of Maryland
College Park, MD 20742-1815