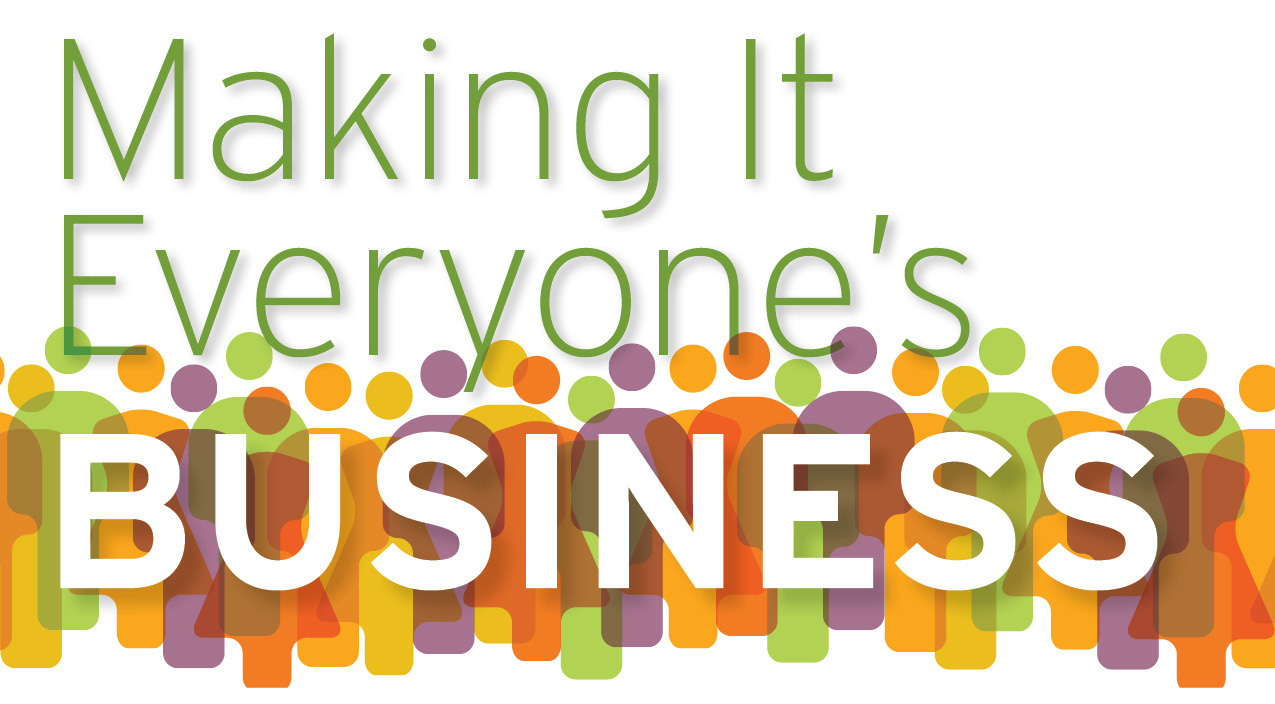 In May, National Student Clearinghouse reported that 662,000 fewer students enrolled in undergraduate programs in spring 2022 than a year earlier, a decline of 4.7%. But first-time, first-year enrollment increased by 4.2% in the same period. Why the overall decline yet increase in first-year enrollment?
Experts say it has to do with retention – to keep students, universities and colleges need to provide educational experiences of real value to students. That means offering transformational, cross-functional programs that integrate real-world experiences so students can learn to think critically, tackle complex challenges and solve the world's big problems – programs that are larger than just one discipline alone.
Figuring out the best ways to offer integrated and interdisciplinary opportunities for learning and research is a top priority for Prabhudev Konana, dean of the University of Maryland's Robert H. Smith School of Business. As one of the main themes to emerge in the school's new strategic plan, it will be a guiding principle going forward.
"Working together with our counterparts on campus allows for fuller learning, greater cross-pollination of ideas, and leads to broader societal impact," says Konana.
"We're creating a UMD ecosystem," says Victor Mullins, Maryland Smith's associate dean for undergraduate studies. "We're designing purposeful partnerships with our colleagues across campus, keeping our students at the forefront of our planning."
That's why Maryland Smith is taking business education beyond the walls of Van Munching Hall, pushing past university silos, to partner on new programs that make for fuller learning opportunities for all students. These are the kinds of programs that will attract the top students to the University of Maryland and prepare graduates for the new world of work, readying them to have a broad impact on society's biggest challenges.
The Smith School already has an impressive track record.
Decades of Proven Success
Debbie Feinberg '96 remembers getting a flier for a new program during her first year as a hyper-focused accounting major. She was intrigued.
It was called the IBM Total Quality Management Program, later renamed the Quality Enhancement Systems and Teams honors program – QUEST – a highly selective and intensive three-year series of team-based experiential learning courses and extracurricular opportunities for undergraduates studying business or engineering (and now also students in the College of Computer, Mathematical and Natural Science). It mirrored the student experience in the MBA program, bringing together students from different disciplines and emphasizing teamwork and real-world consulting projects for corporate clients.
"It was a bit out of my comfort zone," Feinberg says, "but I thought maybe I could learn something else and differentiate myself a little bit."
She applied and got in.
"For the first time, I was in classes with these engineering majors," she recalls. "We had different points of view and different backgrounds. But it really was a transformative experience. It dropped you in the deep end to figure things out."
In her very first class, students were tasked with designing and building a hairdryer – something Feinberg would have never done in a traditional business class.
Feinberg credits QUEST as integral in her successful – and often unexpected – career journey, that took her from auditor, to QUEST's first director of corporate relations, to strategy and operations consulting, a stint as a professional organizer, back to accounting, and, for the last eight years, chief financial officer of Parabilis, an alternative lending company providing working capital to government contractors.
Now in its 30th year, QUEST has become the gold standard of multidisciplinary, hands-on learning experiences for top students at the University of Maryland.
In addition to QUEST, Smith runs the cross-disciplinary Business, Society and the Economy program, part of the university's 25-year-old College Park Scholars program. The two-year, living-learning program for academically talented incoming freshmen combines an interdisciplinary curriculum with hands-on learning and community-building opportunities for students.
Feinberg says QUEST and programs like it – that provide opportunities for hands-on collaboration with peers and faculty in business and beyond – really make the difference in what students take away from their college experience. Participants are highly sought-after for jobs by corporate partners and, like Feinberg, see long-term impacts on their careers.
"One of the biggest things I've taken away from the program is to say 'yes, I can try this. I can do this. If I fail, I fail, but I probably have learned something along the way.' And that approach has worked out for me over my career."
She hopes more students have access to those experiences – and like her, jump at the chance to participate in something new.
Expanding Opportunities
Since he took on the lead role in January 2021, Konana has been working to forge new campus partnerships and build on longstanding successful campus relationships and programs, like the experience pioneered by QUEST.
Thanks to his efforts, top incoming undergrads have a new opportunity to learn about business concepts and be a part of a vibrant community in the Interdisciplinary Business Honors program. Just launched this fall, it's Smith's first partnership with Maryland's Honors College.
"It's a great way for us to bring some of the best and brightest to the University of Maryland, who may otherwise go elsewhere," says Joseph Bailey, assistant dean for specialty undergraduate programs.
The prestigious invite-only program welcomed 63 freshmen this fall, more than half of whom aren't majoring in business. "That means that we've got many touch points with students of many other majors who are going to be exposed to business as a discipline and our thought leaders here on the Smith faculty," says Bailey.
The Smith School also just launched the Notation in Computational Finance. The four-semester integrated learning experience is geared toward students from the Department of Computer Science who want to learn to manipulate financial datasets. Students will apply analytical models and machine-learning algorithms to tackle financial problems, as well as complete a capstone project with academic and industry mentors.
Albert "Pete" Kyle , Distinguished University Professor and Charles E. Smith Chair in Finance, is teaching the introductory course this fall. The notation, he says, is incredibly relevant as it satisfies a growing need from financial firms seeking students with programming skills and comprehensive finance background.
Leah Kannan , a junior studying computer science, signed up for the program for the opportunity to apply computational methods to real-world scenarios in the financial sector. She's hoping it will help when she's ready to look for a job.
"Business is an integral part of our society today with many interesting and potential artificial intelligence/machine-learning applications, and it's best to get familiar with and understand that sector in order to properly apply the computation concepts I am learning in computer science," says Kannan. "By adding business coursework to my computer science degree I will hopefully be opening more opportunities to contribute to the growing fintech industry and related areas."
Also new this semester: Smith's graduate-level Technology Management Certificate program, which Bailey is co-directing and adds a stackable credential to Smith's MBA. The interdisciplinary program has students learning from faculty from the Clark School of Engineering and the School of Public Policy, along with successful alums. Smith plans to partner on similar programs in healthcare and entrepreneurship.
"I attribute our innovative partnerships to Dean Konona, our Smith faculty, staff, and student leaders," Mullins says. "We applaud Dean Konana and his fellow UMD deans for helping us drive these new initiatives."
Konana's goals are coming at the right time, says Bailey. He is finding a receptive audience both with his counterparts on campus and inside the walls of the business school. "The campus has become a vibrant community of learners. Because of that, the mindset of not just serving our majors, but also serving other students who aren't majoring in business, has become a high priority for us."
Mullins agrees: "We're shedding past perceptions of elitism. Instead, we want to serve as many UMD students as we can. Business is global, and we're teaching our students how to navigate the intricacies of working with others, whether they share an office together, work on the same team, or do business together on the other side of the globe. Smith is now leading by example."
Business for All
It's not just about creating limited-enrollment, highly focused programs like QUEST to attract top students to the university.
"We want students in any major to understand the role of business," Bailey says.
That's where Smith's minors programs come in. In addition to offering focused minors programs in areas including innovation and entrepreneurship and business analytics, the school relaunched its general business minors program in an asynchronous format this fall. That means students in any discipline can register for minors courses and take the content online anytime, anywhere to fit into their schedules. Courses include video lessons from professors, complemented by online lab hours and office hours, and students interact in online discussion boards.
Interest in a general business minor has always been robust, says Nicole Coomber, the program's academic director and assistant dean for alumni and corporate engagement. "With this new flexible offering, Smith can reach even more students on campus and partner with other schools and colleges to offer business courses in other programs and minors."
For example, there's a new Arts and Leadership minor in the works on campus and faculty want to include the marketing elective as part of that program, says Coomber. The Smith School is also working with the Clark School of Engineering to include a business course in one of its minors programs. And faculty and administrators are working with counterparts in kinesiology, art history and journalism to build an interdisciplinary sports analytics and management minor.
It's What Students Want
Students across campus have long wanted more access to business classes, and the asynchronous minors course content makes that possible for a lot more students, says Coomber. "We don't have to be restricted by classroom space and scheduling."
Students are absolutely asking for these opportunities, says Bailey. "That's why we are seeing better students join us as freshmen. If we didn't offer it, more students would go elsewhere."
"A full curriculum redesign is in the works to meet changing student demands," says Mullins. "Companies need people who can think on their feet when plans change, who can work well with all types of people, and who can think critically and innovate."
Coomber says all students – regardless of their major – are going to need business skills and can benefit from flexible access to the Smith School's academic offerings.
"Business is fundamental," she says. "Every single student that gets a job is going to work in some kind of organization, and every organization has to do things like manage people and finances, or engage in accounting practices, do marketing, or manage supply chains."
What Companies Need
The Smith School is really trying to listen to corporate partners and what they look for in new hires, says Bailey. "Increasingly employers want students who can work in teams, work on problems with no known solutions, and interact with industry. Those experiences aren't done by just teaching out of a textbook and just rote memorization of business concepts."
"The nature of business is constantly evolving," says Mullins. "To truly prepare the next leaders to push organizations forward to success, business schools also need to evolve their often-dated curriculum and associated out-of-class experiences to prepare students to enter the workforce of the unknown."
That's something the QUEST program prepares graduates to do really well, says Joel Liebman '09, director in the National Security Segment at global consulting firm Guidehouse, whose own QUEST experience helped him land the internship that led to his current role with the same company 14 years later. He prefers to recruit new team members from the program because QUEST participants get experience working, problem-solving, and experiencing real setbacks and successes as part of diverse teams before they even graduate.
"To have that coming in is such a differentiator," he says. "A QUEST undergraduate candidate coming in and joining their first project for a company is like a second- or third-year professional in the maturity that they have in being able to contribute and get the best out of others."
Liebman's wishlist for new employees' skills and experiences is what a lot of organizations want in their hires, and that's why the Smith School wants to create more programs and partnerships to help students get experience working with peers from other majors and disciplines.
"By working with students outside the business school, our students are getting exposed to other viewpoints," Coomber says. "When they go out into the world, they are more likely to listen to their colleagues and defer to their expertise on certain issues. When students get a chance to do that early on, they develop better critical thinking skills, they ask better questions, they are more ready for leadership, no matter what discipline their field is in."
Up Next
Beyond specialty programs and academic credentials, the Smith School really just wants to reach more students – at all levels.
More students can take advantage of opportunities to learn about business and interact with companies outside of coursework at the Smith School. Mullins says more Smith clubs, organizations and business fraternities are now open to the campus at large. Smith and non-business students alike benefit from the diverse exchange of ideas, and companies are excited to see packed events with eclectic groups of students, he says.
The Smith School is working to create an online financial literacy program that all students could access. Michael McMillan, an associate clinical professor of Accounting and Information Assurance, is working with UMD's Office of Financial Aid, to figure out the best way to teach students things like how to manage their loans.
There are even opportunities to reach students before they enter the University of Maryland. There's a program in the works to create a clear pathway for high school students in Montgomery County, Md. to work their way through Montgomery College and the Universities at Shady Grove to Smith's master's programs. And through its Ed Snider Center for Enterprise and Markets, the Smith School has run a summer leadership program for high school students. Bailey says there could be ways to expand some of the new asynchronous business minors content to high-schoolers in that program and in future programs.
"I hope that students, regardless of where they are in their journey, always look to the Smith School as a place to round out their credentials and prepare themselves for future success," Bailey says.
That's why Konana and the Smith School are so focused on bringing business education to all – to benefit the students themselves. It's also just good business for the school and university.
"There is a reason why we're doing this," says Mullins. "It's for the benefit of students. By working together, we have the ability to increase our enrollment and to keep students at Maryland. There is increased engagement and a stronger sense of community. This leads to better retention and graduation rates because students want to stay here as they find things they love and get a better sense of who they really are."
Media Contact
Greg Muraski
Media Relations Manager
301-405-5283  
301-892-0973 Mobile
gmuraski@umd.edu 
About the University of Maryland's Robert H. Smith School of Business
The Robert H. Smith School of Business is an internationally recognized leader in management education and research. One of 12 colleges and schools at the University of Maryland, College Park, the Smith School offers undergraduate, full-time and flex MBA, executive MBA, online MBA, business master's, PhD and executive education programs, as well as outreach services to the corporate community. The school offers its degree, custom and certification programs in learning locations in North America and Asia.