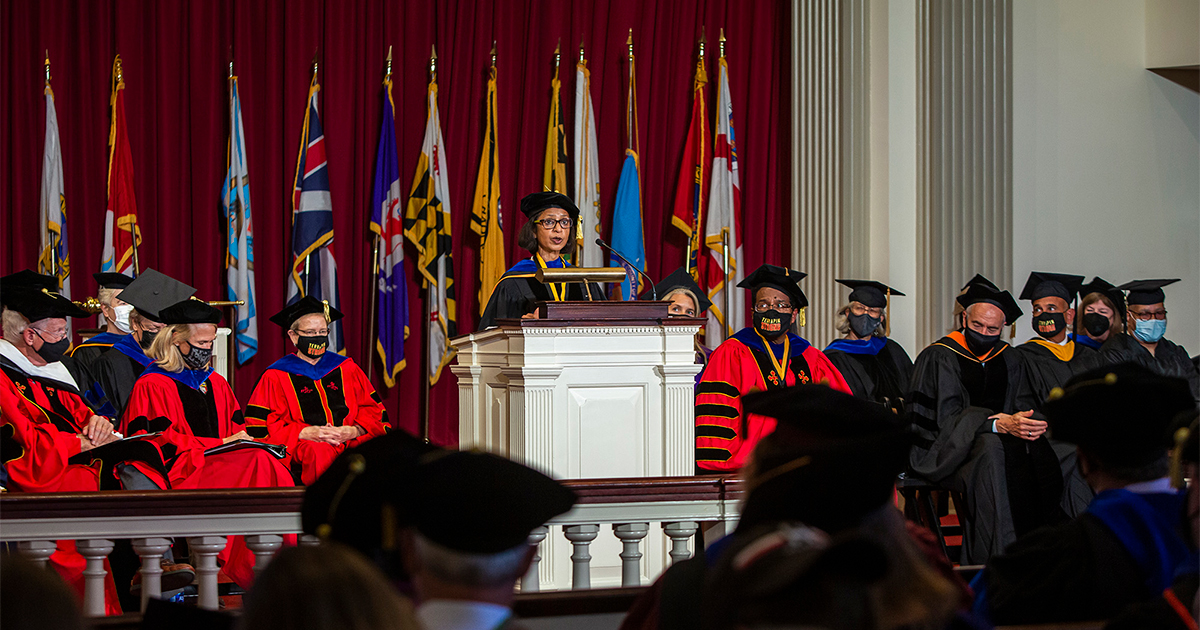 Recognized for her tireless efforts toward enhancing the student experience and mission of the University of Maryland's Robert H. Smith School of Business, Ritu Agarwal received the UMD President's Medal during the 38th Annual Faculty and Staff Convocation on Wednesday.
Agarwal, Distinguished University Professor and Dean's Chair of Information Systems, is the recipient of the highest honor bestowed by UMD.
"Dr. Agarwal is a pioneer in the field of health, information systems and analytics. She has brought her detailed work ethic to high-impact projects leveraging technology for chronic disease management, opioid abuse disorder, racial disparity in health care and how online communities can help improve exercise habits and overall health," said UMD President Darryll Pines during the event. "For her outstanding record of achievement and transformative impact, I am truly honored to bestow Dr. Agarwal with the President's Medal."
Since joining the Smith School faculty in 1999, Agarwal has taught at every level and forged a lasting impact within and beyond the UMD community. She is the founding director of the school's Center for Health Information and Decision Systems (CHIDS).
She also helped launch the annual Conference on Health IT and Analytics (CHITA), which now serves as a leading research forum for technology, analytics and health for a variety of healthcare reform professionals and leaders.
Agarwal's current research focuses on how information technology is used in healthcare, health analytics and artificial intelligence applications in health. In her remarks delivered during the event, Agarwal acknowledged that this award is the culmination of what has been a labor of love throughout her professional career.
"I stand here today filled with humility and gratitude. I am humbled by the incredible honor bestowed upon me – the President's Medal – and immensely grateful to the University of Maryland for affording me all of the opportunities I've had the privilege to be involved in during my time here," said Agarwal. "The freedom to pursue my passions and be part of a community that is deeply dedicated to the pursuit of knowledge and positive societal impact."
Agarwal, who has received all of Maryland Smith's major teaching awards, now joins former Smith Dean Rudy Lamone as the second Smith faculty to receive this award. She most recently was awarded the Association for Information Systems' prestigious LEO Award, which recognizes lifetime achievements in the field of information systems.
At the university level, Agarwal was named a University Scholar Teacher in 2011 and became the first female Distinguished University Professor from Maryland Smith in 2017.
"I would not be here were it not for the unconditional love and support of my family, close circle of friends who are always willing to tell me when I'm wrong and my professional mentors who have helped me along the way and taught me invaluable lessons that I've passed along to my own mentees," said Agarwal. "Each and every one of them has a piece of this medal, thank you from the bottom of my heart."
Media Contact
Greg Muraski
Media Relations Manager
301-405-5283  
301-892-0973 Mobile
gmuraski@umd.edu 
About the University of Maryland's Robert H. Smith School of Business
The Robert H. Smith School of Business is an internationally recognized leader in management education and research. One of 12 colleges and schools at the University of Maryland, College Park, the Smith School offers undergraduate, full-time and flex MBA, executive MBA, online MBA, business master's, PhD and executive education programs, as well as outreach services to the corporate community. The school offers its degree, custom and certification programs in learning locations in North America and Asia.