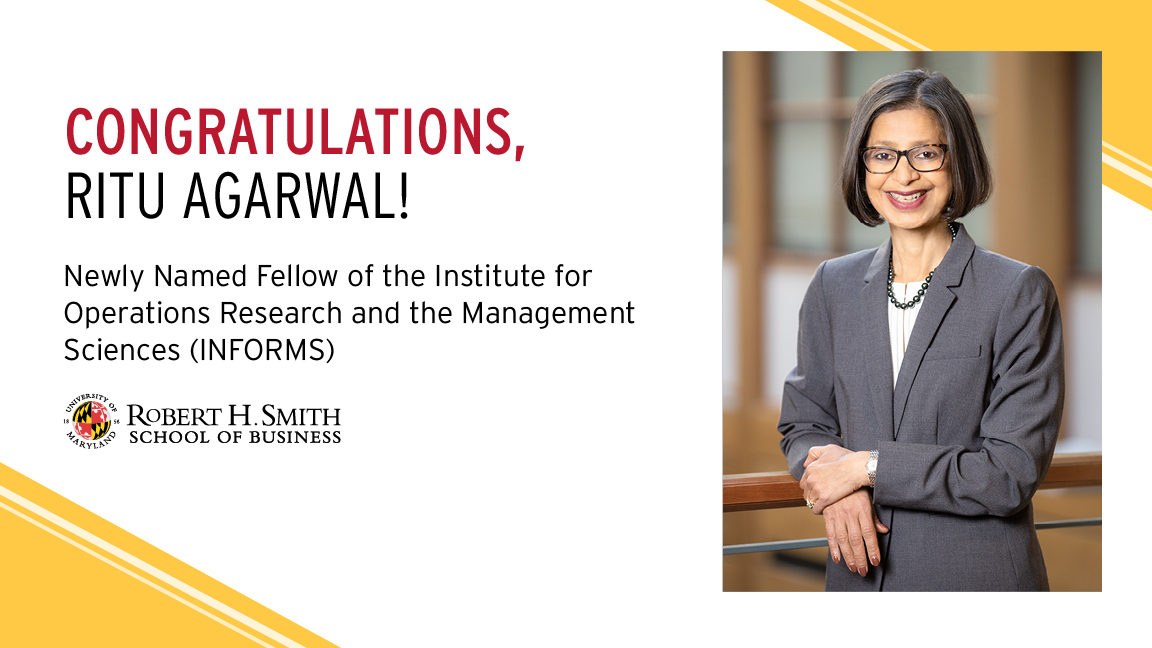 Maryland Smith's Ritu Agarwal was elected as a fellow of the Institute for Operations Research and the Management Sciences (INFORMS). The honor is in recognition of her lifetime contributions to the profession and is reserved for only the very top academics and professionals in the field.
Agarwal is a Distinguished University Professor and Dean's Chair of Information Systems at Maryland Smith. She is founding director of the school's Center for Health Information and Decisions Systems (CHIDS) and currently serves as Maryland Smith's Special Advisor to the Dean. She is one of 12 new INFORMS fellows elected in 2021 who will be inducted this fall at the INFORMS annual meeting.
INFORMS fellows exemplify outstanding lifetime achievements in operations research and the management sciences. They are chosen for their exceptional accomplishments and significant contributions to the advancement of their field. Nominees are evaluated for their contributions in education, service to INFORMS and the field, management, research impact and practical application of operations research and management science to tackle real-world problems. Agarwal's fellow citation recognizes her for pioneering contributions to information systems research in the application of digital technologies and analytics to healthcare and for dedicated service and leadership in the information systems community.
Agarwal has published more than 100 papers in top academic journals; testified before government agencies such as the U.S. Department of Health; and collaborated with Fortune 500 companies such as Cisco Systems, Johnson & Johnson, and Pfizer. She has taught at every level at Maryland Smith and received all of the school's major teaching awards since joining the school in 1999. She served as interim dean from August 2019 through December 2020. Prior to that, she served as senior associate dean for faculty and research.
Agarwal's current research focuses on the use of information technology in healthcare settings, health analytics, and artificial intelligence applications in health. She served a six-year term as editor-in-chief of Information Systems Research, one of the world's top academic journals in information systems. She is a fellow of the Association for Information Systems, and a Distinguished Fellow of the Information Systems Society of INFORMS. Her awards include the Association for Information Systems' prestigious LEO Award, recognizing lifetime achievements in the field of information systems. She is an appointed member of the Federal Advisory Council for the National Institute of Allergy and Infectious Diseases (NIAID) of the NIH. In 2010, Agarwal started the annual Conference on Health IT and Analytics (CHITA), a leading research forum at the intersection of technology, analytics and health for international scholars, policymakers and business executives who work in healthcare reform. She is passionate about using her research capabilities and advocacy to improve the practice and delivery of healthcare.
Media Contact
Greg Muraski
Media Relations Manager
301-405-5283  
301-892-0973 Mobile
gmuraski@umd.edu 
About the University of Maryland's Robert H. Smith School of Business
The Robert H. Smith School of Business is an internationally recognized leader in management education and research. One of 12 colleges and schools at the University of Maryland, College Park, the Smith School offers undergraduate, full-time and flex MBA, executive MBA, online MBA, business master's, PhD and executive education programs, as well as outreach services to the corporate community. The school offers its degree, custom and certification programs in learning locations in North America and Asia.