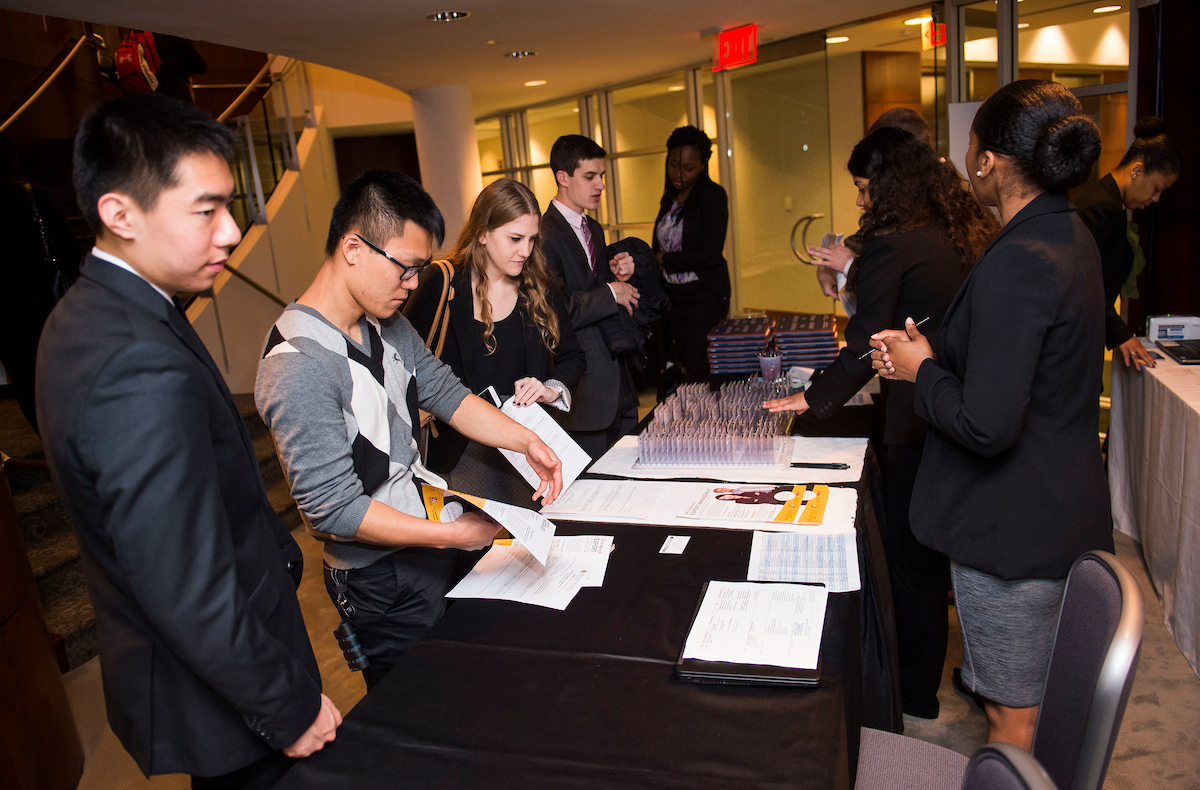 Globalization: It's a topic that increasingly dominates headlines and political discourse around the world, with Donald Trump in the White House, the United Kingdom leaving the European Union, and protectionist sentiment gaining political favor in other parts of the developed world. It was also the topic that dominated the seventh annual Emerging Markets Forum, hosted by the Center for International Business Education and Research (CIBER) at the University of Maryland's Robert H. Smith School of Business on April 21, 2017.
"It feels almost like being in the middle of a storm," said Kislaya Prasad, research professor and director of CIBER. For years, the world has been becoming more and more integrated. But lately, he said, the trend seems to be in question.
After decades of global trade and increasingly multinational supply chains, companies no longer consider globalization to be a matter of choice, said John Murphy, senior vice president for International Policy at the U.S. Chamber of Commerce. "It's more of a phenomenon. It's a fact of life," said Murphy, the event's keynote speaker. "It's the radical diminishment of distance. It's the tyranny of distance being overcome through new communications technology (and) the radical reduction in transportation costs for trading goods. At the end of the day, everybody here in many ways is competing with everybody everywhere else."
The theme of this year's event, hosted at the Ronald Reagan Building and International Trade Center in Washington, D.C., was Emerging Markets in the New Era of Globalization. In 1990 most world trade was between developed countries, but today half of U.S. exports go to developing countries, Murphy said. Some 41 million American jobs today depend on international trade. Roughly 1 of every 3 acres on American farms is for exports.
For decades, Smith School Dean Alexander J. Triantis said, the business school has been meeting demands of the evolving business world by helping students develop "more of a global mindset, as well as a global skillset." About 38 percent of Smith MBA students hail from other countries, 58 nations are home to Smith alumni, and the school has approximately 700 recruiting partners around the world. "Our footprint is really wide," he told the conference.
That global mindset is essential for companies looking for growth, William B. Plummer, vice president for external affairs at Huawei Technologies, said in a later panel discussion. "If we are to realize the next revolution of information and communication technology, if we are to realize the promise of the interweb of stuff that we hear about every day, then that means our industry is going to have to continue to grow at the pace that it has. And that means it is going to have to be able to do so based on global ecosystems."
NAFTA and TPP
The Trump administration has pledged as part of its approach to globalization to renegotiate the North American Free Trade Agreement, or withdraw altogether from the 23-year-old NAFTA. Trump has also discussed the possibility of attaching a tariff of 20 percent or more on goods imported from Mexico. "I can assure you, this very much has the attention of the U.S. business community," Murphy said.
The U.S. has $3.5 billion worth of trade with Canada and Mexico every day, more than $1.3 trillion a year, and 14 million American jobs depend on that trade. "These are important markets, no matter how you slice it," Murphy said. "And if you start messing around with this agreement, the potential for disrupting that trade and having negative repercussions because of it, is very real."
Already, he said, Mexico, the biggest market for U.S. corn exports, has been looking at how they might replace some U.S. corn with South American corn. "It seems clear that Brexit and TPP and NAFTA are all a retreat on the part of the West from globalization," Sandor Boyson, research professor at the Smith School and co-director of the Supply Chain Management Center, said in a later session. "But we know global supply chains that have survived these momentous events of the past are very resilient and they adjust to seismic shifts."
Trump in his first days in office walked away from the Trans Pacific Partnership, a free trade deal between the United States and 11 other Pacific Rim nations. The 11 other nations are in talks to proceed without the deal.
The trading bloc is an attractive one. Forecasts show that by 2030, about two-thirds of the world's middle-class consumers will be in Asia.
Chinese President Xi Jinping in recent weeks has tried to present himself as the standard bearer for free trade as the United States steps back. "In some ways, there are good grounds for this," said Murphy, explaining that China is the top trading partner for more than 100 countries, while the U.S. is tops for just 20. "China has emerged as a true trade powerhouse."
Edward Alden, the Bernard L. Schwartz Senior Fellow at the Council on Foreign Relations, cautions that China is ill-suited to take over America's role in global trade policy. In an afternoon session moderated by CIBER managing director Rebecca L. Bellinger, he warned of "more chaos on the global stage" if the U.S. disappears from its long-held trade role.
Domestic worries
"No economist will tell you that trade is good for everybody. On the aggregate, everybody is better off," said Dany Bahar, fellow of global economy and development at the Brookings Institution and associate at the Harvard University Center for International Development. "But there are winners and there are losers."
If the Trump administration wants to improve life for Americans, it should do more to help displaced workers train for new jobs -- or help them toward retirement, Bahar said. "That's how the Trump administration could stand out compared to previous administrations."
Some 100,000 U.S. jobs are estimated to have been lost because of NAFTA. And another 300,000 as a result of China's inclusion in the World Trade Organization.
"What do we want? We want a job. That's really what this is all about. Make no mistake," said Reta Jo Lewis, senior fellow and director of Congressional Affairs at the German Marshall Fund of the United States.
Alden pointed to the presidential election results in Michigan, Pennsylvania and Ohio. All three swing states went to Donald Trump. "These are all the states that were the most exposed to import competition," he said. "These were places where workers saw their jobs disappear."
Donald Trump won 2,600 counties across the U.S., and Hillary Clinton won just 500. But her 500 counties account for some two-thirds of the economic output in the country. It was a backlash against trade and immigration.
Go back and read your textbooks about globalization, Alden said to the forum. "The textbooks all said the benefits would not be distributed equally. We knew this was coming. We didn't do anything about it."
Compared to what other countries spend to help displaced workers, the United States spends just a fraction, he said. "We thought the market would take care of it. ... But it did not take care of it enough."
For the planet, Alden said, globalization has been "a very good thing," with some 2 billion people around the world pulled out of poverty. 
"It's often said that it's the least reported story in the world but perhaps the biggest: That the percentage of people in the world's population today living in absolute poverty has fallen below 10 percent," the Chamber's Murphy said. "It happened for a lot of reasons, but trade was a big part of it."
The forum concluded with a discussion with Ed Brzytwa, director of global policy at the Information Technology Industry Council, and Daniella Taveau, global regulatory and trade specialist with international law firm King & Spalding, moderated by Bennet A. Zelner, associate professor of business and public policy, and academic coordinator of the Smith School's MBA Global Business Courses.
Watch videos from the event:
This program is sponsored in part by the Center for International Business Education and Research (CIBER), a Title VI grant from the U.S. Department of Education.
Media Contact
Greg Muraski
Media Relations Manager
301-405-5283  
301-892-0973 Mobile
gmuraski@umd.edu 
About the University of Maryland's Robert H. Smith School of Business
The Robert H. Smith School of Business is an internationally recognized leader in management education and research. One of 12 colleges and schools at the University of Maryland, College Park, the Smith School offers undergraduate, full-time and flex MBA, executive MBA, online MBA, business master's, PhD and executive education programs, as well as outreach services to the corporate community. The school offers its degree, custom and certification programs in learning locations in North America and Asia.