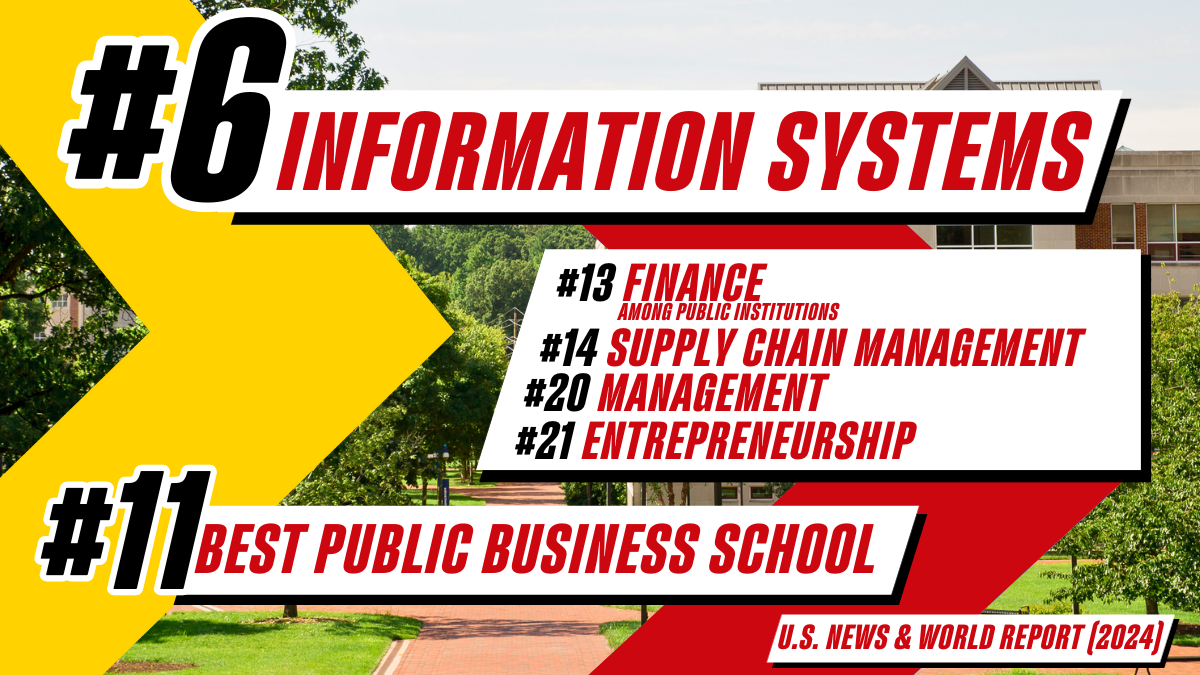 The University of Maryland's Robert H. Smith School of Business rose two places to rank No. 21 overall and No. 11 among public schools in this year's U.S. News and World Report Undergraduate Business Program Ranking, solidifying its standing as a premier institution for undergraduate education.
Maryland Smith's advancements toward reimagining learning, addressing grand challenges, and investing in people and communities supported its rise from No. 23 in last year's rankings. It also contributed to UMD maintaining its position as a top 20 public university and its highest-ever ranking among national universities at No. 46.
The Smith School improved in four top-25 specialties in U.S. News' undergraduate program sub-rankings. It ranks sixth in information systems, the school's best-ever showing and up two spots from last year. It also stands at No. 14 in supply chain, No. 20 in management, No. 21 in entrepreneurship, as well as No. 13 in finance among public institutions. The supply chain and management undergraduate programs rose four spots each compared to the 2023 rankings. 
"This achievement is a testament to the Smith School's impact on its students and the broader business education community," says Dean Prabhudev Konana. "Our profile of exceptional students, world-class faculty and innovative curriculum are among the reasons we are considered amongst the best business schools in the country and respected by our peers."
This year's rankings followed a new methodology geared toward metrics measuring social mobility, faculty research and recent graduate success. Graduation rates and peer assessments also significantly impacted placement, among other factors.
"Rankings don't always capture the impact we bring to the state as a land grant institution," says Konana. "So we are pleased to see this acknowledgment of the quality of our education."
President Darryll Pines, in a message to the UMD community, noted the significance of rankings as a "valuable benchmark" of the university's progress in making high-quality education accessible, recruiting and retaining an academically talented and diverse student body, and providing further investments in its people and faculty research.
"We are proud of our community's work to achieve excellence in all we do, and it is encouraging to see that reflected in our many rankings on the rise," said Pines.
Media Contact
Greg Muraski
Media Relations Manager
301-405-5283  
301-892-0973 Mobile
gmuraski@umd.edu 
About the University of Maryland's Robert H. Smith School of Business
The Robert H. Smith School of Business is an internationally recognized leader in management education and research. One of 12 colleges and schools at the University of Maryland, College Park, the Smith School offers undergraduate, full-time and flex MBA, executive MBA, online MBA, business master's, PhD and executive education programs, as well as outreach services to the corporate community. The school offers its degree, custom and certification programs in learning locations in North America and Asia.