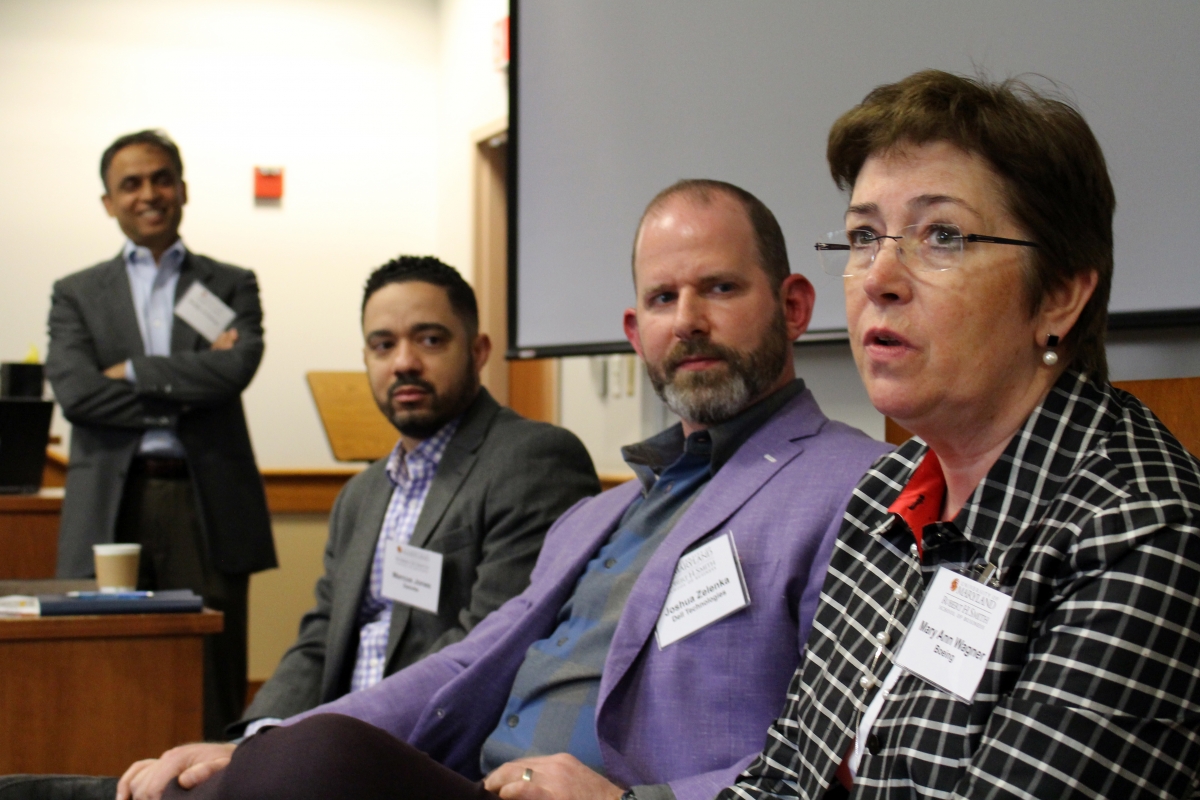 Smart machines do many things better than humans, but Deloitte executive Bill Eggers has good news for workers worried about a robot apocalypse.
"This very dystopian narrative that we see, there's no evidence for it historically," he said March 29, 2019, at the third annual Smith Analytics Consortium thought leadership conference at the University of Maryland's Robert H. Smith School of Business. "In every other period of technological revolution, we've created more jobs than we've lost."
Eggers, executive director of Deloitte's Center for Government Insights, delivered one of five keynote addresses at the event, which also included a student case competition and panel discussion on analytics and innovation.
He said technology accelerates creative destruction, which eliminates certain jobs. But new jobs tend to emerge.
"We're always evolving," he said. "We as humans are pretty good at predicting which jobs will go away, but we're terrible at predicting the jobs of the future. We're also not really good at predicting industries of the future."
Travel tourism, for example, a leading industry in many countries, barely existed a generation ago.
Ultimately, Eggers said the winner with artificial intelligence will not be robots or humans. "The best results come with hybrid intelligence," he said. "We look at this more as an unleashed workforce, essentially augmenting and extending human capabilities."
As a charter member of the Smith Analytics Consortium, Deloitte collaborates with corporate and academic partners to find solutions to big data challenges in a variety of areas.
"Students, academics and industry leaders all have good ideas," says Maryland Smith professor Wendy W. Moe, co-director of the consortium with professor Wedad J. Elmaghraby. "The Smith Analytics Consortium was really meant to bring all three together."
Merkle, another consortium member, shared insights at the conference on people-based marketing. Nathan Miller, a senior analyst at the performance marketing agency, said the key is connecting data from different silos to improve the customer experience. "Many of these disparate systems weren't designed to interact with each other," he said. "That's what we do at Merkle."
KPMG, another consortium member, focused on business analytics for decision making.
Virtual assistants like Apple's Siri have no problem responding to fact-based queries, KPMG principal Cenk Tunasar said. But the level of complexity goes up exponentially when behavioral decisions must be made.
Asking for a weather report, for example, is much simpler than asking if a person should bring an umbrella to work. The virtual assistant must consider whether the person will drive or ride a bicycle, park in a covered garage or work outdoors. "Data needs context," Tunasar said.
Smith professors Gordon Gao and Liye Ma also delivered keynote presentations. The panel discussion featured insights from Marcus Jones at Deloitte, Amandeep Kochar at Baker & Taylor, Mary Ann Wagner at Boeing and Joshua Zelenka at Dell Technologies Consulting.
---
Related story: Datathon Champs Deliver Bikeshare Solution
Media Contact
Greg Muraski
Media Relations Manager
301-405-5283  
301-892-0973 Mobile
gmuraski@umd.edu 
About the University of Maryland's Robert H. Smith School of Business
The Robert H. Smith School of Business is an internationally recognized leader in management education and research. One of 12 colleges and schools at the University of Maryland, College Park, the Smith School offers undergraduate, full-time and flex MBA, executive MBA, online MBA, business master's, PhD and executive education programs, as well as outreach services to the corporate community. The school offers its degree, custom and certification programs in learning locations in North America and Asia.