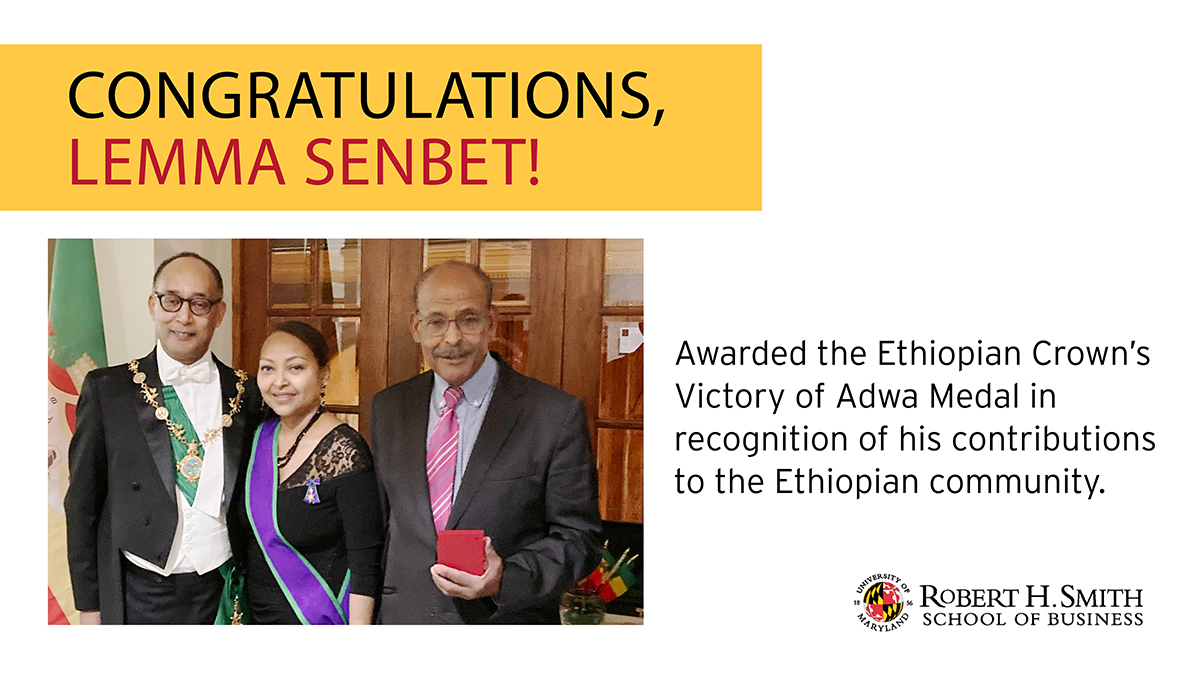 Maryland Smith finance professor Lemma W. Senbet received the Ethiopian Crown's Victory of Adwa Medal for his contributions to his native country. Senbet, an expert and leader in economic policy in Africa, is the William E. Mayer Chair Professor of Finance and the founding director of Smith's Center for Financial Policy.
In February 2021, Senbet was appointed to Ethiopia's newly created Independent Council of Economic Advisors by Prime Minister Abiy Ahmed. In 2018, Ahmed called on Senbet to serve on his Advisory Council of the Ethiopian Diaspora Trust Fund. That was after Senbet's stint as executive director and CEO of the African Economic Research Consortium, from 2013 to 2018. Senbet took leave from Maryland Smith to head the Nairobi-based organization, the largest and oldest economic research and training network in Africa.
Senbet has achieved global recognition for his extensive and widely cited contributions to corporate and international finance, which have appeared in the top finance journals. He has received numerous recognitions for his impact on the profession. He has also served on more than a dozen journal editorial boards and supervised numerous doctoral students who have become top professors and industry leaders. He has advised the World Bank, the IMF, the UN, AfDB, and various agencies in the United States, Canada and Africa on such issues as financial sector reforms. He currently serves on the Distinguished Advisory Group of Brookings Africa Growth Initiative.
Media Contact
Greg Muraski
Media Relations Manager
301-405-5283  
301-892-0973 Mobile
gmuraski@umd.edu 
About the University of Maryland's Robert H. Smith School of Business
The Robert H. Smith School of Business is an internationally recognized leader in management education and research. One of 12 colleges and schools at the University of Maryland, College Park, the Smith School offers undergraduate, full-time and flex MBA, executive MBA, online MBA, business master's, PhD and executive education programs, as well as outreach services to the corporate community. The school offers its degree, custom and certification programs in learning locations in North America and Asia.