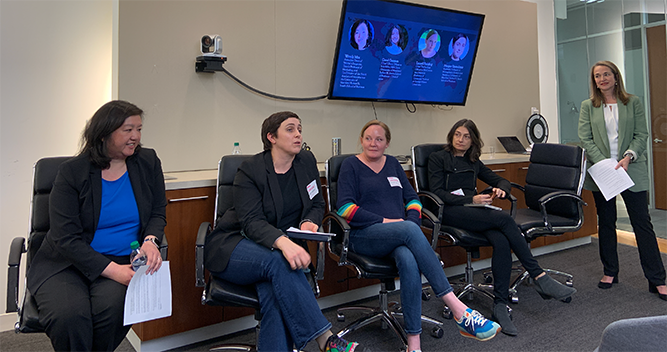 How can we reduce gender bias in the workplace? The question sparked a thoughtful debate at the Girls in Tech Conference in Washington, D.C., on Feb. 27.
Offering insights in the discussion were two professors from the University of Maryland's Robert H. Smith School of Business, Wendy W. Moe and Margrét Bjarnadóttir.
Moe is associate dean of master's programs, Dean's Professor of marketing and co-director of the Smith Analytics Consortium. She said she has faced gender bias at various points throughout her career. According to the National Science Board, only 28% of the science and engineering workforce are women.
Moe told the crowd to "not be afraid to fail." She encouraged women to take on technology-related careers and work to eliminate age-old stereotypes.
Furthermore, she stressed the importance of taking risks and learning from mistakes. Seek out career advancement opportunities by looking for available jobs in the marketplace every three to five years, she told the crowd. You might find a role that will help you grow your career and your earning potential. Remember that career paths can vary greatly, she said, and there's rarely a straight line to your dream job.
Bjarnadóttir, assistant professor of management science and statistics at Maryland Smith, has extensively researched gender pay equality. She also is the founder of the company PayAnalytics, which enables companies to measure demographic discrepancies in pay using data-driven methodologies.
Through her research, Bjarnadóttir said she has found that gender pay equality bias is everywhere, even where it is not meant to be.
To the group, Bjarnadóttir emphasized the importance of being confident. Her message to young women was, "Don't underestimate yourself. Don't be afraid."
Media Contact
Greg Muraski
Media Relations Manager
301-405-5283  
301-892-0973 Mobile
gmuraski@umd.edu 
About the University of Maryland's Robert H. Smith School of Business
The Robert H. Smith School of Business is an internationally recognized leader in management education and research. One of 12 colleges and schools at the University of Maryland, College Park, the Smith School offers undergraduate, full-time and flex MBA, executive MBA, online MBA, business master's, PhD and executive education programs, as well as outreach services to the corporate community. The school offers its degree, custom and certification programs in learning locations in North America and Asia.