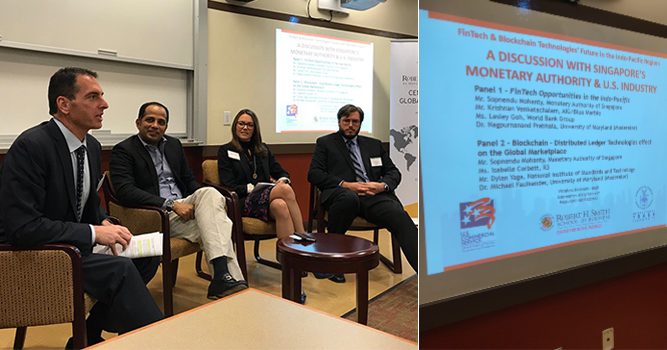 The Center for Global Business (CGB) at the University of Maryland's Robert H. Smith School of Business and the U.S. Department of Commerce welcomed the Chief Fintech Officer of Singapore's Monetary Authority, Sopnendu Mohanty on April 23, 2018 to discuss trending issues in fintech and blockchain technologies while focusing on the U.S. approach to fintech opportunities in the Indo-Pacific region. The event was held at the Ronald Reagan Building and International Trade Center in Washington D.C. and hosted leading experts in fintech and blockchain, including the Smith School's own, Nagpurnanand Prabhala, professor and area chair of finance, and Michael Faulkender, associate dean and professor of finance.
There has been a sharp uptake in usage of fintech, especially blockchain, around the world – including India and Singapore, where these technologies have seen a lot of traction in financial services and microinsurance. During her introduction, Rebecca Bellinger, executive director of the CGB, highlighted that both private companies and governments need to understand and adopt these technologies in order to remain competitive in the global market.
Though opportune and timely, these developments still come with their challenges. The two panels at the event discussed how to overcome three major obstacles to further develop these technologies. The obstacles were defined as: 1) the need for validation to adopt new fintech and blockchain technologies; 2) uncertainty and lack of regulation around the world; 3) a lack of consistent standards for these technologies. The discussions, moderated by Prabhala and Faulkender, engaged the audience and panel in thought-provoking conversation analyzing the success of fintech and blockchain and identifying the factors that made those successes possible. Maggie Hanson-Muse, minister counselor for commercial affairs in Singapore, closed the session by describing how technology offers unprecedented opportunities and challenges but that we need to capitalize on these opportunities and overcome the challenges to advance society.
"New digital technologies (of which fintech and blockchain are examples) create numerous opportunities overseas for US companies," says Kislaya Prasad, academic director of the CGB. "Next on the horizon is artificial intelligence (AI), which will also lead to new possibilities and opportunities (a global race for leadership in AI is already underway). The Smith School and the CGB are leaders in this new and rapidly growing field."
Rapid globalization and technological improvements present many opportunities and challenges ahead. The center aims to empower the community with the skills necessary to succeed in the fast-evolving blockchain economy, to explore the new business models, and recognize new opportunities in fintech and blockchain space. The CGB dedicates itself to understanding and training others on the real applications and future prospects of the blockchain in a number of areas such as finance, healthcare, energy trading, electronic records, IoT, supply chain, and governance.
The center is the driver of internationalization and global business education at the Smith School and a preferred partner for international commerce in the state of Maryland, specifically in regard to training and supporting students, companies, and current and future business leaders to engage successfully in global business. For more information about global business opportunities with the CGB, please visit our website and attend our next event.
The center regularly hosts talks on campus that bring together policy, industry, and academia around cutting-edge topics that impact global trade.
This event was sponsored in part by the Center for International Business Education and Research (CIBER), a Title VI grant from the U.S. Department of Education.
Media Contact
Greg Muraski
Media Relations Manager
301-405-5283  
301-892-0973 Mobile
gmuraski@umd.edu 
About the University of Maryland's Robert H. Smith School of Business
The Robert H. Smith School of Business is an internationally recognized leader in management education and research. One of 12 colleges and schools at the University of Maryland, College Park, the Smith School offers undergraduate, full-time and flex MBA, executive MBA, online MBA, business master's, PhD and executive education programs, as well as outreach services to the corporate community. The school offers its degree, custom and certification programs in learning locations in North America and Asia.