Celebrating Robert H. Smith '50
1928-2009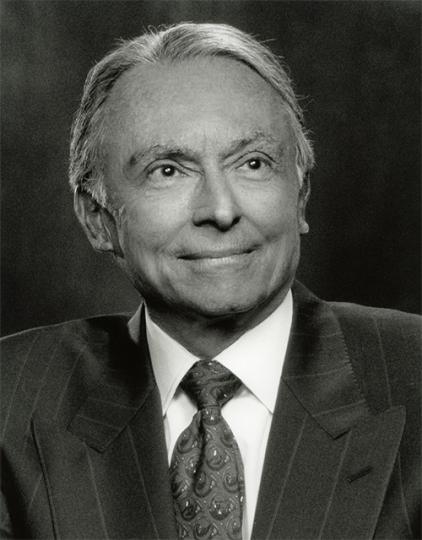 Robert H. Smith walked through the corridors of Van Munching Hall more often than most students realized. Trim and silver-haired, the man who named the Smith School was unassuming, genial and genuinely interested in everyone he met. His enormous natural talents took him to the top of his profession. His passionate beliefs in the goodness of our country, the potential of every person and the importance of investing in excellence made him one of the most influential philanthropists the Washington, D.C., region has ever known.
The Washington Post described him as a "visionary builder-developer" who "transformed more than just the local landscape." Mr. Smith gave away hundreds of millions of dollars to support education, healthcare and the arts; beautify and preserve important historic sites; and assure the continuity of Judaism. At the time of his passing, he was also the University of Maryland's single greatest benefactor. "Bob Smith is the greatest philanthropic supporter of public education in the history of the state of Maryland," former University of Maryland President C.D. Mote, Jr., has said.
Meet Bob Smith
Robert Hilton Smith was born July 21, 1928, in Brooklyn, New York. His family moved to Washington in 1942, and he graduated from Anacostia High School in 1946, the same year his father formed the Charles E. Smith Construction Co. He joined the firm after graduating from the University of Maryland in 1950.
As the child of hardworking Russian immigrants, Mr. Smith grew up with big dreams. Mr. Smith took over his father's business, Charles E. Smith Construction Inc., in 1967 and ran the company for more than three decades with his brother-in-law, Robert P. Kogod. They transformed the family-owned construction firm into a multifaceted real estate empire, building office complexes, apartment houses and eventually becoming Washington's largest commercial real estate landlords.
Among his successful ventures as a builder-developer is the vast and sprawling Crystal City complex in Arlington, Va. When Mr. Smith first surveyed the area in 1961, it was a dilapidated, somewhat desolate neighborhood far removed from the District's corridors of power. But Mr. Smith had the gift: he could see great potential where others saw only a bare piece of ground. It was a gift that would serve him well in both his career and his philanthropic pursuits.