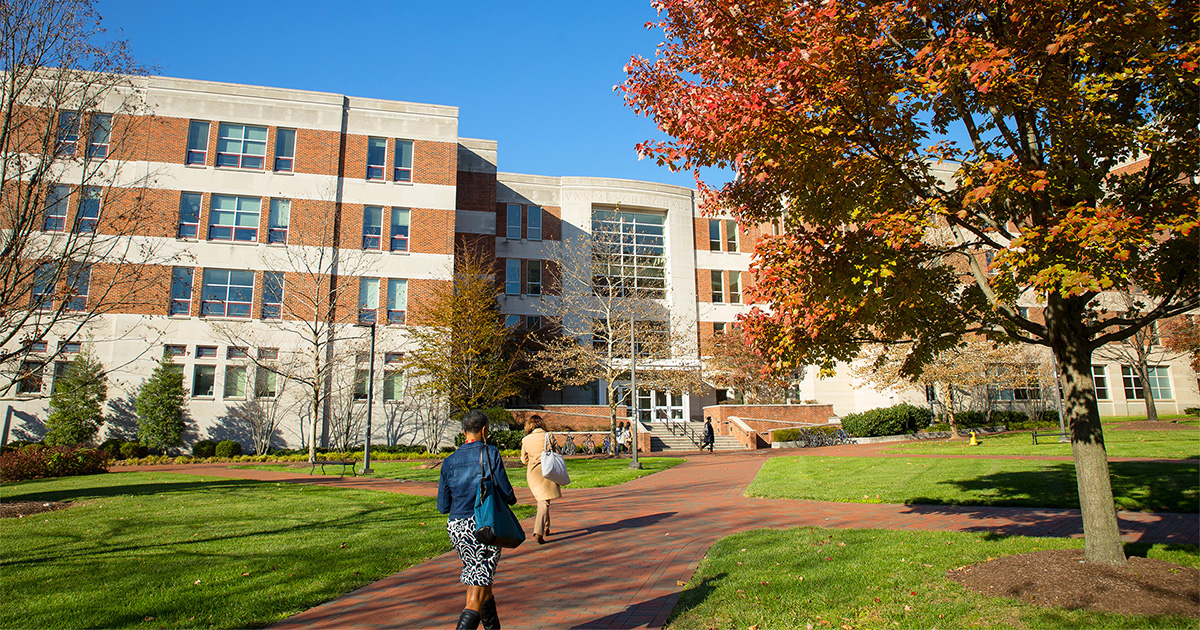 The University of Maryland secured its place among the nation's top schools for entrepreneurship in new rankings that reflect its commitment to innovation education during the height of virtual learning amid the pandemic.
In the 2022 edition of the annual rankings, announced today by The Princeton Review and Entrepreneur magazine, UMD placed No. 10 for undergraduate entrepreneurship education across all institutions—its seventh consecutive year in the top 10 and 10th straight year in the top 25—and No. 4 among public universities. It was also listed at No. 24 for graduate entrepreneurship education. New this year, The Princeton Review ranked schools regionally, and UMD came in at No. 2 in the Northeast.
"Anyone who has been part of the University of Maryland community—faculty, staff, students, external partners—has heard repeatedly for over a decade about the importance of innovation and entrepreneurship," said Dean Chang, associate vice president for innovation and entrepreneurship, "and that has really taken root and has spurred every part of this campus to be constantly thinking about how we can do things in more creative ways and more game-changing ways."
The university's consistent run in The Princeton Review's top 10 coincides with a campuswide initiative, spearheaded by the Academy for Innovation and Entrepreneurship, to engage the full student body in innovation and entrepreneurship. The collaboration includes business, like through UMD's Dingman Center for Entrepreneurship, and engineering, like through Mtech, as well as all 12 schools and colleges and key partners like the Office of Undergraduate Studies (including living-learning programs and general education), student organizations (Startup Shell, Bitcamp and Hatchery), economic development (I-Corps and UM Ventures) and social innovation groups (Do Good Institute, Technica, Ladies First and AgEnterprise Challenge).
For example, Chang said, UMD's Southern Management Leadership Program provides financial support and mentorship to low-income and first-generation students interested in entrepreneurship and leadership, and the newly launched Arts for All initiative bolsters a campuswide culture of creativity and innovation by partnering arts, science and technology.
"Many people equate entrepreneurship with just starting companies," he said, "but at Maryland, it's broadly about creativity, innovation and applying an entrepreneurial mindset to any challenge in public health, agriculture, arts, social justice and more."
The Princeton Review tallied its entrepreneurship rankings after a survey of more than 300 schools conducted from June through August. Among the criteria it analyzed were academic offerings and the percentage of faculty, students and alumni actively involved in entrepreneurial endeavors.
In 2020–21, 4,766 undergraduate students were enrolled in at least one entrepreneurship course at UMD, and 568 students were in an entrepreneurship minor, Chang said. One online entrepreneurship class allowed 1,600 students to learn about starting new ventures while also satisfying a key general education requirement. Beyond traditional entrepreneurship, UMD offers more than 100 courses in areas related to innovation like creativity, social value creation, business principles and design thinking. Altogether, about half of all undergraduate students take at least one course related to innovation and entrepreneurship each year.
The methodology behind the rankings also looked at the student experience outside the classroom. That included factors such as the number and reach of mentorship programs, scholarships and grants for entrepreneurial studies, and the level of support for school-sponsored business plan competitions. That kind of support helped students persevere and extend their entrepreneurship even during disruptions from coronavirus, said another innovation educator.
"What was happening in the early pandemic was a lot of connecting students to mentors who could offer advice and expertise about going through a tough time," said Holly DeArmond, managing director of Maryland Smith's Dingman Center for Entrepreneurship, which provides resources to empower students with startups. "Regarding the ranking, it feels good to be part of something bigger."
–This article originally appeared in Maryland Today and is republished here with permission.
Media Contact
Greg Muraski
Media Relations Manager
301-405-5283  
301-892-0973 Mobile
gmuraski@umd.edu 
About the University of Maryland's Robert H. Smith School of Business
The Robert H. Smith School of Business is an internationally recognized leader in management education and research. One of 12 colleges and schools at the University of Maryland, College Park, the Smith School offers undergraduate, full-time and flex MBA, executive MBA, online MBA, business master's, PhD and executive education programs, as well as outreach services to the corporate community. The school offers its degree, custom and certification programs in learning locations in North America and Asia.