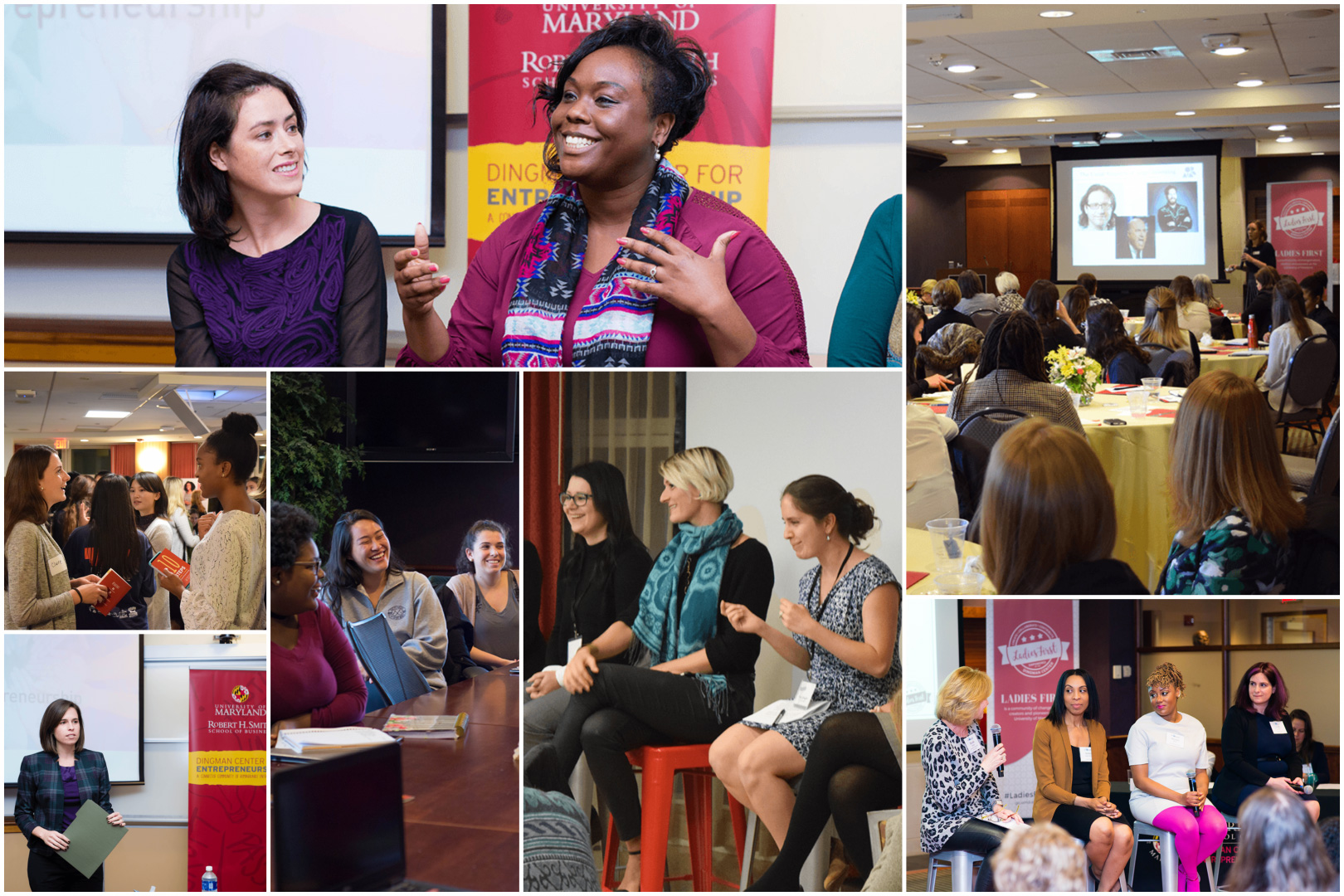 Ladies First is the Dingman Center for Entrepreneurship's commitment to increase the number of women involved in entrepreneurship at UMD.
We launched this initiative in 2016 to address the gender imbalance in our local entrepreneurship ecosystem. In the first three years of Ladies First, female engagement in Dingman Center programs increased from 25% to 40%. Our approach is unique; we tackle the barriers that prevent our female and non-binary students from pursuing entrepreneurship, such as the absence of a peer community, less familiarity with startup terms and concepts, and lack of access to mentors and funding.
Read about the research and methodology behind Ladies First.
Join the Ladies First movement today. If you would like to serve as a speaker or mentor, please complete our Volunteer Interest Form. If you'd like to support the Ladies First initiative as a sponsor or donor, email Sara Herald at sherald@umd.edu.
Get more information on resources for women entrepreneurs at the Women Founders website.
Ladies First Founders
BMGT 369D: Ladies First Founders is the Dingman Center's class for female and non-binary entrepreneurs at the University of Maryland. Taught by Sara Herald, our Ladies First champion, this one-credit course is open to those working on business and social venture ideas. The small cohorts learn about entrepreneurship, grow their own ventures, and support each other's entrepreneurial journeys through a blend of skill-building workshops and sessions with guest speakers. Topics include imposter syndrome and how to move beyond it, the how-to's of networking, finding balance as a founder/student/human, startup pitching and body language, funding and how to get it, and more.
The course is open to any female or nonbinary undergraduate at the University of Maryland who is working on a business or social venture. Students who are interested in learning more about Ladies First should attend virtual office hours with Lottie Byram or email Sara Herald to schedule an appointment at sherald@umd.edu.
Ed-love Lesley Aidoo '21: F3S Professional Bridge
F3S Professional Bridge is a social venture that provides visa and international college students with professional development such as externships, internships, part-time and full-time positions.
Vera Andreeva '22: Cloud Closet
The Cloud Closet is designed to significantly decrease the amount of time it takes to get dressed. It simultaneously increases the number of outfits through recommendations while keeping your closet the same size. Based on your style, it will recommend items that will keep you feeling stylish and on-trend.
Maliha Bukhari '22: Lace Bar
Dani Feng '23: Cosmicals Cards
Cosmicals Cards is a line of humorous cartoon space-themed greetings cards.
Anna Kaplan '21: Heed
Heed is a platform that provides self-care ideas and inspiration for women in their 20's.
Ileana Y. Lozano '22: Heart2Starr
Since 2013, writer and poet Ileana Lozano has shared her thoughts, poetry, and artwork with her community under the social media handle @Heart2Starr.
Yasmin Molkara '22: Hi Monkey Co.
Hi Monkey Co. is devoted to helping others hone their unique style and promoting sustainable shopping through our favorite handpicked second-hand pieces.
Ananya Ramkumar '21: Pop Shop
Pop shop aims to connect college students with restaurants and retailers through pop-up shop experiences. Our mission is to allow students to dine and shop from the convenience of their campus by converting unused classrooms and trailers into restaurants and stores.
Lahari Tammera '23: Degree
Degree will be an Indian and French fusion cafe with traditional Indian recipes reimagined as different concepts. Tammera plans for the cafe to be a social enterprise with some of the profits either being donated to different causes or using the profits for community building in the local area surrounding the cafe.
Sarah Agaratt '21: BillieJean
Sarah is a computer science major with a passion for sustainable fashion. She is seeking to launch a clothing company that exclusively uses recycled threads. 
Ijeoma Asonye '23: Sporty Quick
As a track runner in high school, Ijeoma grew frustrated with the amount of time it took to switch between track and running shoes. Equipped with a major in Mechanical Engineering, she realized that with a transformable sole, both shoes could fit into one. The first of its kind, Sporty Quick allows athletes to avoid what they hate most: slowing down! 
Lucy Bedewi '20: Wanderlust Wardrobe Consulting
At Wanderlust Wardrobe Consulting, you can get personal fashion advice at an affordable price. Lucy realized that personal stylists were only available to the ultra-rich and wanted to provide a service for everyday consumers. At Wanderlust, Lucy can raid your closet and pair different pieces together or be your personal shopper to create the perfect fit. Lucy's subscription service gives you an affordable personal stylist with ease.  
Tamara Bethea '23: Dessert company - name TBD
Tamara joined Ladies First with aspirations of creating a baked goods company. With a severe peanut allergy, Tamara found that the market lacked many dessert options that excited her. A Marketing major, Tamara hopes that her dessert creations will appeal to numerous customer segments from vegans to peanut to allergy-prone eaters.
Goodness Ihekweme '21: G Styles
G Styles is a clothing brand offering unique pieces that merge streetwear with African prints. Goodness used her eye for fashion and seamstress abilities to create hand-made pieces that have been displayed in numerous fashion shows across the DMV. 
Sarah Lader '21: The Sustainable Socialite
Sarah believes in the importance of shopping sustainably, which inspired her to launch The Sustainable Socialite. An avid thrifter, Sarah finds elegant, one-of-a-kind pieces and sells them on a platform for trendy dressers. 
Crystal Pinckney '22: Crys&Co Beauty
As a student living on campus, Crystal realized that many women lacked access to the beauty supplies that they needed. She soon created Crys&Co Beauty, which offers beauty supplies to people on campus who otherwise could not easily reach a beauty store.
Monica Pizzo '20: LUMXN
LUMXN is a magazine intending to reimagine what a powerful womxn looks like by highlighting the stories, careers, and artwork of women in different societal roles.
Hannah Shraim '20: Libre Looks
As a hijab-wearing business student, Hannah struggled to find professional clothing that adhered to her modest style of dress. Hannah launched Libre Looks, which offers modest professional fashion wear to modest dressing women.
Caroline Ta '21: SweetsbyCaroline
For as long as she could remember, Caroline grew up baking sweet macarons with her family members. SweetsbyCaroline is a catering business that offers personalized cakes and custom macarons for any special occasion. 
Sadia Alao '20: Beauty After Dark
Mentor: Shelly Bell, Founder of Black Girl Ventures
A delivery platform where users order beauty goods with personal shoppers. Once expanded and grounded in the market, we plan to stock products and deliver before and after beauty supply stores open and close.
Barathi Aravindan '22: Azelle
Mentor: Kelly O'Malley, Regional Director at The Vinetta Project
Our mission is to support the restoration of the Chesapeake Bay in a fashionable manner and empower women in the field of business by hiring young women in the community. We hope the charms on our bracelets serve as a constant reminder to support the Chesapeake Bay in its longevity.
Leah Barnes '21: Fulfilled
Mentor: Tonia Wellons, Founder, Prince George's County Social Innovation Fund
The purpose of this venture is to create a non- profit that helps students aging out of the foster care system. Statistics show that a low rate of children that age out of the system attend college. This organization will first aim to address those who do matriculate to college by providing them with essential items in the form of a "trunk" or suitcase. We would also pair students with viable resources to ensure graduation after two to four years.
I'Shea Boyd '20: Baltimore Leading Baltimore
Mentor: Erin Janklow, Founder and CEO of Entrada: Employer-Sponsored Learning
We contribute to the advancement of our youth by fostering the fearless pursuit of post-secondary education through empowerment and inspiration.
Sabahat Fatima '21: Tailor app (name TBD)
Mentor: Carolyn Yarina, CEO and Co-Founder at Sisu Global Health
This platform will help increase the customer base of tailors, especially ones without a physical shop and changing work hours. Customers are benefited by access to wider range of customization choices. 
Dana Hashem '20: Care for a Terp
Mentor: Deborah Hemingway, PhD '18, Founder and CEO at Leon Scientific
This is a care package system for Terps by Terps. It's an on-campus care package delivery system that offers more than regular care package items. The Care For A Terp care package allows the customer to order their favorite snacks (including drinks), but also to choose from a variety of items such as fuzzy socks, eye masks or scented candles.
Nazea Khan '20: Clothing app (name TBD)
Mentor: LaKisha Greenwade, MBA '11, Founder of Glam Tech
This revolutionary app is about allowing consumers to try on their clothing items without having to go through the hassle of the fitting room. All they need to do is insert their measurements into the app, scan the barcode, and the app will allow the consumer to know if the clothing item is too tight, too big, just right, etc.
Lara Sharma '22: Ele've
Mentor: Xina Eiland, President and CEO at X+PR
If you're a model or a fashion photographer or someone just trying to launch a product, it can be difficult to form creative contracts and grow your brand. Ele've creates dream fashion editorials at the tap of your finger by allowing you to choose your fashion photographer, art director, model, stylist and makeup artist from a network.
Saba Tshibaka '20: Rendered Inc.
Mentor: Ali von Paris '12, Founder and CEO of Route One Apparel
Rendered is a clothing vending service. The founders visit different consignment shops and thrift stores to find rare items, then do market research to verify the clothes are of value. They subsequently wash/alter the clothes, take pictures and post them online to our following (@renderedinc on IG), eBay, and Depop.
Audrey Awasom '18: Noble Uprising
Noble Uprising is a non-profit organization that empowers women experiencing homelessness through career readiness seminars, workforce development programs, and sustainable job opportunities.
Maria Chen '19: Symbiont Health (Grand Prize Winner – Pitch Dingman Competition)
Symbiont Health is developing both wearable and non-wearable automated fall detection devices to combat the high rate of senior citizen morbidity resulting from syncope.
Megha Guggari '20: Synapto
Synapto is an early stage biotech venture revolutionizing the early diagnosis of Alzheimer's disease through portable Electroencephalogram (EEG) and artificial intelligence.
Breonna Massey '18: Slay Naturals 
Being healthy and taking care of your skin shouldn't cost you your wallet or your style. SLAY Naturals infuses style and nature so you can Stay Lovely And Young (SLAY)
Sydney Parker '18: Emprology (Finalist- Pitch Dingman Competition)
Emprology LLC is an empowering influencer marketing consultancy that seeks to educate minority female bloggers, vloggers, and podcasters on how to monetize off of their content.
Jess Rosenthal '20: Good Stuff Good Works
Good Stuff Good Works facilitates the sales of indigenous artisanal goods from the mountainous region of Ecuador to the University of Maryland community and beyond.
Jasmine Snead '18: Aurora Tights
Aurora Tights is an athletic brand that designs performance sports gear for an array of tones, complexions, and sizes.
Natalie Urban '18 and Yinyin Liao '18: Project Girl
PRJ GRL is a coffee venture dedicated to empowering people through coffee. Revenue from our company's sales goes towards sponsoring impoverished girls' education in Cambodia. All of our coffee is high-quality, and ethically-sourced from female farmers in Latin America.
Fiona Whitefield '20: Continuum
Continuum assists the growing elderly population to "age in place" by connecting those who are physically unable to maintain their home with skilled retirees who provide home maintenance services, ultimately building a network of social support and empowering those experiencing physical decline to maintain independence.
The Dingman Center regularly features female founders, investors, and ecosystem builders on our podcast, Bootstrapped. We recommend the following episodes to the Ladies First community:
Jennifer Lee-Harrison MBA '12, founder of Perfect Hair International
Dale Pfeifer, founder of GoodWorld
Kanchan Singh '12, founder of Crumbs & Whiskers
Ali von Paris '12, founder of Route One Apparel - Put Your Social Media Skills to Work
Elise Whang, founder of SnobSwap
Ann Yang & Phil Wong, founders of MISFIT Juicery