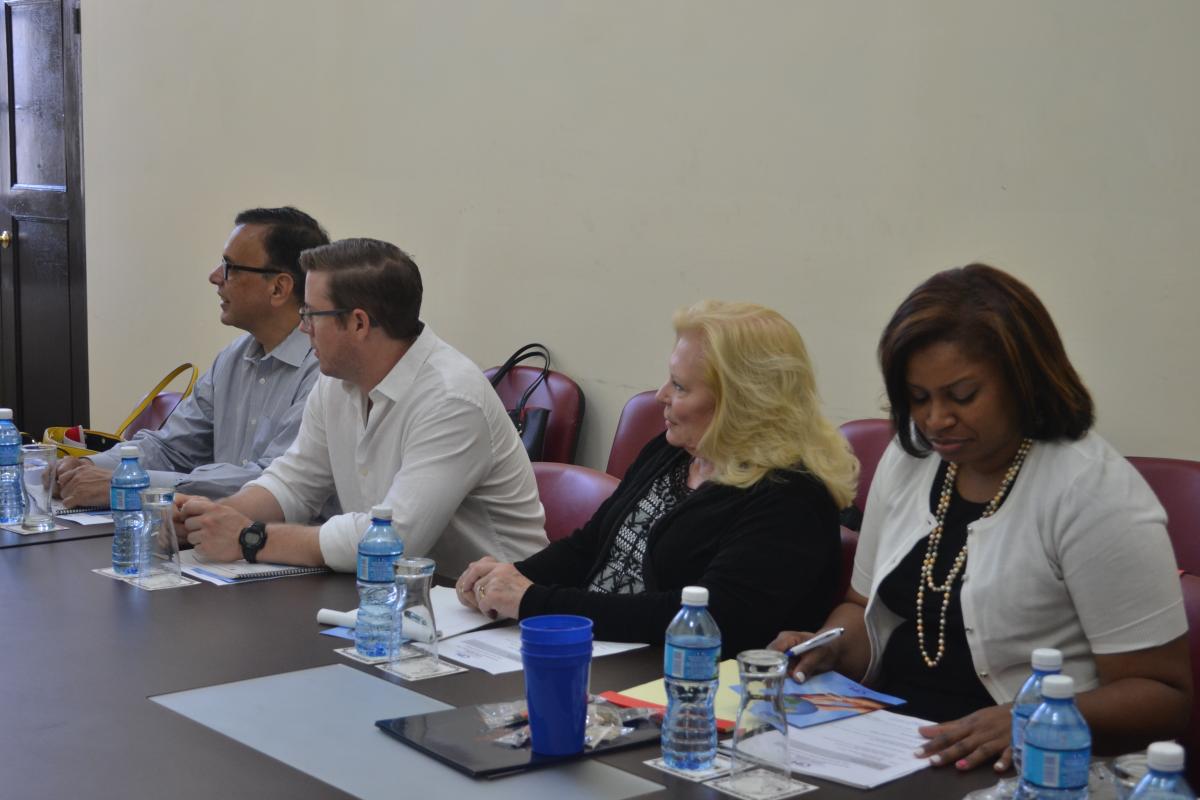 Fifteen participants from colleges and universities throughout the United States traveled to Cuba from May 21-28, 2017, with the University of Maryland's Center for International Business Education and Research (UMD CIBER). As part of the Center's Faculty Development in International Business (FDIB) program, the group of faculty members and higher education professionals visited private businesses, cooperatives, and joint ventures; engaged in discussions with Cuban scholars; and enjoyed cultural excursions to learn more about the economy in Cuba, the U.S.-Cuba relationship, and future business prospects in Cuba.
This was the second time that CIBER's Executive Director Kislaya Prasad and Managing Director Rebecca Bellinger led the program. "Cuba has undergone drastic economic changes in the last several years which have made this an especially interesting time to study the country," said Bellinger. "For the first time since the Revolution, Cubans can own private property, start their own businesses on a larger scale, and even get internet access in their homes. The evolution of the U.S.-Cuba relationship in the last 18 months has also contributed to this." The FDIB program intends to introduce U.S.-based faculty to the economic realities of Cuba and to help them bring that knowledge back into the classroom. Furthermore, the participants have the opportunity to build business and academic relationships with counterparts in Cuba, offering professionals from both countries the opportunity to network and gain business insights from each other.
The program kicked off with a visit to the University of Havana, where speakers from the Center of Studies of the Cuban Economy (known by the Spanish acronym, CEEC) and the Center of Hemispheric Studies and U.S. Studies (CEHSEU) presented an economic and political overview of Cuba. Attendees also learned about gender, race and society in contemporary Cuba. Day two included a close examination of two of Cuba's most well-known industries: cigars and rum. Corporate presentations by HABANOS S.A. and Havana Club International revealed that both of these iconic Cuban brands are actually run as joint ventures with foreign partners.
Midway through the week-long program, attendees experienced the rural town of Viñales and learned more about non-state business, self-employment and cooperatives from a scholar at CEEC. The following day's itinerary included a briefing at the U.S. Embassy in Havana and meeting at the Center for Genetic Engineering and Biotechnology. "This meeting was particularly interesting, as the head of strategic programs there had customized the presentation specifically for our region. He knew more about our healthcare crises than many of us did and suggested ways that Maryland companies might collaborate with his lab," noted Bellinger. "The medical research and innovation in Cuba seems ahead of where we are in the U.S." The afternoon included a visit to Suchel Camacho, which produces soaps, perfumes and other toiletries, and a discussion with Marc Frank, a journalist from Reuters who has covered current events in Cuba for decades.
The program rounded out with a rarely authorized visit to the Terminal of Containers of Mariel, a deep-water port that operates within the special economic zone outside of Havana. The group also met a lawyer from the Canadian law firm Gowlings to discuss doing business in Cuba, learned about Havana's tourism development plans, and examined the effect of economic reform on society in Cuba
As an outcome the program, the FDIB Cuba participants will be creating a teaching resource that can be used by any college or university faculty members who wishes to present lessons on business in Cuba. The final result will be posted on the FDIB Cuba website upon completion.
Members of the delegation from the Robert H. Smith School of Business also included Elana Fine, executive director of the Dingman Center for Entrepreneurship; Shreevardhan Lele, clinical professor and assistant dean of academic affairs for MBA programs; Hassan Ibrahim, clinical professor of information systems; and Karen Hallows, finance lecturer. 
For additional information on Cuba, read the Smith Brain Trust article by Rebecca Bellinger on Why Cuba's Brain Drain Looks Completely Different.
This program is sponsored in part by the Center for International Business Education and Research (CIBER), a Title VI grant from the U.S. Department of Education.
Related News:
Kislaya Prasad writes in the Baltimore Sun, June 15, 2017, "U.S. must continue its engagement with Cuba"
Media Contact
Greg Muraski
Media Relations Manager
301-405-5283  
301-892-0973 Mobile
gmuraski@umd.edu 
About the University of Maryland's Robert H. Smith School of Business
The Robert H. Smith School of Business is an internationally recognized leader in management education and research. One of 12 colleges and schools at the University of Maryland, College Park, the Smith School offers undergraduate, full-time and flex MBA, executive MBA, online MBA, business master's, PhD and executive education programs, as well as outreach services to the corporate community. The school offers its degree, custom and certification programs in learning locations in North America and Asia.