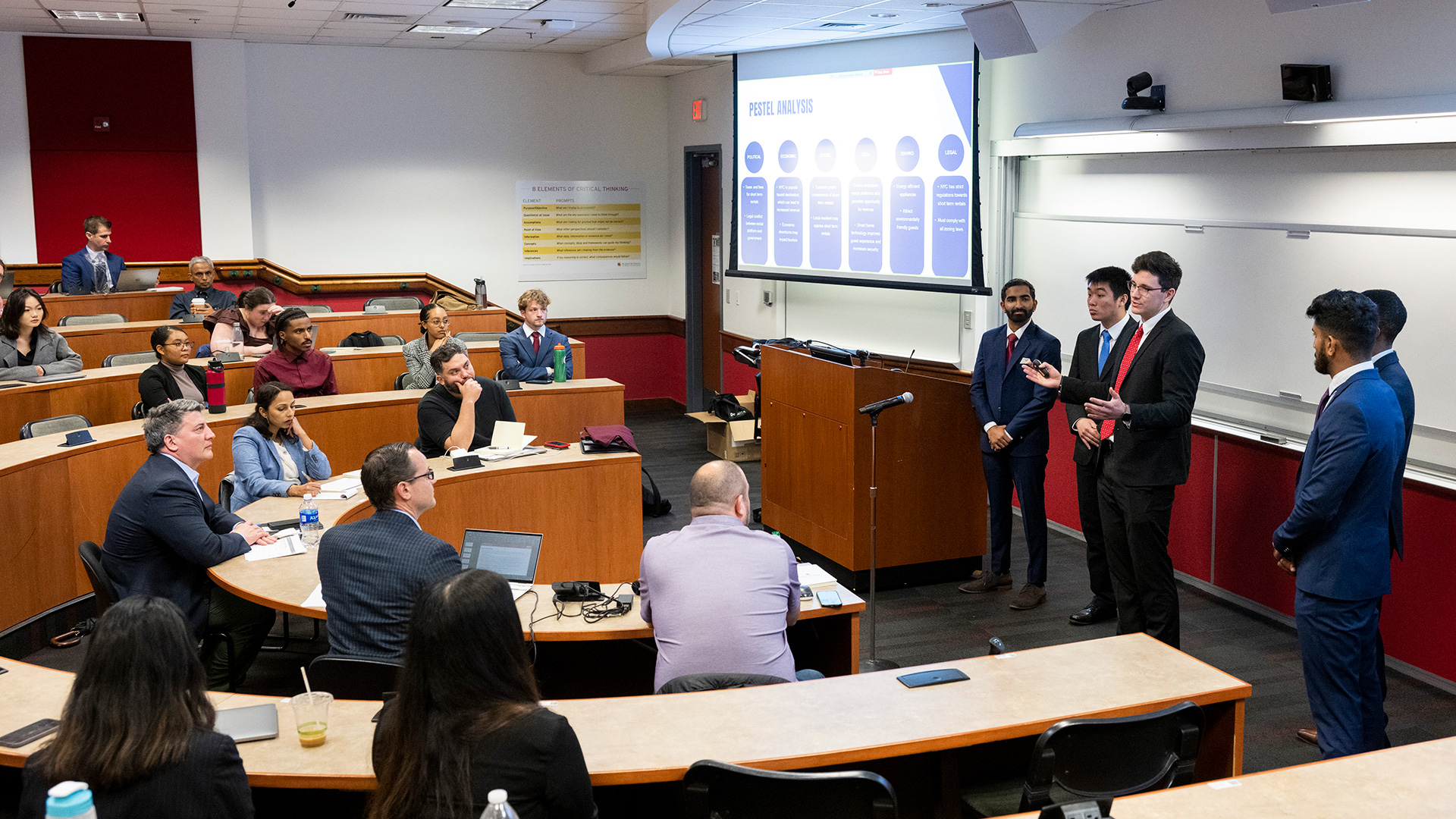 Students in 47 teams from across the University of Maryland's campus went head to head in this year's fourth annual Datathon – an 11-day data-focused competition hosted by the Smith Analytics Consortium at the Robert H. Smith School of Business, in collaboration with Deloitte and KPMG. The Datathon finale took place in Van Munching Hall on April 28, 2023, in front of a panel of industry judges from Deloitte and KPMG and a crowd of supporters, and awarded a total of $7,500 in cash prizes.
Students used their problem-solving, data analytics and visualization skills to pitch a company to investors planning to buy and rent properties in New York City through a popular short-term apartment rental platform.
"This fourth Datathon was our most successful yet, considering the pool of students who participated and the quality of their presentations," said John Bono, associate clinical professor of information systems and co-director of the Smith Analytics Consortium. "They worked together to showcase a combination of data analytics, business strategy, teamwork, and presentation skills – skills that will be useful to make better decisions in any industry."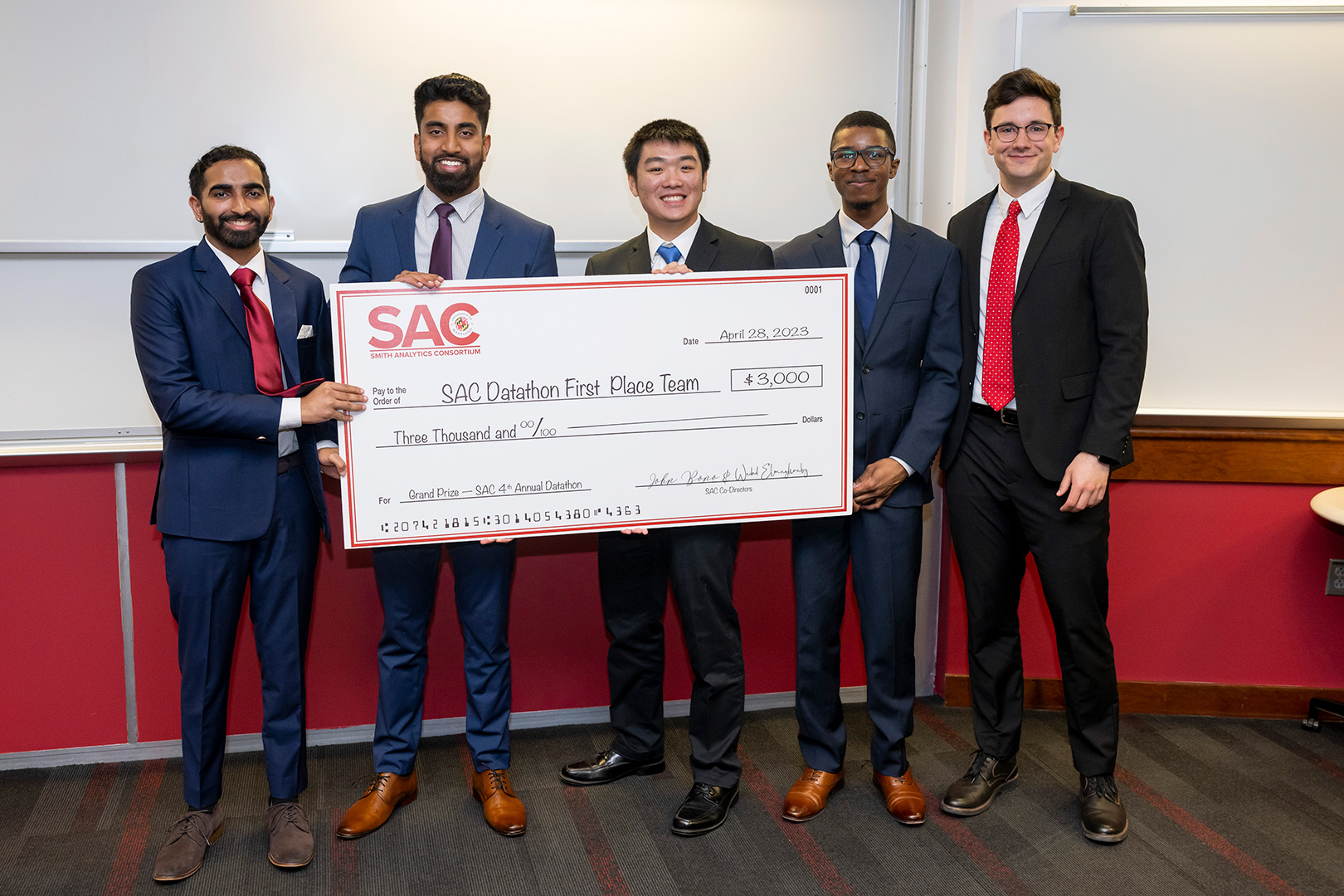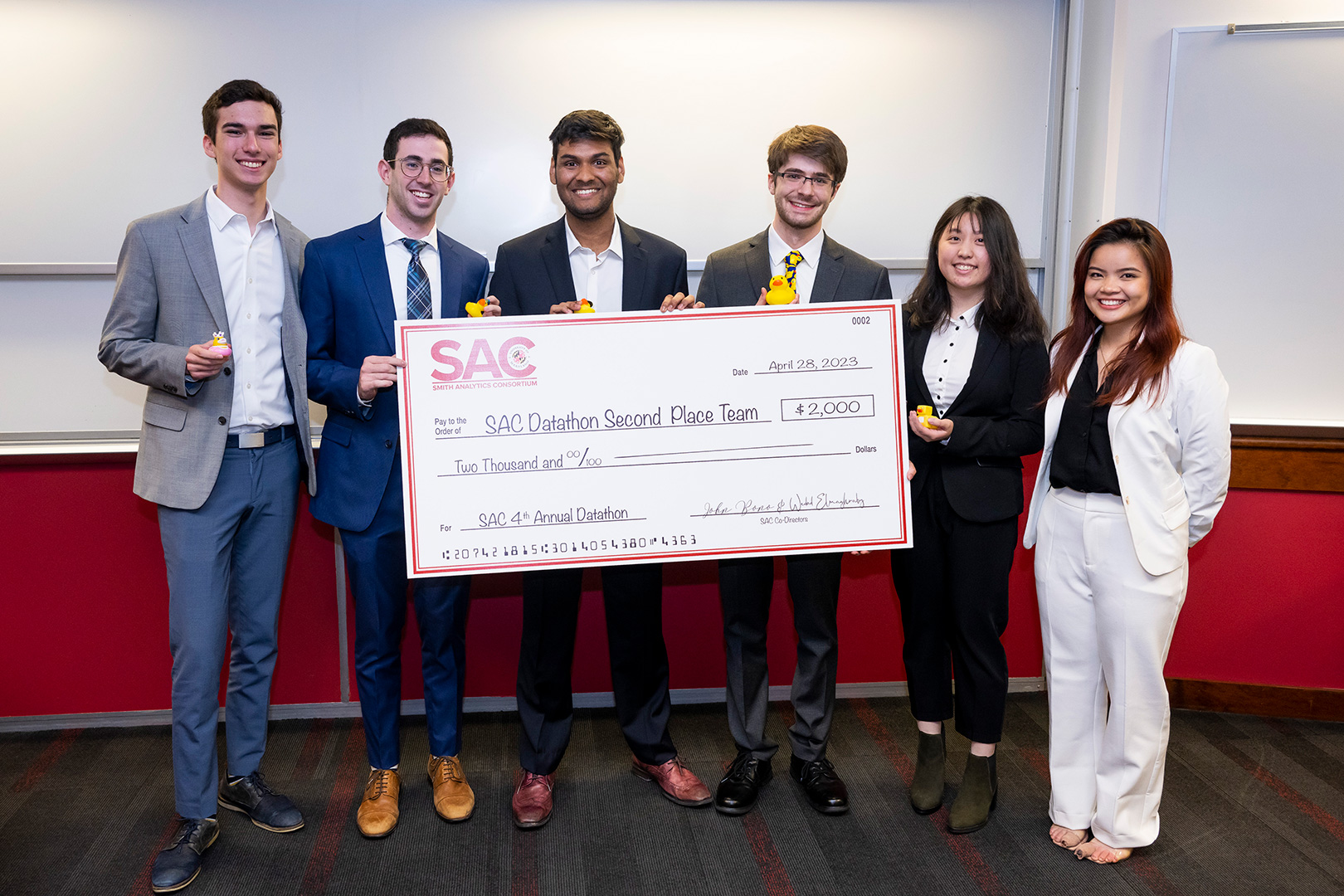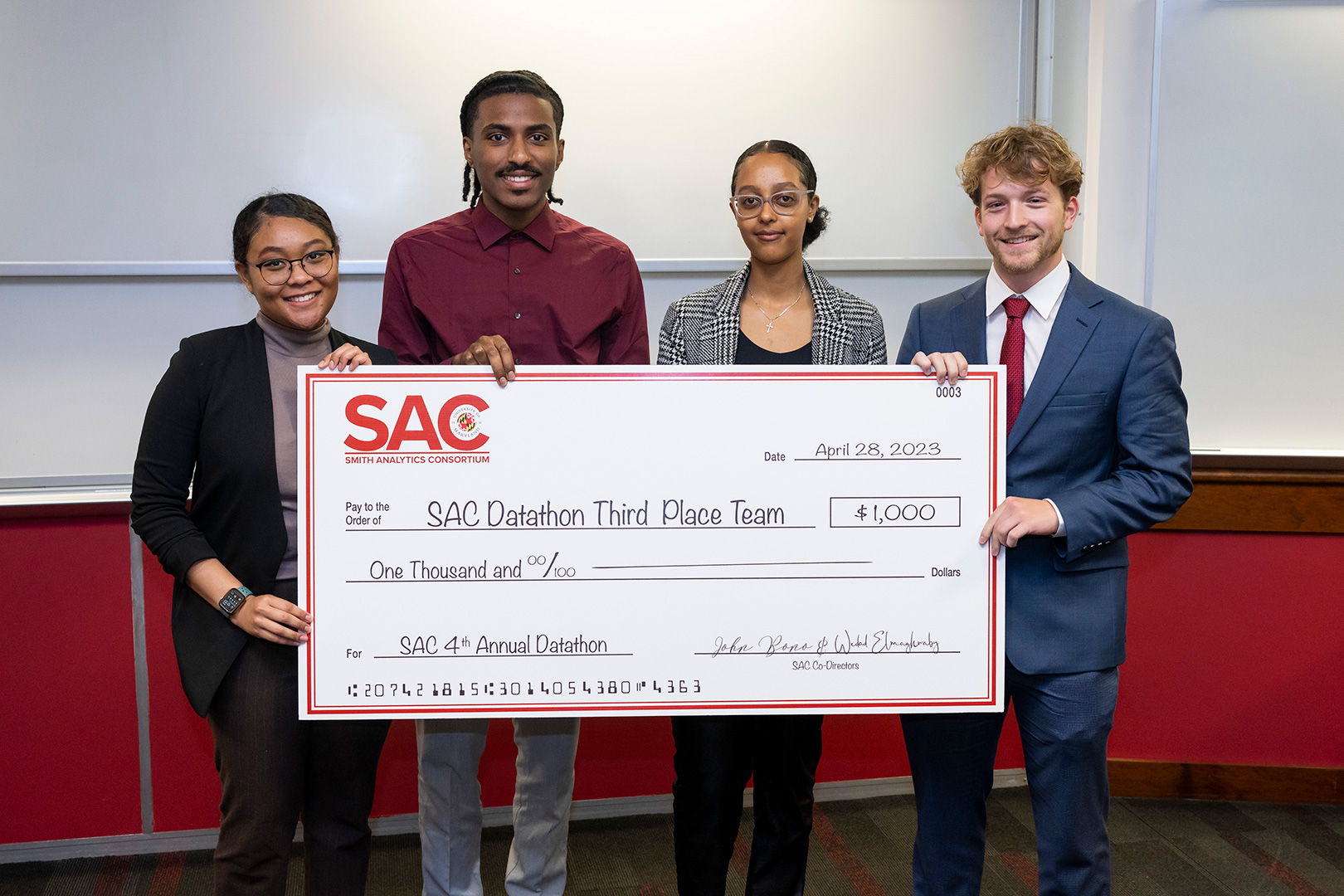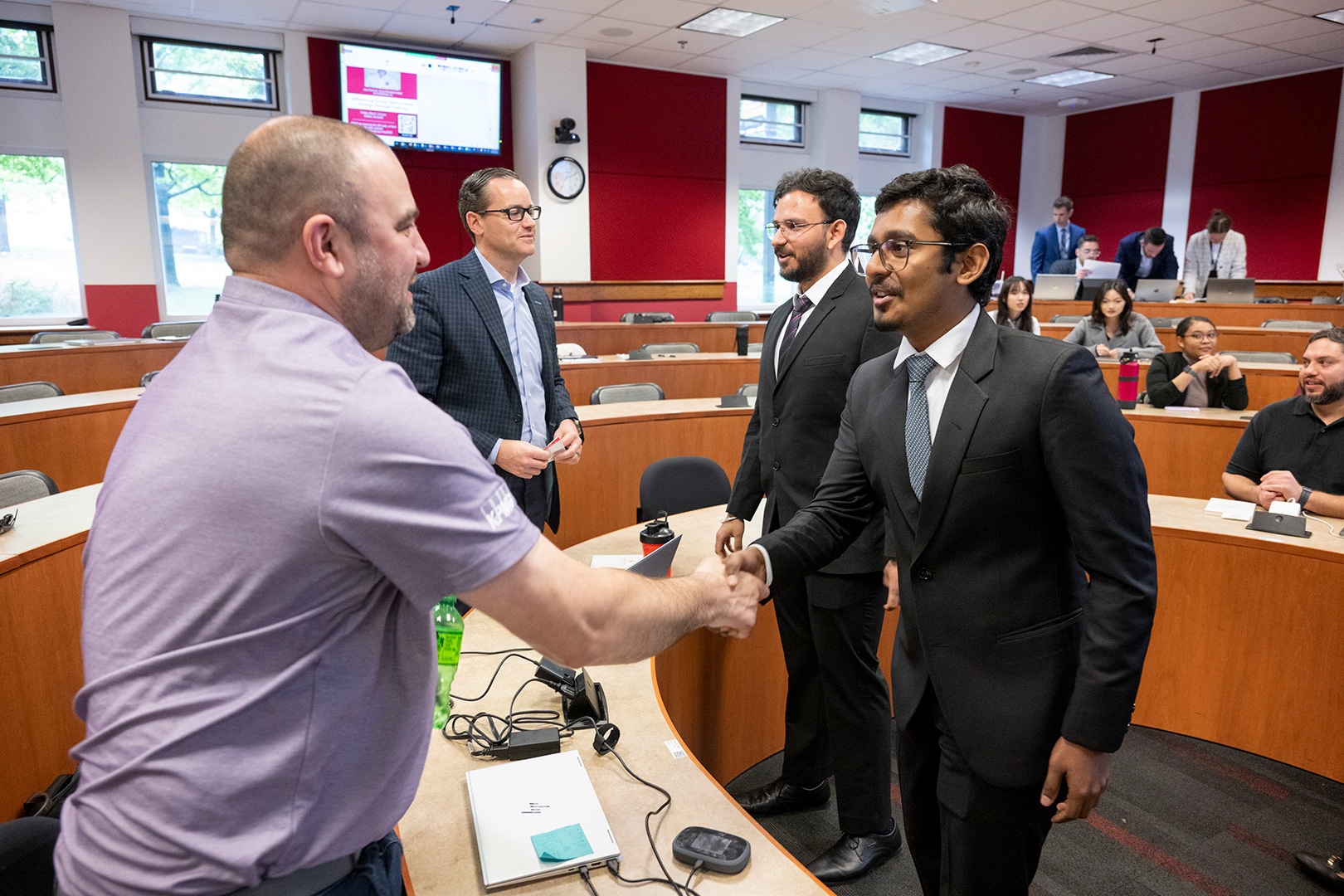 "It was a really great day, and we are looking forward to next year's event as well as finding more ways to get involved on campus this fall," said Rashmi Mathur, Managing Director at Deloitte.
"We were so impressed with the wide range of skills the students brought forward during the Datathon," said Corbin Neiberline, KPMG Audit Partner. "The participants embraced a multidisciplinary approach to solve a highly relevant business problem in the world of commercial real estate. The showcase of skill sets used in each of the presentations represented a collection of diverse experiences and backgrounds. The students used critical skills and capabilities needed in today's job market, including data analysis and visualization, finance, information system architecture and storytelling."
Teams were given a problem statement and a large, semi-structured dataset for technical analysis. As part of the competition, they were mentored by Deloitte professionals throughout the Datathon and had an exclusive opportunity to attend a Deloitte Core Consulting Workshop, where they got to hone their consulting skills and learn more about the industry.
"Deloitte gains a lot from hosting this annual event and each year we get to see the vast amount of different perspectives in tackling case competitions," said Abe Gellman, a Deloitte consultant who served as a judge.
This year's event almost doubled last year's participation record, with 243 undergraduate and graduate students from more than 30 majors and programs across campus competing. Students from mathematics, architecture, bioengineering, biology, engineering, computer science, public health, economics, information science, and more joined Smith School students for the competition.
"We very much wanted to make this year a cross-campus, collaborative event," said Wedad Elmaghraby, Dean's Professor of Operations Management and co-director of the Smith Analytics Consortium. "Using data to analyze and solve problems for businesses is an important skill for any student to go out into the working world with, and this is a great way for them to get those skills."
Organizers even baked collaboration into the competition this year, offering bonus points for multidisciplinary teams. Teams were rewarded for mixing up teams in three ways: by pulling in both graduate and undergraduate students; by pulling in students from different majors and programs; and by joining with students outside the Smith School. They earned an additional point during each round of judging for each aspect of having a multidisciplinary team, up to three points per round.
"At the Smith School, 'Business is everybody's business' is one of our guiding principles as we work to reach more students across campus," said Dean Prabhudev Konana. "Expanding the Dathathon is just one way we're doing that. This kind of cross-functional collaboration to solve real problems makes for a fuller learning experience for all students."
The year's case was also multidisciplinary, with a range of questions from technology, finance, accounting, strategy and management that not only relied on students using the data to make good insights but also pushed them to draw from fundamental knowledge across multiple areas, said Bono.
The winning teams used data to answer the questions clearly and concisely in an effective presentation to judges. A pool of 6 finalist teams was chosen by Smith faculty, who then presented to Deloitte and KPMG judges. Judges selected the top three winning teams that received cash prizes.
"The finale of the Datathon was a nail-biter," said Gellman. "Ultimately, the first place team received all of the possible bonus points, and edged out the second place team by less than a point."
"Being well rounded as a team allowed us to make up for our individual weaknesses or lack of knowledge," said Khadeem Edwards '24, a marketing major on the winning team. "One of the biggest skills we developed was being able to break down complex ideas for each other, to explain things in simple ways for people who do not share our background."
Participants also had an opportunity to network with Deloitte and KPMG professionals during the three-and-a-half-week span of the competition and at the Datathon finale.
The whole experience is part of Smith's reimagined approach to business education, which focuses on immersive learning and bringing together students from many diverse disciplines.
"This was my favorite project I have completed at UMD, because it was experiential," said Connor Redmond '24, an undergraduate economics major who was also on the winning team. "From these 11 days, I learned a tremendous amount about potential careers, what goes into pitching a business, and myself."
Media Contact
Greg Muraski
Media Relations Manager
301-405-5283  
301-892-0973 Mobile
gmuraski@umd.edu 
About the University of Maryland's Robert H. Smith School of Business
The Robert H. Smith School of Business is an internationally recognized leader in management education and research. One of 12 colleges and schools at the University of Maryland, College Park, the Smith School offers undergraduate, full-time and flex MBA, executive MBA, online MBA, business master's, PhD and executive education programs, as well as outreach services to the corporate community. The school offers its degree, custom and certification programs in learning locations in North America and Asia.