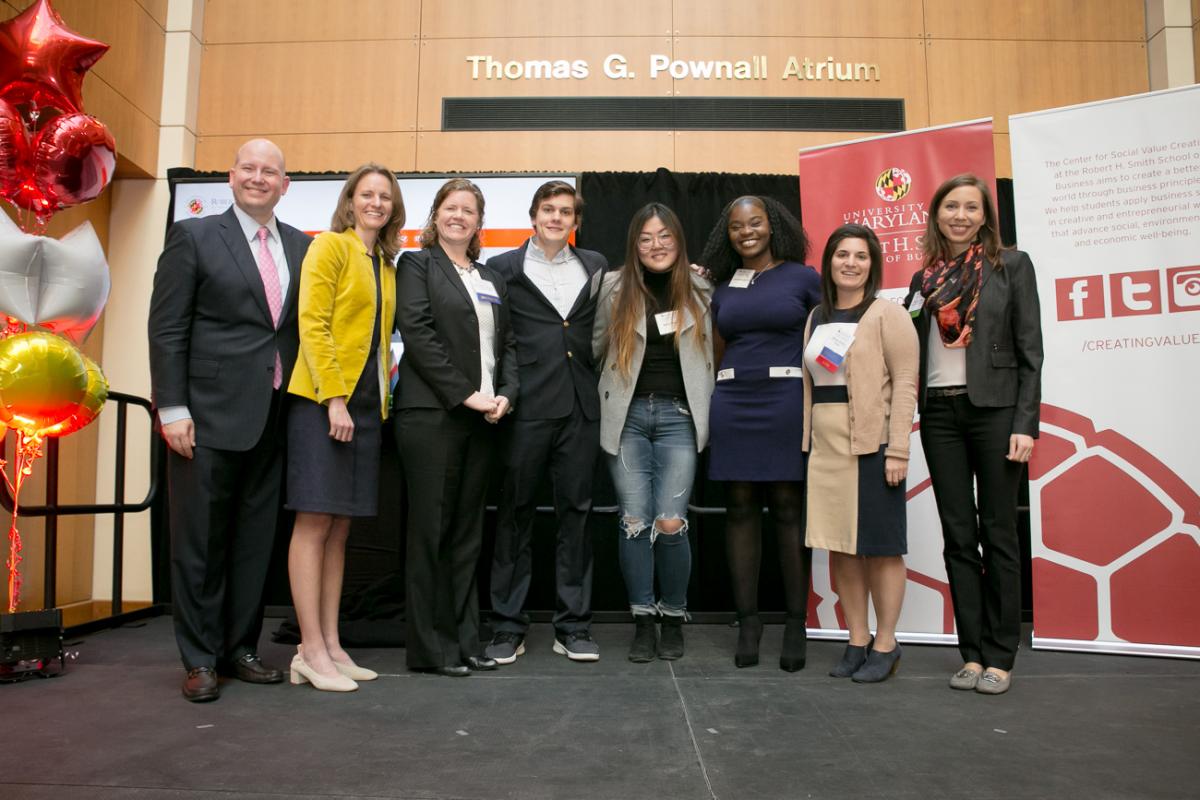 Hundreds of students, alumni, faculty, and staff gathered in Van Munching Hall on March 9, 2018, to discuss and celebrate trailblazing social value creation initiatives at the 10th Annual Social Enterprise Symposium (#SES18), hosted by the Center for Social Value Creation at the University of Maryland's Robert H. Smith School of Business.
"Over the past 10 years, SES has become the University of Maryland's premier event on social enterprise, socially responsible business and corporate sustainability," said Kimberlee Glinka, director of the Center for Social Value Creation. "We have engaged nearly 6,000 registrants and showcased more than 250 thought leaders — that's quite a feat! I'm also proud to say that more than half of our featured speakers for this tenth anniversary celebration are Smith alumni, and more than half are women."
This year's event focused on mainstreaming social value creation and featured two keynote addresses, two panel discussions, an alumni showcase called Smith Blitz, and the Do Good Showcase. Special thanks go out to our supporting partners and members of the Smith School's new Coalition for Better Business: PwC, Tata and Unilever.
Opening Keynote
Jigar Shah, MBA '01, is the co-founder of Generate Capital, a specialty finance company that builds, owns, operates, and finances infrastructure assets involving the world's most critical resources: energy, water, agriculture and basic materials. Shah said that this conference is about mainstreaming social value creation. In other words, getting it out of a side office and incorporating it into everything we do.
"We're in business to solve problems, and you make money by doing that well," Shah said, adding that to be in business for the long run, caring about creating social value is essential. Companies need to figure out how their investments will positively generate both a societal and financial return.
Shah is best known as the founder of SunEdison, where he pioneered "no money down solar" and unlocked a multibillion-dollar solar market, creating the largest solar services company worldwide. In 2009, he joined Richard Branson to be the first CEO of the Carbon War Room, a global nonprofit committed to supporting global entrepreneurs scale their climate solutions. His work helped build the groundwork for the Paris Agreement. Based on that experience, he authored "Creating Climate Wealth: Unlocking the Impact Economy." 
Innovation Keynote
Seeta Hariharan, general manager and group head of Tata Consultancy Services' Digital Software & Solutions Group, addressed the role of technology in enabling sustainability and social value creation through business. Tata is often ranked as one of the "Top 50 Most Innovative Companies" in the world with more than 100 operating companies, including well-known brands such as Jaguar Land Rover, Eight O' Clock Coffee, and Tetley Tea.
"We all have one thing in common: an intense desire to make a difference in this world," Hariharan said. She emphasized that our behavior is more important than technology in turning social challenges into social value. We need to apply technology to promote behaviors that sustain social value and economic growth. Although it may be easier to go along with established processes, she encouraged students to believe in themselves, and to trust their instincts for how they want to contribute to the world around them.
Panel Discussion
Advancing the Model: Social Value Creation in Business
Bess Langbein, MBA '11, Due East Partners, moderated the first panel discussion about advancing the social value business model, which centered on how businesses are becoming more open, trustworthy and engaged in addressing social and environmental challenges. Panelists included: Taryn Bird, senior manager at On Purpose, Kate Spade New York; Tara Handy, director of corporate communications and programs at The Wills Group; and Evan Lutz '14, founder and CEO of Hungry Harvest.
Panelists offered insights distinct to the three organizations they represent: a specialty product line within a larger luxury brand; a 92-year-old, family-owned company; and a young social enterprise founded with the dual purpose of addressing a social problem and generating profit.
All panelists agreed that integrating social value into the business model is becoming more of the norm rather than the exception. Lutz said he believes that profit and social value creation can be created almost equally, if you build your business right.
Panel Discussion
Embracing Equity: The Business and Social Value Imperative of Diversity & Inclusion
Christine Beckman, professor of management and organization at the Smith School, moderated the panel on diversity and inclusion. Panelists included: John Basile, former head of diversity and inclusion at Fidelity Investments; Renee DeSilva, chief talent officer at EAB; and Andy Shallal, current executive MBA student and founder and CEO of Busboys and Poets.
Beckman started the conversation by stating, "The business case for diversity is solid and well understood. We know that the case for diversity and inclusion is not only one of social justice but also one of competitive advantage." She continued, "And we also want to make explicit why diversity and inclusion are important for social value creation. Not only is diversity essential to economic profitability, it is critical for social innovation. And so the question today is not, 'What is the business case?' but instead: How do we build diverse and inclusive environments?"
All panelists stressed that diversity and inclusion must include a commitment from the top of the company. DeSilva praised EAB, saying that it works to create a safe environment for employees to discuss diversity and inclusion.
Basile said that diversity is hard in the finance industry, which has historically been dominated by white men. He encouraged attendees, "Don't treat people the way you want to be treated. Treat people the way they want to be treated."
Shallal said that at Busboys and Poets, they have a dialogue on race. "It's hard for those who feel marginalized to come to the party. Every single person has an experience dealing with race."
Smith Blitz: Alumni Showcase
This year, SES featured a special segment titled "Smith Blitz: Emboldened Alumni." Four Smith alumni shared their personal paths of creating a better world through business: Kristin Fallon, MBA '11, marketing communications director at GE Power; Austin Lee '14, higher education consultant at EAB; Jennifer Tepper, MBA '09, director of development and communications at Trees for the Future; and Nira Desai '03, senior director of strategy and learning at World Cocoa Foundation. Watch video from the Smith Blitz.
Do Good Showcase
The annual, campus-wide Do Good Challenge inspires students to take fearless ideas, spark innovative solutions and create social impact for today's most pressing problems. Aspiring student changemakers, all aiming to compete in the Do Good Challenge finals later this semester, pitched their ideas to attendees at SES during the Do Good Showcase. Winner of the People's Choice award, by a large margin, was Noble Uprising, a nonprofit endeavor focused on empowering homeless women in shelters by providing them with career readiness workshops and sustainable job opportunities. The Judge's Choice award went to Symbiont Health, who also took first place in this year's Pitch Dingman Competition. Symbiont Health aims to accelerate rescue and save lives with an enhanced security alarm system for the elderly. The Do Good Challenge semi-finals will take place April 19 and the finals will be May 1.
About the Center for Social Value Creation
The Center for Social Value Creation (CSVC) believes business can and should be a driving force for economic, social and environmental prosperity. CSVC works to achieve this vision by engaging, educating and empowering Smith students to employ principles for better that serve not just the bottom line, but also the world. CSVC offers courses, special events and co-curricular programming — like the ChangeTheWorld Nonprofit Consulting program and the Social Enterprise Symposium — that help Smith students gain exposure to the trends and skills necessary to be business leaders of the 21st century. 
- Alissa Arford, Office of Marketing Communications 
Media Contact
Greg Muraski
Media Relations Manager
301-405-5283  
301-892-0973 Mobile
gmuraski@umd.edu 
About the University of Maryland's Robert H. Smith School of Business
The Robert H. Smith School of Business is an internationally recognized leader in management education and research. One of 12 colleges and schools at the University of Maryland, College Park, the Smith School offers undergraduate, full-time and part-time MBA, executive MBA, online MBA, specialty master's, PhD and executive education programs, as well as outreach services to the corporate community. The school offers its degree, custom and certification programs in learning locations in North America and Asia.