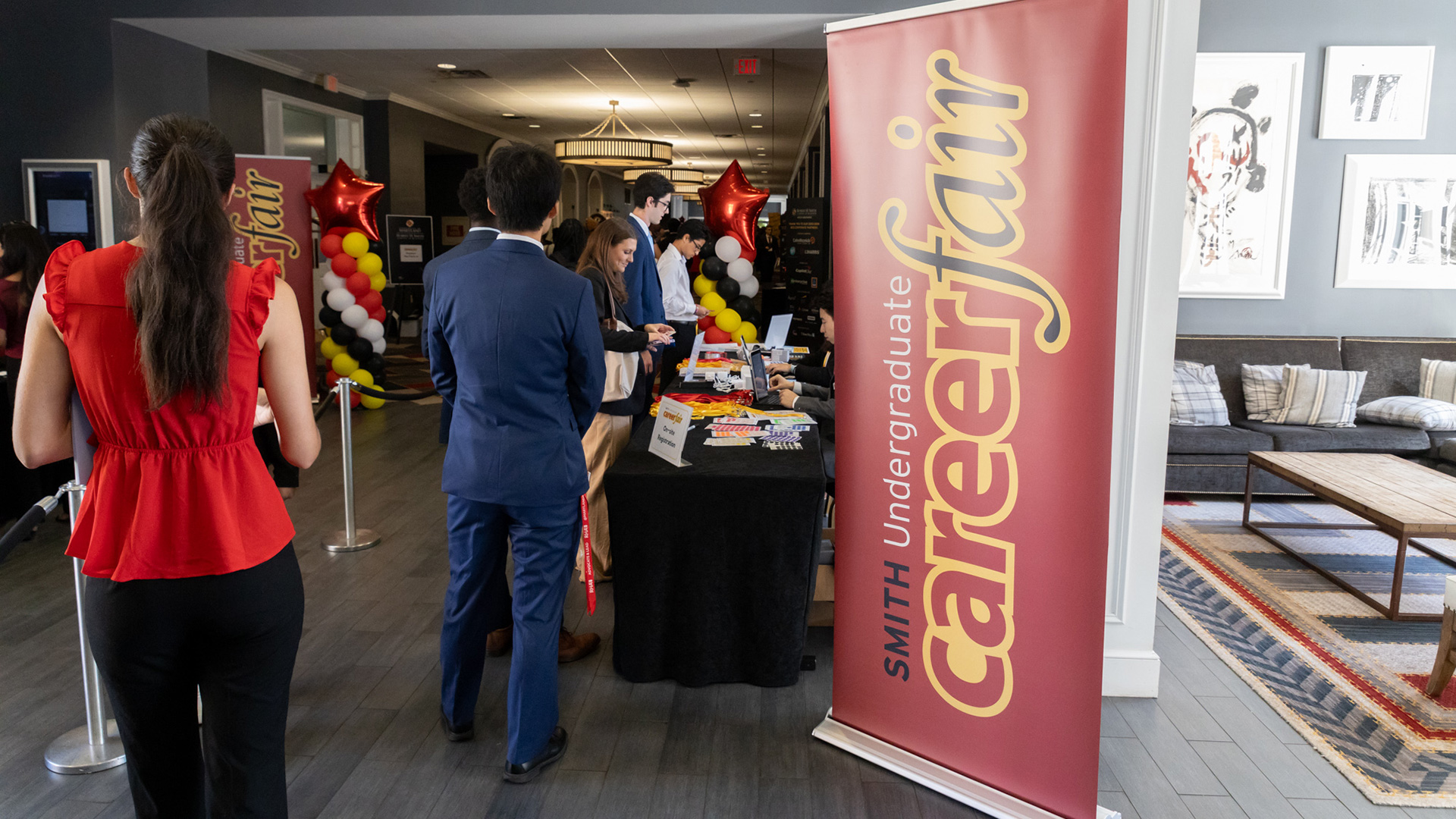 Palpable optimism and endless opportunity filled the halls of the College Park Marriott Conference Center as undergraduate and graduate students participated in career events at the University of Maryland's Robert H. Smith School of Business.
Hosted by Smith's Office of Career Services as a two-day affair, the Smith School's Undergraduate Career Fair and Graduate Career Expo united students, alumni and industry professionals under one roof where they explored employment opportunities and jump-started careers.
The Graduate Career Expo—held on Thursday, Sept. 14—marked Smith's first grad-focused career fair event and its largest gathering of employers seeking to hire students across its graduate degree programs—all eight business master's degree programs, Full-Time MBA, Flex MBA and Online MBA.
There were 679 Smith students in attendance, along with 86 representatives from nearly 50 companies. Roughly 43% of those representatives are UMD alumni. A dozen Smith School alumni were also there, who, independent of their companies, made themselves available for informal career chats and networking meetings with students.
Based on feedback and metrics, the event was a major success and proved that Smith is the right destination for employers in the region looking to satisfy their demand for well-rounded, data-savvy business professionals, said assistant dean and Executive Director of the Office of Career Services Neta Moye.
"Our goal is to connect our students with their most promising opportunities, and we think this event hit its mark. This is just the first of many opportunities these employers will have to connect with our graduate students as they work with our Employer Connections team to craft recruiting strategies."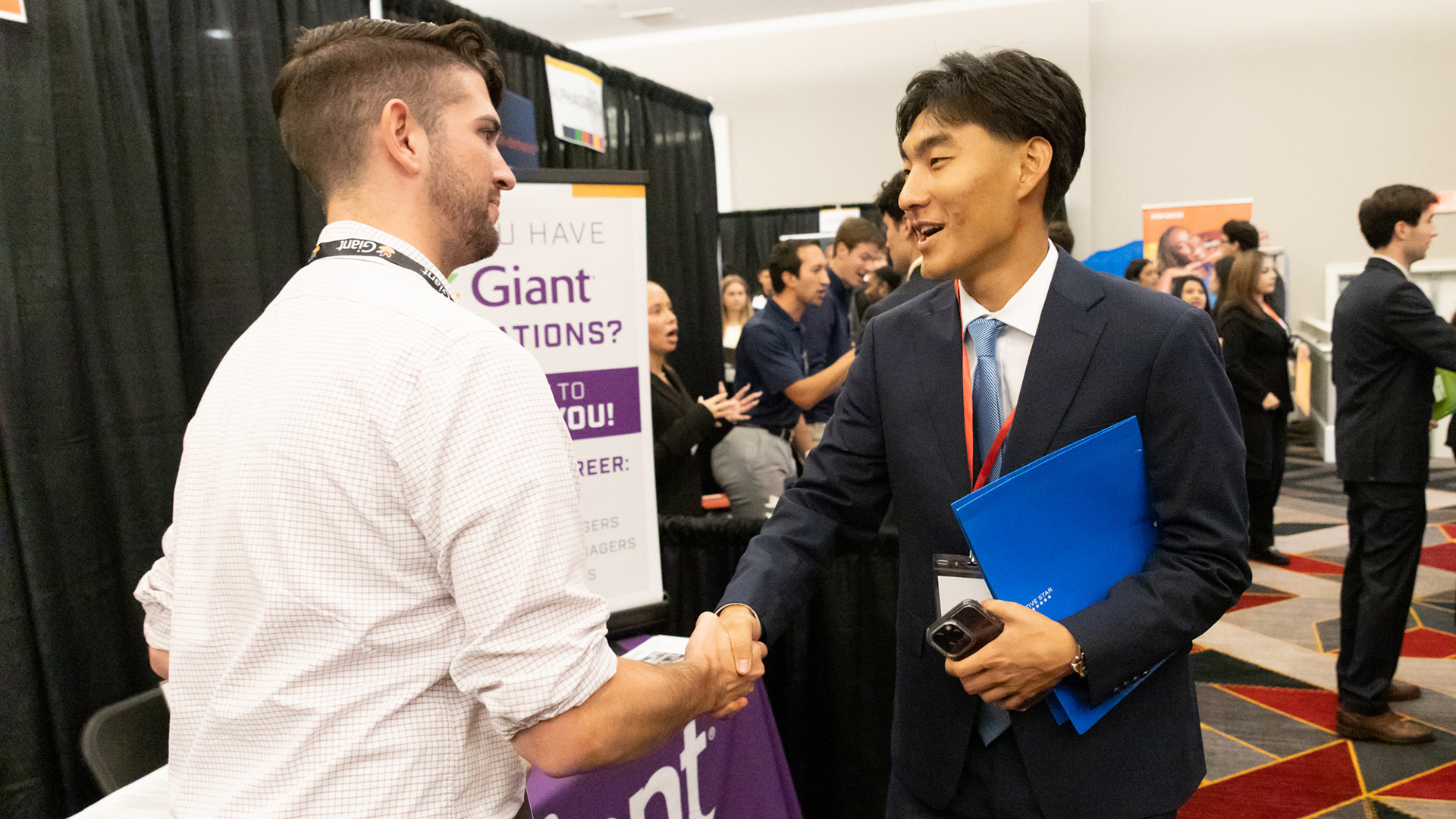 Suzanne Tencellent, a talent analyst and event representative for Blend360, echoed the need for individuals with strong business acumen, communication and relevant technical skills. She said, "Events like the Smith School's expo are valuable opportunities to connect with those individuals." "As an organization, we look for top-tier talent and the students from Smith are top-tier. These types of events give us a platform to communicate and begin our initial conversations with those students."
The Undergraduate Career Fair, held on Friday, Sept. 15, saw 1,188 students interacting with 101 companies and their 297 representatives. Among the company representatives, about half were UMD alumni – 116 of them graduated from Smith. Students from all eight undergraduate business majors traversed the employer booths seeking externships, internships and full-time opportunities.
For finance and economics student Sebastian Decady '26, the event, in addition to networking, provided a forum for developing other soft skills.
"Being early in my professional career, I want to put my best foot forward and give myself the best position to pursue future opportunities." He says he attended the career fair "to understand growth opportunities, talk with people I've never spoken to before and just learn more about these companies."
That outlook is the first step to a successful career strategy, according to Bozzuto Group's Campus Recruiting Lead Michelle Meisels. She says her employer needs professionals who possess soft skills but also "demonstrate that they can compose themselves and think on their feet."
"It's assumed that students will have good technical skills, but soft skills are equally important. We also want students who are looking to learn and grow."
Alumni seeking to support students via informal career chats or employers looking to forge connections with students can contact Cynthia O'Brien from the Smith School's Office of Career Services to get added to next year's event mailing list.
Media Contact
Greg Muraski
Media Relations Manager
301-405-5283  
301-892-0973 Mobile
gmuraski@umd.edu 
About the University of Maryland's Robert H. Smith School of Business
The Robert H. Smith School of Business is an internationally recognized leader in management education and research. One of 12 colleges and schools at the University of Maryland, College Park, the Smith School offers undergraduate, full-time and flex MBA, executive MBA, online MBA, business master's, PhD and executive education programs, as well as outreach services to the corporate community. The school offers its degree, custom and certification programs in learning locations in North America and Asia.