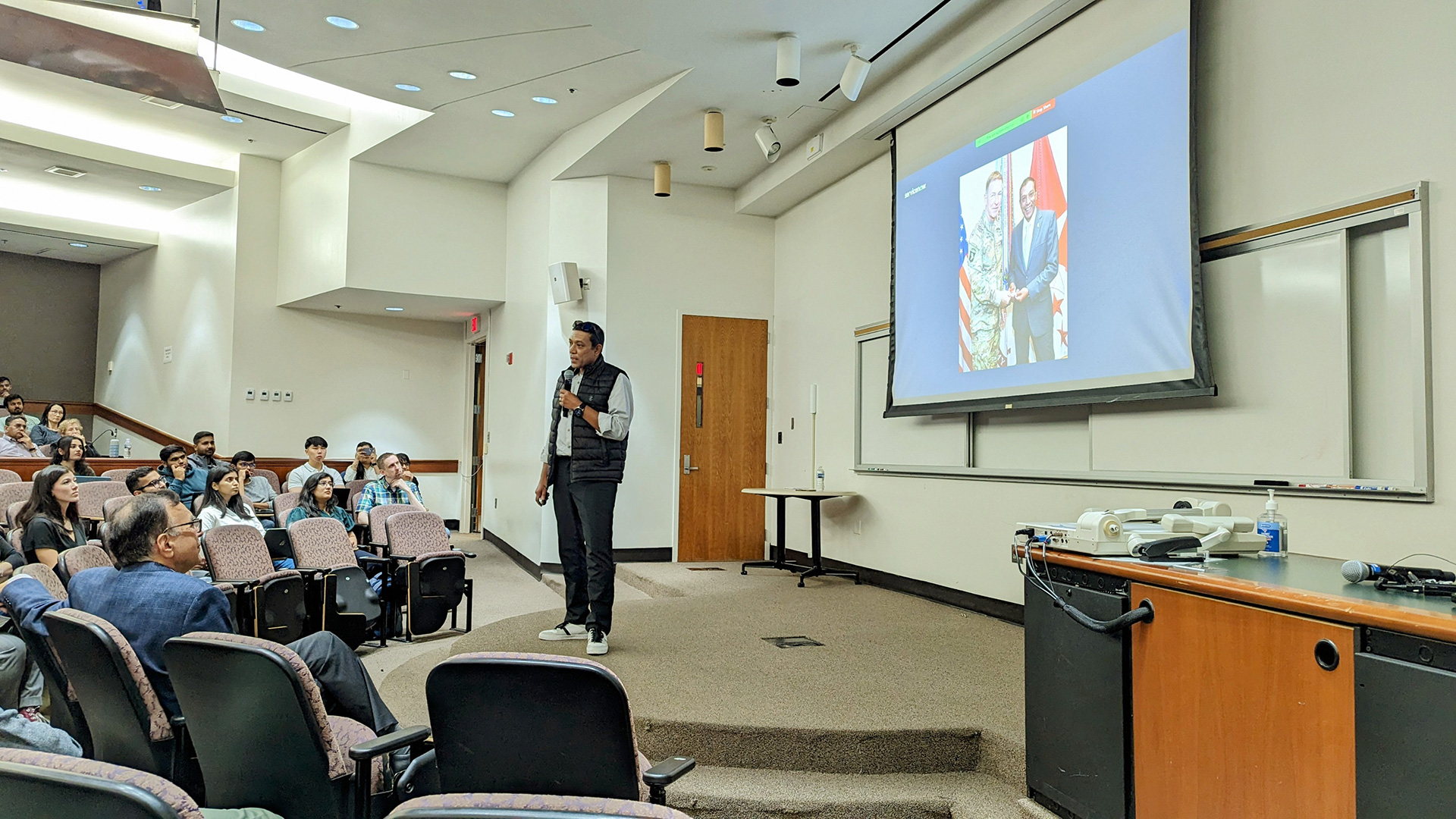 When industry professionals step into the classroom at the University of Maryland's Robert H. Smith School of Business, there are always valuable lessons to be learned for students.
On Oct. 13, the MSIS Industry Seminar course hosted Raj G. Iyer, former Chief Information Officer (CIO) for Information Technology Reform in the Office of the Secretary of the Army, who spoke to over 130 graduate students in the Master of Science in Information Systems (MSIS) program.
Iyer reflected on his career path as a third-generation public servant, representing the Secretary of the Army in matters related to information management and information technology (IM/IT). Before stepping down in March 2023, Iyer helped establish strategic direction and oversaw the execution of policies and programs for IM/IT, including managing an integrated IT architecture, enterprise data management, cybersecurity and cloud management. He also led the capital planning and execution of an $18 billion portfolio for implementing enterprise IM/IT programs supporting the Army and its allied partners.
In his new role, Iyer serves as head of the global public sector business for ServiceNow, overseeing product development, marketing, sales and government relations for large public sector clients with an emphasis on developing go-to-market strategies and plans for domestic and foreign markets.
"It's a surreal moment when I look out into the audience and see how bright our future is. Many thanks to Dean Prabhudev Konana and the University of Maryland's Robert H. Smith School of Business faculty and students for a joyous experience at the MSIS Industry Seminar," said Iyer.
The Smith School's STEM-designated MSIS program helps students leverage business-technology skills in the workplace and influence leadership to make data-informed decisions by teaching them the latest analytics tools and providing experiential learning opportunities.
The MSIS Industry Seminar course is one of those opportunities to help bring the curriculum to life, acting as a bridge between students, business-technology industry leaders and faculty. Leaders present industry trends, opportunities and challenges within the context of their individual and organizational journeys.
Interaction between students and a respected industry leader like Iyer yields invaluable experience and insights while enabling students to begin thinking about the complex business problems they will face in the workplace, says John Bono, associate clinical professor of information systems.
"Organizing these seminars helps us give our MSIS students opportunities to engage with these amazing industry leaders, like Dr. Iyer, in a structured way, as part of Smith's commitment to experiential learning," says Bono.
Media Contact
Greg Muraski
Media Relations Manager
301-405-5283  
301-892-0973 Mobile
gmuraski@umd.edu 
About the University of Maryland's Robert H. Smith School of Business
The Robert H. Smith School of Business is an internationally recognized leader in management education and research. One of 12 colleges and schools at the University of Maryland, College Park, the Smith School offers undergraduate, full-time and flex MBA, executive MBA, online MBA, business master's, PhD and executive education programs, as well as outreach services to the corporate community. The school offers its degree, custom and certification programs in learning locations in North America and Asia.