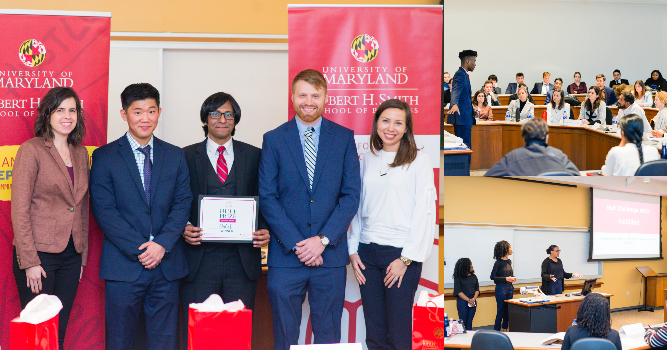 On November 30, 2018, the Dingman Center for Entrepreneurship and the Center for Social Value Creation hosted the inaugural Hult @ UMD, a local edition of the Hult Prize, the largest student competition for social good in the world. Competitors in the Hult Prize focused on this year's challenge to "develop an idea to provide 10,000 jobs to young people within the next decade." The winner of Hult @ UMD will advance to the regional semifinals in Boston in March 2019, where they will compete with other aspiring student social entrepreneurs for a chance to develop their ideas at the Hult Prize accelerator this summer, pitch in the final round held at the United Nations and receive a prize of $1 million awarded by former president Bill Clinton.
Second-year MBA student at the Robert H. Smith School of Business and Dingman Center graduate assistant Katharine McHugh took on the role of campus director of Hult @ UMD. In her efforts to recruit teams, Katharine inspired many of the students who come into the Dingman Center interested in entrepreneurship but seeking an idea to take a shot at solving the Hult challenge.
On the day of the competition, fifteen student teams were split into three classrooms with two judges each, who used the official Hult Prize guidelines to score and rank each team. The teams had six minutes to pitch their idea followed by three minutes of Q&A from the judges. Each team took a very different approach to the challenge, but in the end, four teams advanced to the final round later that afternoon where they pitched their ideas to all six judges. Read on below to learn about all four finalists, including the winner of Hult @ UMD.
OnCall - Winner

Team: Rasheeq Rayhan, first-year MBA, Alex Woo, first-year MS, Justin Fenn, class of 2021
Idea: OnCall solves a problem in the healthcare market in India through telemedicine. With not enough doctors to support India's enormous population, OnCall would provide doctors a platform to offer medical officer certification to anyone with a high school diploma or GED over the phone. Empowering these medical officers would allow doctors to supervise the treatment of a patient remotely, and also give the aspiring medical officers valuable job experience.
BikeLocal
Team: Adam Hostetter, class of 2019, Alex Bergman, class of 2020, Barret Rus, class of 2020, Ekansh Vinaik, class of 2020
Idea: BikeLocal is an initiative to teach and pay young people age 14-18 to build bicycles out of bamboo to help promote cycling as a safer, greener and more reliable way of getting around. With a plan to increase bicycle use rates in the African continent, BikeLocal would begin operations in Nigeria.
Fulfilled
Team: Saba Tshibaka, class of 2020, Leah Barnes, class of 2021, Nile Fossett '18, Sipu Gao, class of 2020
Idea: Fulfilled is looking to solve the problem of food deserts in rural and urban areas through urban planting, farming and produce delivery. The service would employ disenfranchised youth in these communities to run operations.
Eos
Patrice-Morgan Ongoly, class of 2020
Idea: The mission of Eos is to democratize internet access through the widespread dissemination of their mobile hotspot technology. The revenue model to support this social mission is the sale of their proprietary AR-enabled business cards. Job creation would happen indirectly, as greater access to reliable internet would make it possible for youth all over the globe to create their own jobs.
The judges who participated in Hult @ UMD represented a variety of backgrounds and perspectives:
Maurice Boissiere '89, Dingman Center Board of Advisor and founder of Higher Calling Ventures
Bill Boyle '81, Chair of the Dingman Center Board of Advisors and founder of FiberGate Inc.
LaKisha Greenwade, MBA '11, Founder of Glam Tech
Kristin Thompson Fallon, MBA '11, Marketing and Communications Executive at GE Power.
Tonia Wellons, Vice President, Community Investment for the Greater Washington Community Foundation and founder of the Prince George's Social Innovation Fund
Polly Vail, Dingman Center Board of Advisor, Founder of TurnStyle Partners
Media Contact
Greg Muraski
Media Relations Manager
301-405-5283  
301-892-0973 Mobile
gmuraski@umd.edu 
About the University of Maryland's Robert H. Smith School of Business
The Robert H. Smith School of Business is an internationally recognized leader in management education and research. One of 12 colleges and schools at the University of Maryland, College Park, the Smith School offers undergraduate, full-time and flex MBA, executive MBA, online MBA, business master's, PhD and executive education programs, as well as outreach services to the corporate community. The school offers its degree, custom and certification programs in learning locations in North America and Asia.