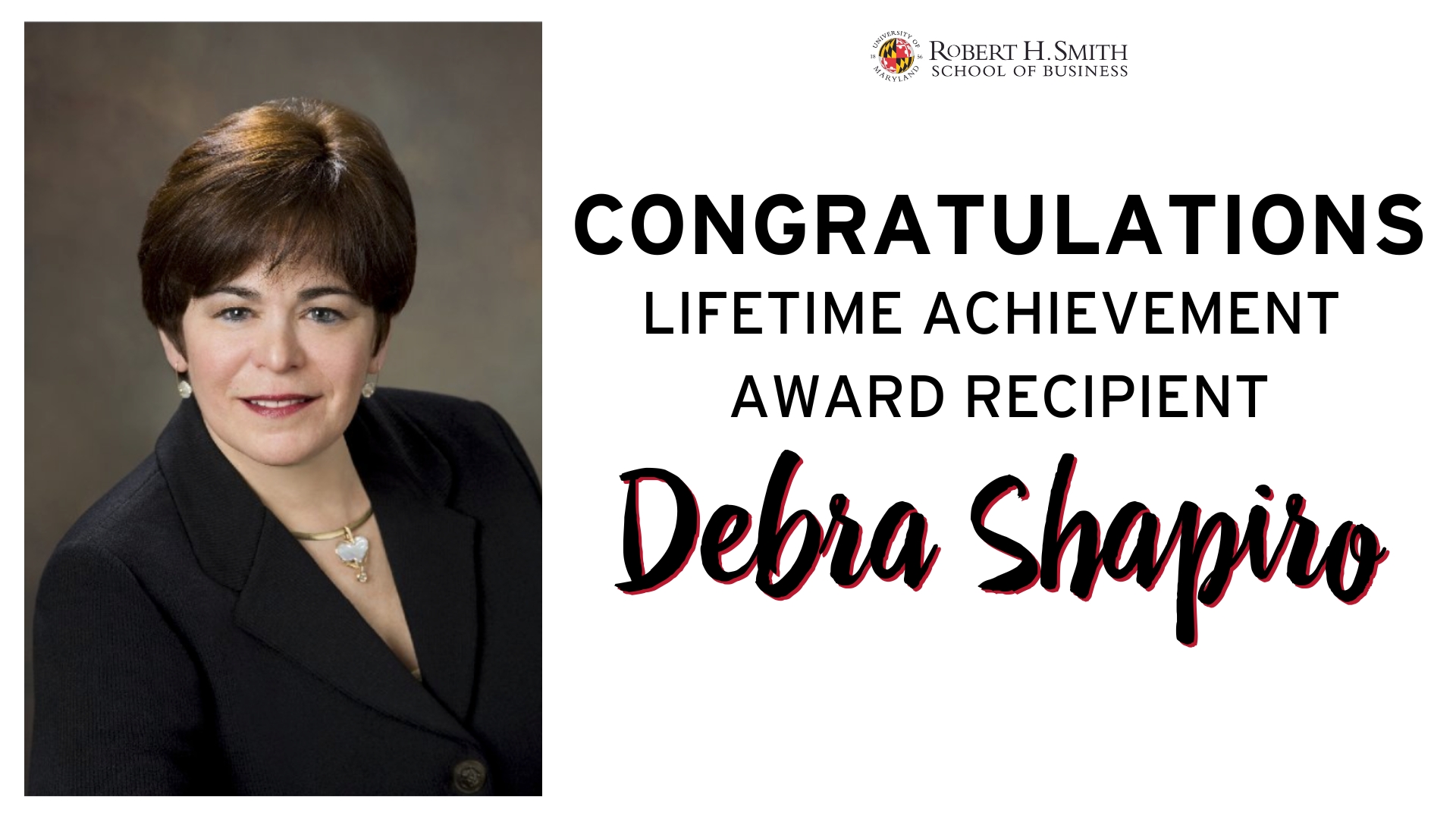 Debra Shapiro, the Clarice Smith Professor of Management & Organization at the University of Maryland's Robert H. Smith School of Business, was selected to receive the International Association for Conflict Management's (IACM) Lifetime Achievement Award.
Each year, the IACM honors one outstanding faculty member for "meritorious, long-standing, paradigm-shifting contributions to the study of conflict management and negotiation." Winners are selected by a committee from nominations of scholars whose careers epitomize the goals and purposes of the association.
Shapiro studies interpersonal-level dynamics in organizations, such as negotiating, mediating, dispute-resolution, and procedural justice-enhancing strategies. She also studies organizational justice, ethical work behaviors, and positive work attitudes and behaviors. Her work has been published in the top academic journals and she has won six "best paper" awards. She is among the top 2% most-cited faculty in the world, and she recently ranked among the world's "best scientists" by Research.com. She has also published two books and received teaching awards. She is also a fellow of the Academy of Management, Society of Organizational Behavior, and the Ethics and Compliance Initiative.
Shapiro's IACM Lifetime Achievement Award will be presented at the association's annual conference in Thessaloniki, Greece, July 9-12, 2023.
Media Contact
Greg Muraski
Media Relations Manager
301-405-5283  
301-892-0973 Mobile
gmuraski@umd.edu 
About the University of Maryland's Robert H. Smith School of Business
The Robert H. Smith School of Business is an internationally recognized leader in management education and research. One of 12 colleges and schools at the University of Maryland, College Park, the Smith School offers undergraduate, full-time and flex MBA, executive MBA, online MBA, business master's, PhD and executive education programs, as well as outreach services to the corporate community. The school offers its degree, custom and certification programs in learning locations in North America and Asia.