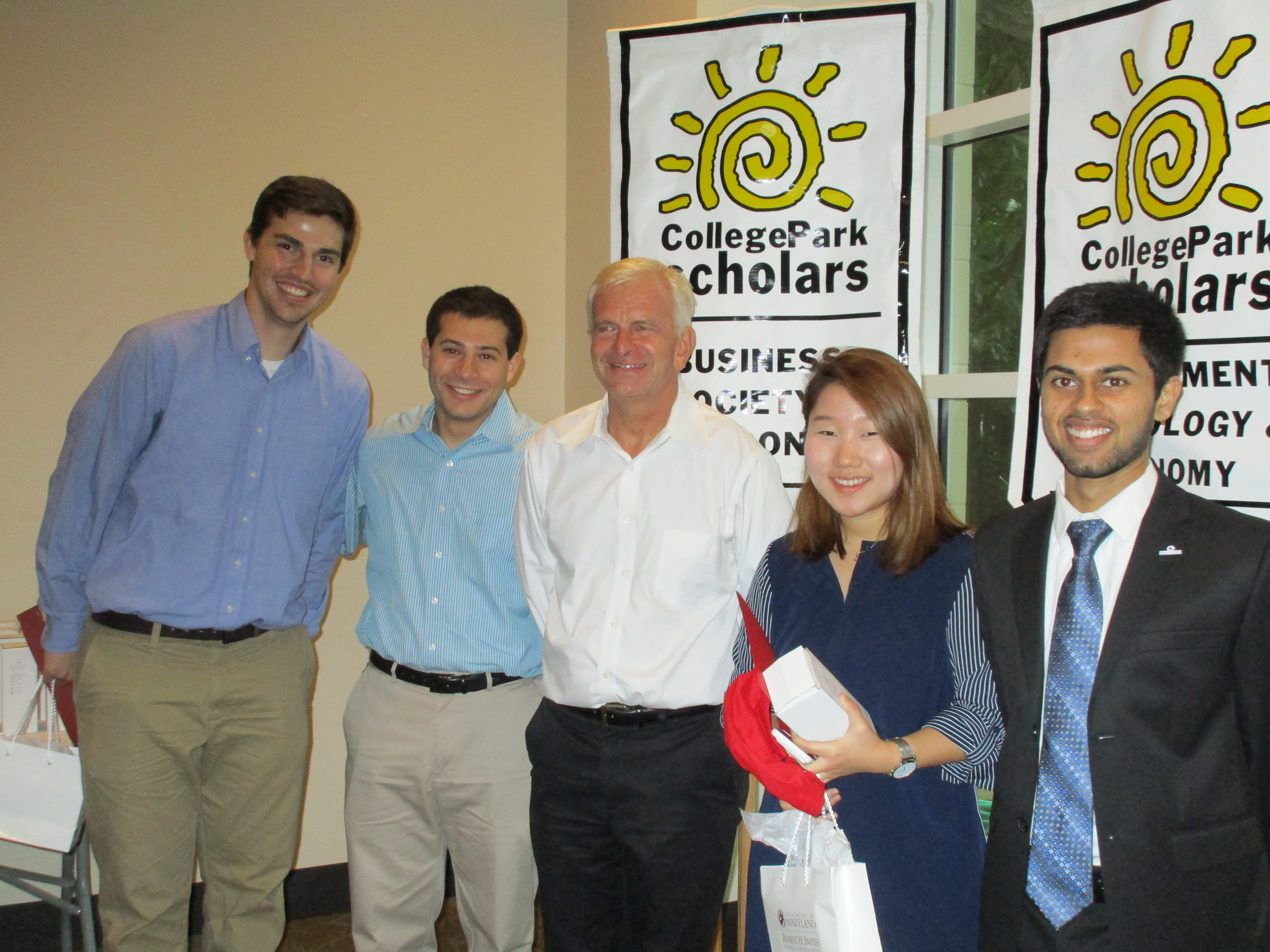 Four of the best students in the College Park Scholars Business Society and the Economy (BSE) program at the University of Maryland's Robert H. Smith School of Business were celebrated on Friday, Oct. 2, 2015, at the Annual Citation Awards Ceremony. Mark Wellman, director of the program and clinical professor of management and organization, and Claudia Donnelly, assistant director of the program, were proud to celebrate with these students, who earned their Scholars Citation Certificate last May and distinguished themselves during their two years as members of the living-learning community known as College Park Scholars.
For the past 20 years, students from each College Park Scholars program (there are 12), are feted at a special annual ceremony attended by family, friends, faculty, and deans from several university departments. This year, William A. Cohen, associate provost and dean for undergraduate studies, addressed the group, expressing his appreciation for the student's continued dedication to academic excellence and their strong sense of community.
Congratulations to these Class of 2017 students:
Outstanding Academic Achievement Award:   
Ross Margulies (Accounting & Finance)
Gopal Srinivasan (Finance)
Outstanding Citizenship Award: 
Tyler Muldoon (Supply Chain & Economics)
Sharon Woo (Marketing & Supply Chain)
Find out more about the College Park Scholars BSE program.
- Claudia Donnelly, Office of Global Programs
Media Contact
Greg Muraski
Media Relations Manager
301-405-5283  
301-892-0973 Mobile
gmuraski@umd.edu 
About the University of Maryland's Robert H. Smith School of Business
The Robert H. Smith School of Business is an internationally recognized leader in management education and research. One of 12 colleges and schools at the University of Maryland, College Park, the Smith School offers undergraduate, full-time and part-time MBA, executive MBA, online MBA, specialty master's, PhD and executive education programs, as well as outreach services to the corporate community. The school offers its degree, custom and certification programs in learning locations in North America and Asia.