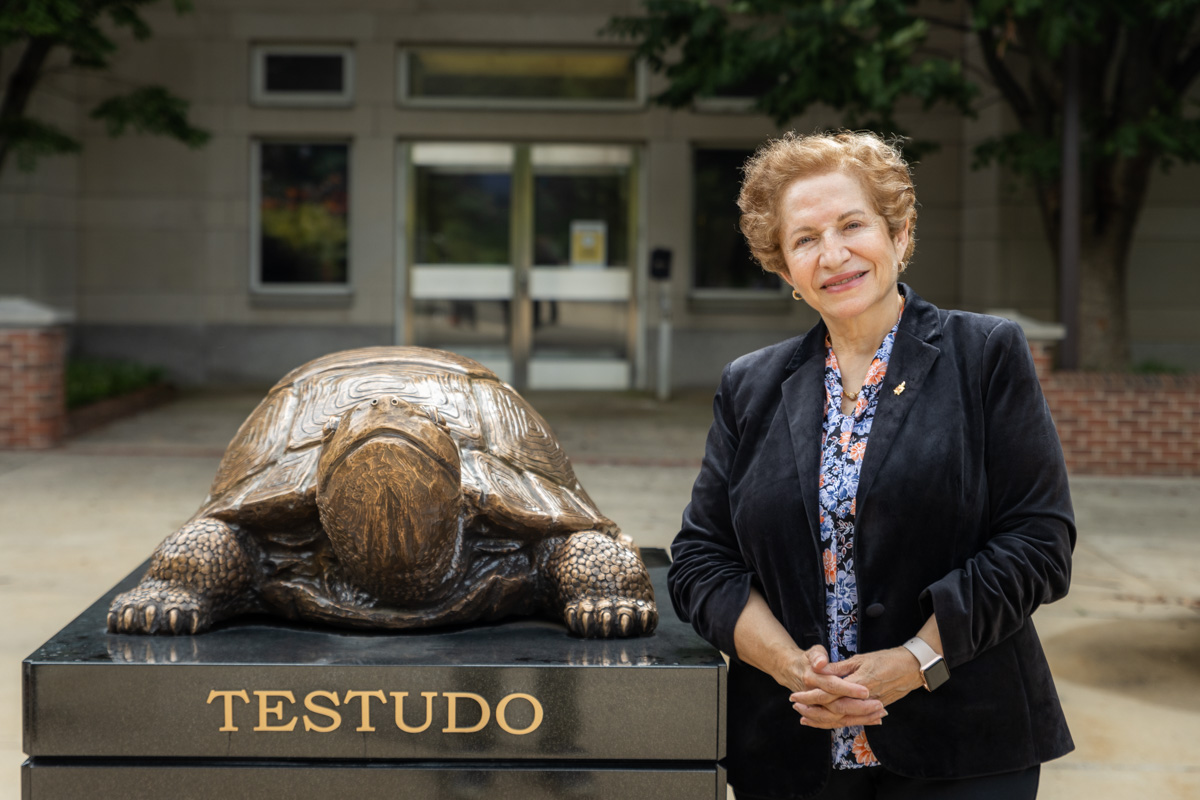 Hailing from a lineage of educators, Maryland Smith's Zeinab Karake always believed she'd find a career in the classroom. To her, teaching isn't just a profession, it's a calling.
Originally from Lebanon, Karake described how teaching has shaped her family's lives. Her great-grandfather was the first teacher in their village and of her six brothers and sisters, four of them became teachers as well. In that sense, Karake says, her career path and future were set early on.
"It became an expectation that when I grew up, I was going to be a teacher," says Karake, clinical professor of decision, operations and information technologies at the University of Maryland's Robert H. Smith School of Business. "That's why I became a college professor. It was like my path was already laid out for me."
Initially interested in marketing and research as an undergraduate student, Karake became enamored with the DOIT field while pursuing her doctorate.
"I look back and see it as one of the best decisions I ever made. In the information systems profession, there is never a dull moment," says Karake. "You'll never find yourself bored because you wake up every morning to new innovations and seek out advancements in programming languages."
A similar excitement also drew her to the Smith School, she says. While serving as the director of research at the Dubai International Financial Center in 2010, Karake received an offer to become a visiting scholar at Maryland Smith.
The plan was to stay for a year, Karake says, but that plan changed three months into her role when she was given the opportunity to teach courses. It was an opportunity she couldn't pass up after months of interaction with members of the Maryland Smith community. What was initially a one-year position became a decade of service to the School as a Tyser faculty member and later as a full clinical professor.
"What drew me to Maryland was interacting with colleagues who come to work every day showing their authentic selves and planning to add value. But what also drew me to Maryland is the caliber of students," says Karake. "I've taught students all over the world, and our students are heads and shoulders above everybody else. It's a dream for the faculty to know that they are going to learn something that day from their students. You can't put a value on something like that."
Since the beginning of her teaching career, Karake had looked upon learning as a two-way process. Just as students look to professors for knowledge, professors must adapt to their students and commit to learning as much they can from each of them.
"I learn from them as much as they learn from me because each person in the classroom adds to the knowledge repository of any class or topic," says Karake. "I cannot know everything that's happening out there, but this is the way I conduct myself with the people around me. This is how we create synergy and improve.
Now, Karake is taking that philosophy to a new role at Maryland Smith, as she will serve as the School's first associate dean of culture and community. The role is devoted to continuing inclusive excellence for students, faculty and staff.
It's a vitally important role, Karake says, because it facilitates more interaction and engagement with all of Maryland Smith's various stakeholders. Everyone has a voice and feedback they'd like to express, and Karake considers herself a great listener who is up to the task.
"In this position, I'm going to reach out to everyone, faculty, staff, administration to learn from them and help promote our 'One Smith' culture," says Karake. "I truly believe we have a tremendous opportunity on our hands to bring more value to the various stakeholders that we have.
As Karake assumes the role, she hopes to continue her work in the classroom. But she knows with her new responsibilities comes an opportunity to lay a strong foundation and set the tone for future successors.
"I'm going to put all my energy into making the 'One Smith' culture a reality. It's a process that will require a lot of continuous improvement," says Karake. "But the moment we believe that we've reached the top, that would be the start of our failure. There will always be room to improve. Excellence is not stagnant; it is work in progress".
Media Contact
Greg Muraski
Media Relations Manager
301-405-5283  
301-892-0973 Mobile
gmuraski@umd.edu 
About the University of Maryland's Robert H. Smith School of Business
The Robert H. Smith School of Business is an internationally recognized leader in management education and research. One of 12 colleges and schools at the University of Maryland, College Park, the Smith School offers undergraduate, full-time and flex MBA, executive MBA, online MBA, business master's, PhD and executive education programs, as well as outreach services to the corporate community. The school offers its degree, custom and certification programs in learning locations in North America and Asia.