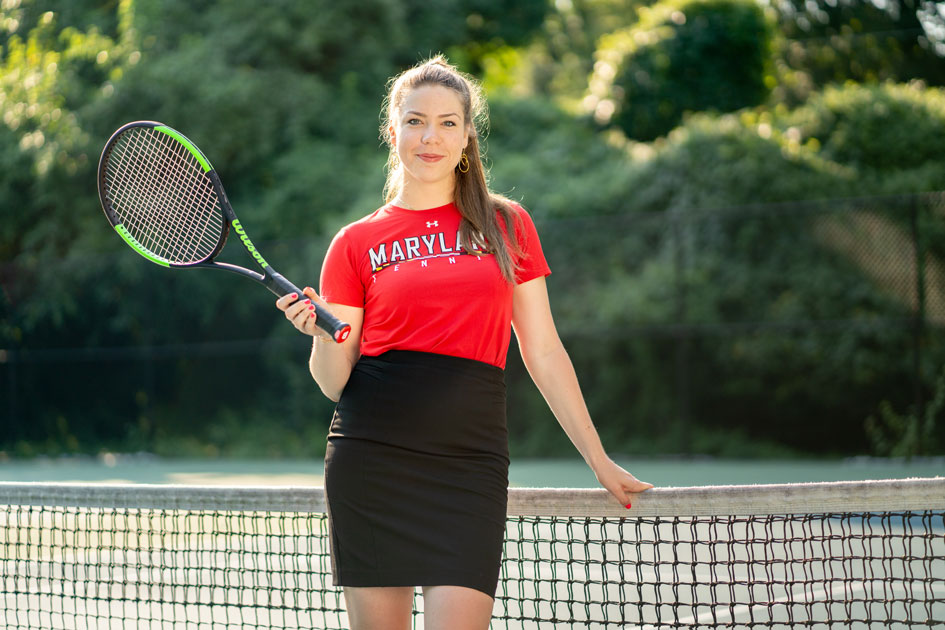 Deloitte tax consultant Ekaterina "Katya" Tour '17, MS '18, made the most of a four-year tennis scholarship at the University of Maryland.
By the time she graduated, she not only collected 70 singles wins and led the Terrapins to their first-ever Big Ten Tournament victory, she also finished an undergraduate degree and tacked on a Master of Science in Accounting in the "Plus One" program at the Robert H. Smith School of Business.
"I knew I had four years," she says. "And I didn't want to miss out."
Tour, who now lives in Arlington, Va., was born in Russia and moved with her family to Israel in 1999 at age 6. She started playing tennis at 10 — later than most professionals — but she climbed through the ranks and found herself in the final of a Women's ITF World Tennis Tour event at 18.
"My dad decided to enroll me in tennis classes, and I kept going," she says. "Over time I started liking it."
Before coming to Maryland, Tour represented Israel in Fed Cup play and climbed to No. 564 in the WTA world rankings. She could have earned a tennis scholarship almost anywhere, but she chose Maryland for its academics and location.
"I put my education and my career No. 1, and I also wanted to develop as a tennis player," she says.
On a typical school day Tour took classes until noon, followed by tennis, conditioning and physical therapy in the afternoon. Then she studied or took evening classes. She also worked as a graduate assistant during her final year, which gave her closer access to the Maryland Smith faculty.
"They were so welcoming," she says. "It's an example of how I want to be when I'm in a position of power."
Each professor taught her something different, and she says it was an honor to study with them.
"After 14 years in tennis, I know how to recognize an expert," she says. "The professors at Maryland Smith are world-class experts."
The Plus One program, which allows Smith undergraduate students to stay an extra year and earn a specialty master's degree, fit nicely into Tour's plan to pack as much as possible into her Terp experience.
"The Plus One program saved me time and opened doors," she says.
Now at Deloitte, she is climbing the ranks again, but this time as a young accounting professional at a Big Four firm.
"Already I have a chance to communicate on a daily basis with important clients," she says. "Deloitte is trusting me."
Media Contact
Greg Muraski
Media Relations Manager
301-405-5283  
301-892-0973 Mobile
gmuraski@umd.edu 
About the University of Maryland's Robert H. Smith School of Business
The Robert H. Smith School of Business is an internationally recognized leader in management education and research. One of 12 colleges and schools at the University of Maryland, College Park, the Smith School offers undergraduate, full-time and part-time MBA, executive MBA, online MBA, specialty master's, PhD and executive education programs, as well as outreach services to the corporate community. The school offers its degree, custom and certification programs in learning locations in North America and Asia.