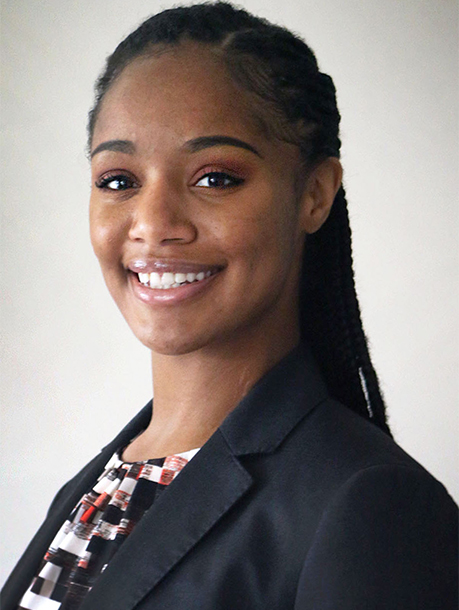 Octavia Davis couldn't picture herself going to college right after high school. She hadn't yet decided what she wanted to do with her life, with her career. Joining the military, she thought, would give her time to decide what she wanted, while giving her a rich, worldly experience.
"The Marine Corps had much more to offer me than just time to think about what I wanted to be when I grew up," Davis says. "It was an opportunity to transform in ways I never thought I could. Today, I am a stronger, more confident and more resilient woman because of my time in the Marines."
She was enlisted for six years – the first three doing photojournalism and social media management, and the later three doing diplomatic security. "It was fantastic. Challenging, but fantastic," she says. "The most exciting thing about the military is having the opportunity to learn something new at any given moment."
Providing security for U.S. embassies and consulates, and for high-level diplomats, including then-Vice President Joe Biden, meant immersing herself in new responsibilities and, often, new countries. "I did not realize it then, but being in such a range of positions gave me the rounded and worldly experience I was hoping to get out of my time in service," she says.
The many skills she learned – among them: adaptability, responsibility, change management – have stayed with her, even as she moved on.
After leaving the Marines as sergeant, she spent three years working as a fitness coach, while earning her bachelor's in kinesiology and exercise science from Towson University. But she soon decided it was time to adapt again, and set her sights higher, as the Marines had taught her.
She enrolled in Maryland Smith's Full-Time MBA program in 2020. In her classes at Smith and in a brand-management internship at Church & Dwight (maker of Oxi Clean, Arm & Hammer, and others), she has found the career passion she was seeking all along. "It truly is a great program," she says, "and one that I would recommend to anyone wanting to further their career in the business world – or make a career switch like I did."
Media Contact
Greg Muraski
Media Relations Manager
301-405-5283  
301-892-0973 Mobile
gmuraski@umd.edu 
About the University of Maryland's Robert H. Smith School of Business
The Robert H. Smith School of Business is an internationally recognized leader in management education and research. One of 12 colleges and schools at the University of Maryland, College Park, the Smith School offers undergraduate, full-time and flex MBA, executive MBA, online MBA, business master's, PhD and executive education programs, as well as outreach services to the corporate community. The school offers its degree, custom and certification programs in learning locations in North America and Asia.