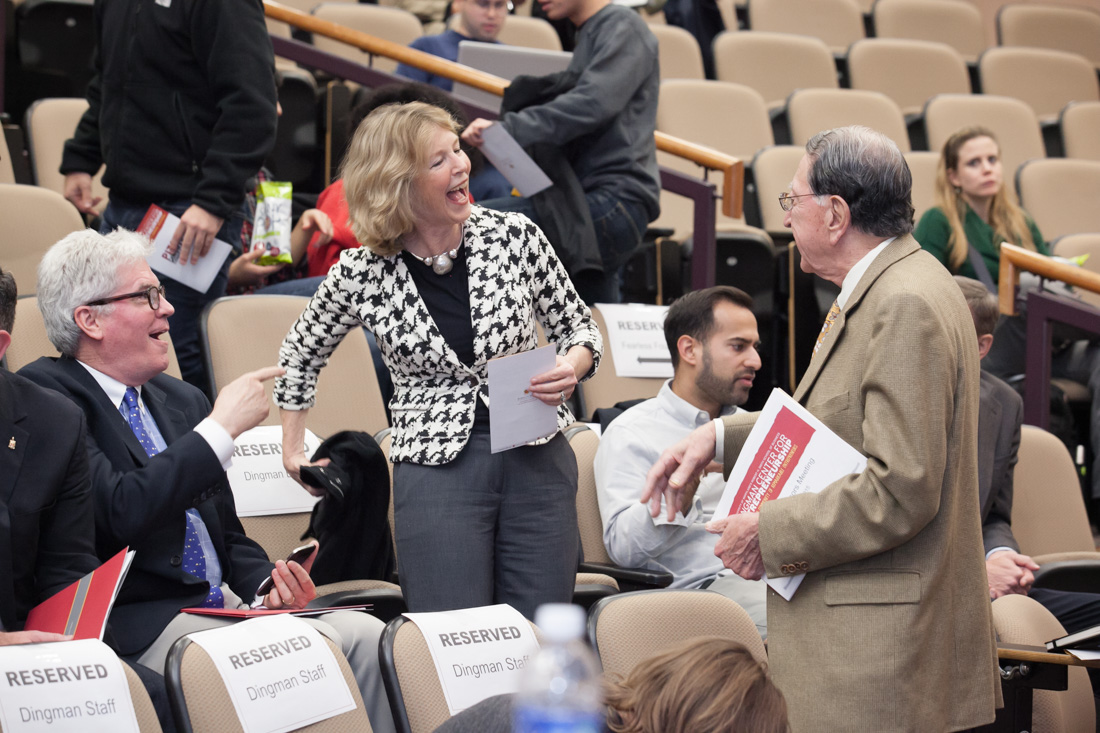 François de Zamaróczy, Smith MBA candidate 2017, writes about the Pitch Dingman semifinals event last week. Pitch Dingman is the University of Maryland's only business competition exclusively for Terps.
On Thursday, December 3, 2015, I had the pleasure of attending an event put on by one of the University of Maryland's most iconic centers: the Dingman Center for Entrepreneurship. Founded by former dean Rudy Lamone on the basis that "It takes entrepreneurs to instill an entrepreneurial culture," the Dingman Center has become one of the nation's pre-eminent institutions for advancing entrepreneurial ideas and the practice of entrepreneurship.
The evening event - which was in front of a packed audience of students, faculty and judges – was the semifinals round of Pitch Dingman Competition that takes place yearly. The competition is a three-round process where startup companies are competing against one another to secure $15,000 (which will be awarded to the first place winner) in seed money for their companies. The total prize pool that is annually awarded towards these startups is more than $30,000. The presentations are evaluated on how they will use the funds, potential revenue streams and growth, competitive advantage provided by their service or product, and how they have identified a viable target segment to go after in the market.
Having changed the format slightly this year compared to previous years, the event allows the presenters only three minutes to pitch their company and idea to a panel of judges whom are allotted a three-minute window after the presentation to ask clarifying questions. Indeed, the stakes are high for the 10 teams, as only five of the 10 teams will move onto the final round. The five semi-finalists will all receive a $250 prize for making it onto the next round. In addition to the formal judging, the audience is presented an opportunity to vote for one team to win $500 in prize money.
The 10 companies that made it to the semifinal round represented a wide swath of ages and experiences going from undergraduate to the MBA level. The companies themselves were from varied industries and each had a unique need that they addressed. A short recap of each of the ideas will follow in order of their presentation.
Centurion Virtual Reality - Ever wonder what it would be like to fall asleep in a virtual classroom simulation? Andre Rauch gave a presentation on the future of the education industry by proposing that students will appreciate the benefits of learning in a virtual reality versus a lecture or traditional classroom setting. One of the examples that was used is that instead of asking a student to imagine their responses to a business dilemma that instead the student can put on their 3D virtual headset, and feel like they are in an office space and work through the simulation and interact with a 3D generated person to make it more lifelike.
Embitterment – Are you bitter that your bartender at your favorite bar is making your cocktail with bitters from NYC when all you wanted is a locally made option? Feel bitter no more! Presented by Russell Garing, a second-year MBA at Smith, Embitterment has launched itself in the bitters for cocktails industry as a local option. Capitalizing on the trend that many patrons of bars are into the locally sourced dining and drinking phenomenon, Embitterment has found a relatively empty whitespace to enter in. Having already found success, Embitterment is looking to utilize the prize money to help automate their bottling process.
Flutter – Having trouble trying to figure out your Friday or Saturday night plans with your friends? Flutter founder Ariel Bitton and CFO Mike Taft think they can help by offering an app that eases the decision making process. Their app will allow you to propose a location amongst your friends, and get feedback right away if it's a good idea or not. In addition, the app helps show the best travel information for the event, the cost and any special notes. Flutter aims to help small business owners promote themselves locally by offering them a chance to better reach more of the population.
ICOW – If you live in China and want to get into graduate school in the U.S.(without the fraud and high costs) and are confused about the process, thankfully ICOW is here to help. Presented by Jonathan Kau, ICOW is a company that specializes in helping Chinese students think about themselves, which schools they should apply to and help review their applications for grammar. For now the focus is just only on graduate level studies but that might change in the future.
Kanvasroom.com – Feeling frustrated that you can't find good local talent for your creative needs? Kanvasroom.com, presented by Aaron Pludwinski, wants to be the bridge between creative professionals and local creative sources. The idea behind the platform is to allow for an integrated community to exist that can videoconference and work collaboratively on projects. No more need to pay for travel to make your meeting, Kanvasroom.com will allow users to work together across the world.
Spot This – Jealous of the sweater that you see in that picture and too tired to spend time reviewing a very long Google list that might be hit or miss? Don't worry, Sumanth Jinagouda shows you how Spot This has you covered. Using their proprietary technology, Spot This allows you in a few simple clicks to upload a picture of the garment in question and they will find you the top hits and allow you to see the options. In addition, Spot This also wants to offer fashion advice on its app.
Uboard – You arrive at college, excited to be in a dorm and all of sudden you realize that you don't have a fashionable headboard to make your dorm room unique? Good thing Uboard founder Natalie Urban realized a solution to this problem for you. Currently offering headboards in three different styles (floral, state flag and solid colors), Uboard is looking to make your sleep more comfortable. In addition, Uboard is soon looking into adding on add-ons to its headboard such as a LED light that will gently awaken you from your sleep.
Upperstack – If you are of the belief that you are better presented on video rather than one page resume and cover letter and wish that you had a website that could allow you to do so in a professional setting while job hunting, Upperstack and Fahed Hijazi are here to help you. Arguing that traditional websites are lacking in video technologies and that Millennials want to express themselves in different ways rather than in a traditional sense, UpperStacks is seeking to revolutionize the hiring process.
VentureStorm – It's the classic business scenario. You have a great idea and are ready to share it with the world, it's just that, well… you just aren't quite sure about some of the technical aspects and need help figuring them out and bringing your app to life. Tommy Johnson from VentureStorm has finally created an app to help you. The app will allow potential entrepreneurs to explain their problem to local student developers (in most instances in a local area such as a college campus). These developers can then offer their services directly to the entrepreneur for a stake of equity in the future company and a partnership is formed.
WeCook – Too busy to cook for yourself, and actually want homemade tasty meals versus making a dash to the local grocery store for some already prepared food? Sounds great but you don't have a whole lot of money? Ryan Pillai and WeCook are quite happy to help you with that dilemma by offering you a service at a relatively inexpensive price. The app offers you the option to select your meals and then have a personal chef come to you house (with the groceries already bought and paid for) and cook the meals and then clean up the mess. All you need to do is figure out which meal to eat that day and enjoy it.
While all the companies gave great presentations, the judges did have a hard task of choosing five to continue onto the finals which are set to take place on February 16, 2016. After a short break the judges returned to announce the winners. In addition, during this time, the audience voted on their favorite company amongst the 10 options for the $500 prize.
The winners were announced in alphabetical order at the event and this author wishes his congratulations to all the presenters. As a reminder, all five of the semifinalists won $250 dollars for their companies and a chance at the $15,000 first place prize in February. In addition, it should be noted that Uboard was the audience favorite and won the $500 prize.
Five Semi-Finalists
Embitterment
ICOW
Uboard
VentureStorm
WeCook
Find out more about the Pitch Dingman competition.
Media Contact
Greg Muraski
Media Relations Manager
301-405-5283  
301-892-0973 Mobile
gmuraski@umd.edu 
About the University of Maryland's Robert H. Smith School of Business
The Robert H. Smith School of Business is an internationally recognized leader in management education and research. One of 12 colleges and schools at the University of Maryland, College Park, the Smith School offers undergraduate, full-time and flex MBA, executive MBA, online MBA, business master's, PhD and executive education programs, as well as outreach services to the corporate community. The school offers its degree, custom and certification programs in learning locations in North America and Asia.