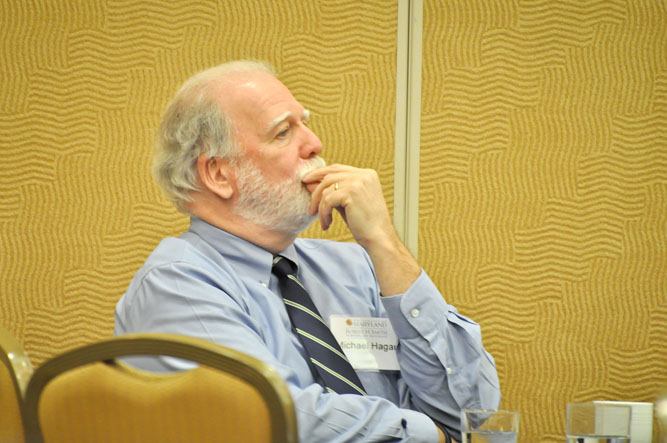 Technology is opening the "black box" of hospital operations to researchers, while patient empowerment and groundbreaking, patient-centered and patient-powered research networks loom to tackle health challenges from obesity to rare diseases.
These topics were among the focal points of the fourth annual Workshop on Health IT and Economics (WHITE) held Nov. 15-16 in Washington D.C., and presented by the Center for Health Information and Decision Systems (CHIDS) in the University of Maryland's Robert H. Smith School of Business.
One of the keynote speakers, Gregory Kruse, described real-time ICU monitoring among tech-driven initiatives of the University of Pennsylvania Health (UPH) System, where he serves as a special assistant to the CEO. UPH, he said, has successfully tested a unit with beds equipped with computers, motion cameras and audio monitors – all capturing and feeding data in real time to specialists remotely monitoring the patients round-the-clock.
In a preceding keynote, health economist Rachael Fleurence revealed $56 million will be designated in December to eight teams (TBA) of partnering health care systems for investigations administered by the Patient-Centered Outcomes Research Institute (PCORI) and its Clinical Data Research Network (CDRN) -- directed by Fleurence. "The goal is for each project to generate data covering one million patients --data that's defined and characterized for research and standardized for use across networks."
Fleurence and Kruse were among more than 100 experts who shared and-or absorbed insight to how information technology is helping make health care more patient-centered, effective and cost-efficient.
WHITE was conceived  "to bring together a multidisciplinary group of researchers, policymakers and academics  -- all of whom worry about health care and have  a passion for making significant and substantial change in our health care system," said program chair and CHIDS' founding co-director Ritu Agarwal, professor and the Robert H. Smith Dean's Chair of Information Systems.
Other topics from the 2013 conference included social media and mobile technologies as vehicles for patient engagement and impacting health outcomes, and online health insurance exchanges.
Listen to Agarwal and other experts discuss early challenges and successes of online insurance exchanges in "Conversations on How to Save Health Care, Part 2."
Kruse described hospital system "black boxes" as "labor and capital going in and financials, quality, claims and outcomes going out, while what goes on in the 'box' is a mystery." The phenomenon, he added, has been a product of limited data but is now being reversed by technology.
"Executives I work with -- who've been in the industry 10-20 years -- feel the information at our fingertips for decision making now is incredible," Kruse said. "We've gotten beyond the challenge of collecting data to the challenge of getting value from it."
Digital "quality dashboards" are enabling these leaders to analyze cost and performance from data that's just weeks old, as opposed to six months-old in quarterly reports. Managers and surgeons can analyze significant incidents with fresh perspectives. For example, they can drill down for factors to a recent heart valve procedure complication and more effectively identify ways to curb its average cost of $30,000 per patient. "This level of scrutiny wasn't being applied a couple years ago," Kruse said. "It's extremely powerful."
Moreover, "improved, broadened data dissemination will help managers better predict costs and fine-tune internal workflow," he added.
For PCORI -- created through the Affordable Care Act, the targeted barriers are more cultural and less technical, said Fleurence.
"We're engaging patients, caregivers and clinicians linked by a single condition and willingness to share data for research, she said. "We're targeting patients (as many as 50,000 individuals with more-common disorders) with a single condition to participate in this research network (complementing the aforementioned CDRN project)."
The initiative to engage patients also relates to the Health and Human Services (HHS) "Blue Button" campaign to empower all U.S. health care consumers to access their electronic health records. "This is revolutionary in that health care managers traditionally have tried hard to not allow data to leave their systems," said HHS Innovation Fellow Adam Dole, during a "Patient Engagement and Fostering Smart Patients" panel discussion. "This was for security reasons, and it has represented a paternalistic message that 'we're trying to protect the patients.'"
Dole's fellow panelist Regina Holiday, patient advocate and founder of the Walking Gallery, cited the Robert Wood Johnson Foundation's OpenNotes initiative as enabling patients to access the notes their doctors write about them and become active partners in discussions and decisions about their care. The initiative's documented effectiveness contradicts the doctors who Holiday said have explained to her that "most patients aren't educated and intelligent enough, or emotionally competent enough to read their own diagnostic reports."
A third panelist, Dr. Ivor Horn, associate professor of pediatrics at George Washington University Medical School, concurred with Dole: "We've had this paternalistic attitude in medicine that 'we're the authority and we want to help you -- just listen and do as we say.'"
"Now, with the openness of data and the opportunity for people to research more on their own, patients can more effectively initiate engagement," she said. "If patients talk more, providers talk more. If patients answer more questions, providers answer more questions."
Read more about the Center for Health Information Decision Systems at the CHIDS website. 
Media Contact
Greg Muraski
Media Relations Manager
301-405-5283  
301-892-0973 Mobile
gmuraski@umd.edu 
About the University of Maryland's Robert H. Smith School of Business
The Robert H. Smith School of Business is an internationally recognized leader in management education and research. One of 12 colleges and schools at the University of Maryland, College Park, the Smith School offers undergraduate, full-time and part-time MBA, executive MBA, online MBA, specialty master's, PhD and executive education programs, as well as outreach services to the corporate community. The school offers its degree, custom and certification programs in learning locations in North America and Asia.