Mark Wellman, a widely admired management and organization professor at Maryland Smith, died unexpectedly on Dec. 26, 2021. He was 59.
Wellman came to the University of Maryland in 1990 and had served as director of the Business, Society and the Economy program of College Park Scholars since 2005. He was a clinical professor of management and had recently taken on a new role as assistant dean of corporate relations.
In an email to faculty and staff on Dec. 28, Maryland Smith Dean Prabhudev Konana described Wellman's death as "a loss for the entire University of Maryland community, but particularly to all of you who knew him well."
On the Maryland Smith website, colleagues and current and former students shared their fond remembrances of his work and described the impact he'd had on their own lives and careers. Students called him "an inspiration and a beacon of kindness," "a real mensch," and a "mentor, a role model and a friend."
Among the outpouring of remembrances was this one, from Ken Johnson '20, a former student and teaching assistant.
"Dr. Wellman was a great friend and mentor – someone who always saw the best in people and pushed them to grow. … Dr. Wellman was known for putting together legendary experiential learning opportunities and a master at combining fun with real-life experience. He coordinated trips across multiple continents, scavenger hunts through D.C., visits to the circus, outings to Hershey park, hikes across both lava fields and glaciers, and much more. In all, students were able to connect with professionals, learn about the culture, and better understand business strategy in a way that would leave a lasting impression. This also led to one of my most treasured lessons from Dr. Wellman – oftentimes the best experiences in life require you to step out of your comfort zone and go off the traditional path."
Marc Greenberg '93 shared another, writing: "I'm so saddened to hear of Mark's passing. I worked at Pixar from 2002 through 2018, and I had the pleasure of hosting Mark's class many times over the years in their West Coast visits. We spoke of leadership, entrepreneurship, culture, product, and careers. He was incredibly engaging, and it was clear that he cared so very deeply about his students and their learning experience. Mark was a very special educator, colleague, and friend, and I feel fortunate to have known and connected with him. He will be deeply missed."
Michael O. Ball, professor emeritus with Maryland Smith's department of decision, operations and information technologies, called Wellman "a Smith School legend," adding, "He dedicated his all to every job he had and always put the students first. The entire Smith community will miss him dearly."
It is a sentiment that echoed many times over in recent days.
"Mark was truly committed to his students and deeply invested in their success," Konana said in his email. "Over the past 30 years he has worked with Full-Time and Part-Time MBA students, executives, and with undergraduates as director of the BSE Scholars. The excursions he led to the corporate headquarters of high technology, venture capital and social media companies in Silicon Valley and the Pacific Northwest have helped many BSE students secure internships and jobs in these fields."
At Smith, Wellman is credited with transforming the BSE Scholars program, starting the undergraduate management major and creating several innovative co-curricular programs and experiences for students. Additionally, he served as the director of the university's three largest short-term global immersion programs, taking students to the United Arab Emirates, Southeast Asia, and Australia. He led 10- to 15-day excursions to corporate headquarters in technology and venture capital companies in Silicon Valley and the Pacific Northwest, experiences that helped many BSE students secure internships and jobs, noted Marilee Lindemann, executive director of UMD's College Park Scholars.
"Mark fully embraced the 'immersion' part of his programs, joining students in everything from zip-lining among the redwoods of California to sky diving in Australia," she said in an email to faculty and staff of College Park Scholars, calling him "a ceaseless innovator who worked hard to help students develop the skills they would need to succeed in a globally connected business environment and in life."
Wellman received the University of Maryland Brit Kirwan Undergraduate Education Award in 2010 in recognition of his exceptional contributions to the university. He received numerous other awards for teaching, including the Allen J. Krowe Award for Teaching Excellence and the Outstanding Faculty Educator award.
A funeral visitation will be held from 4 p.m. until 8 p.m. on Friday, Jan. 7, 2022, at the Eley Funeral Home & Crematory, 1102 Lincoln Ave. (St. Rt. 501), Wapakoneta, Ohio. A memorial service will be held at 1 p.m. on Saturday, Jan. 8, at the same location. Burial will follow in the Elm Grove Cemetery, St. Mary's.
Condolences may be expressed at Eley Funeral Home. A virtual memorial may also be visited at Smith Virtual Memorial.
In lieu of flowers, the family requests that donations in his honor be made to AdamGhat Ministries and the Samaritan's Purse.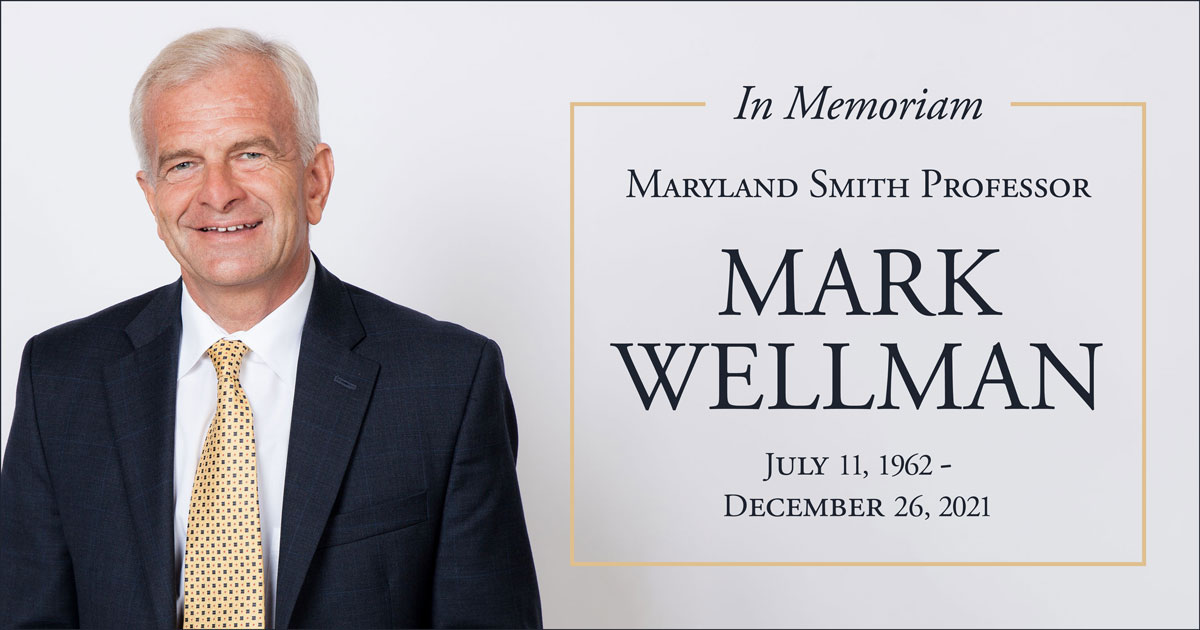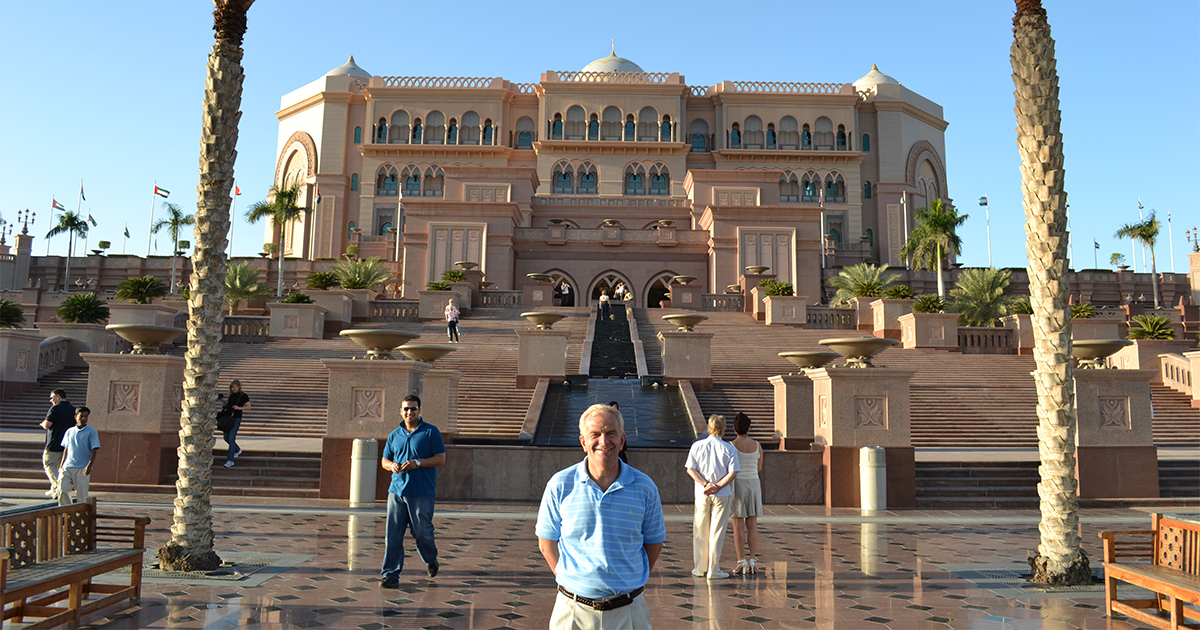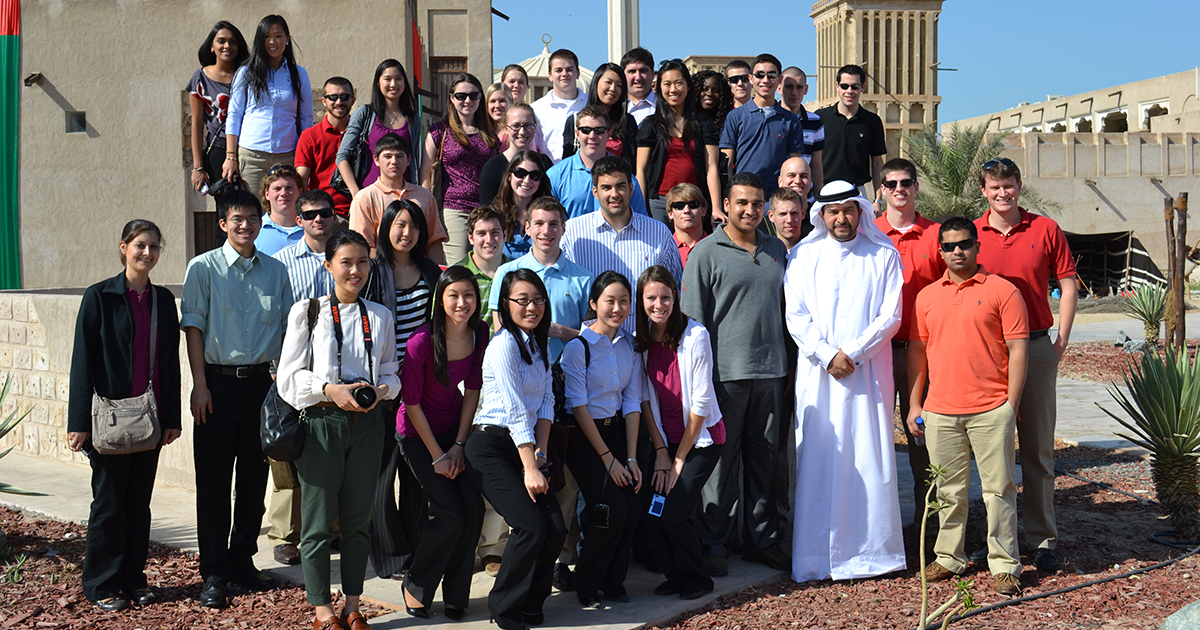 Media Contact
Greg Muraski
Media Relations Manager
301-405-5283  
301-892-0973 Mobile
gmuraski@umd.edu 
About the University of Maryland's Robert H. Smith School of Business
The Robert H. Smith School of Business is an internationally recognized leader in management education and research. One of 12 colleges and schools at the University of Maryland, College Park, the Smith School offers undergraduate, full-time and flex MBA, executive MBA, online MBA, business master's, PhD and executive education programs, as well as outreach services to the corporate community. The school offers its degree, custom and certification programs in learning locations in North America and Asia.