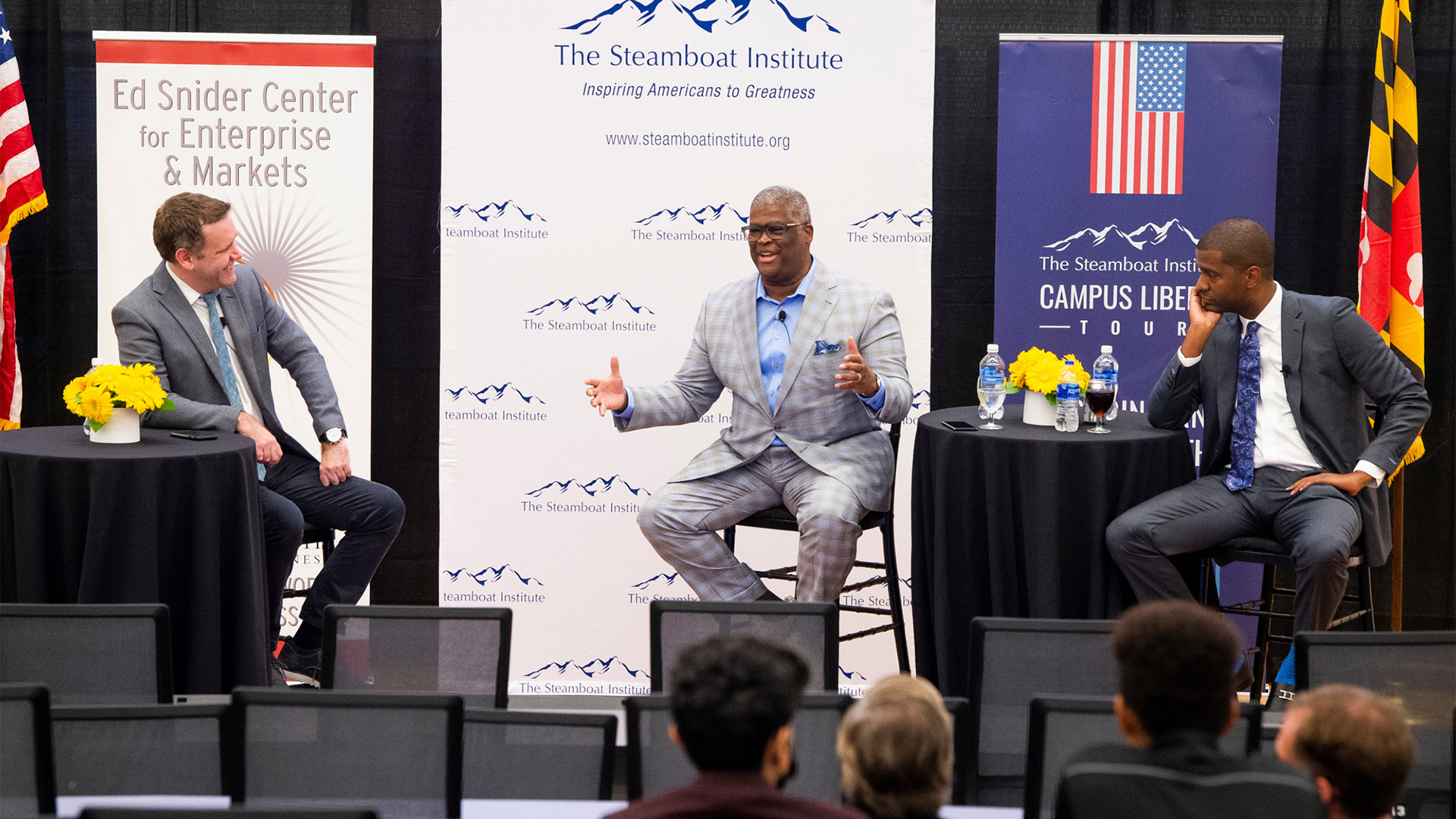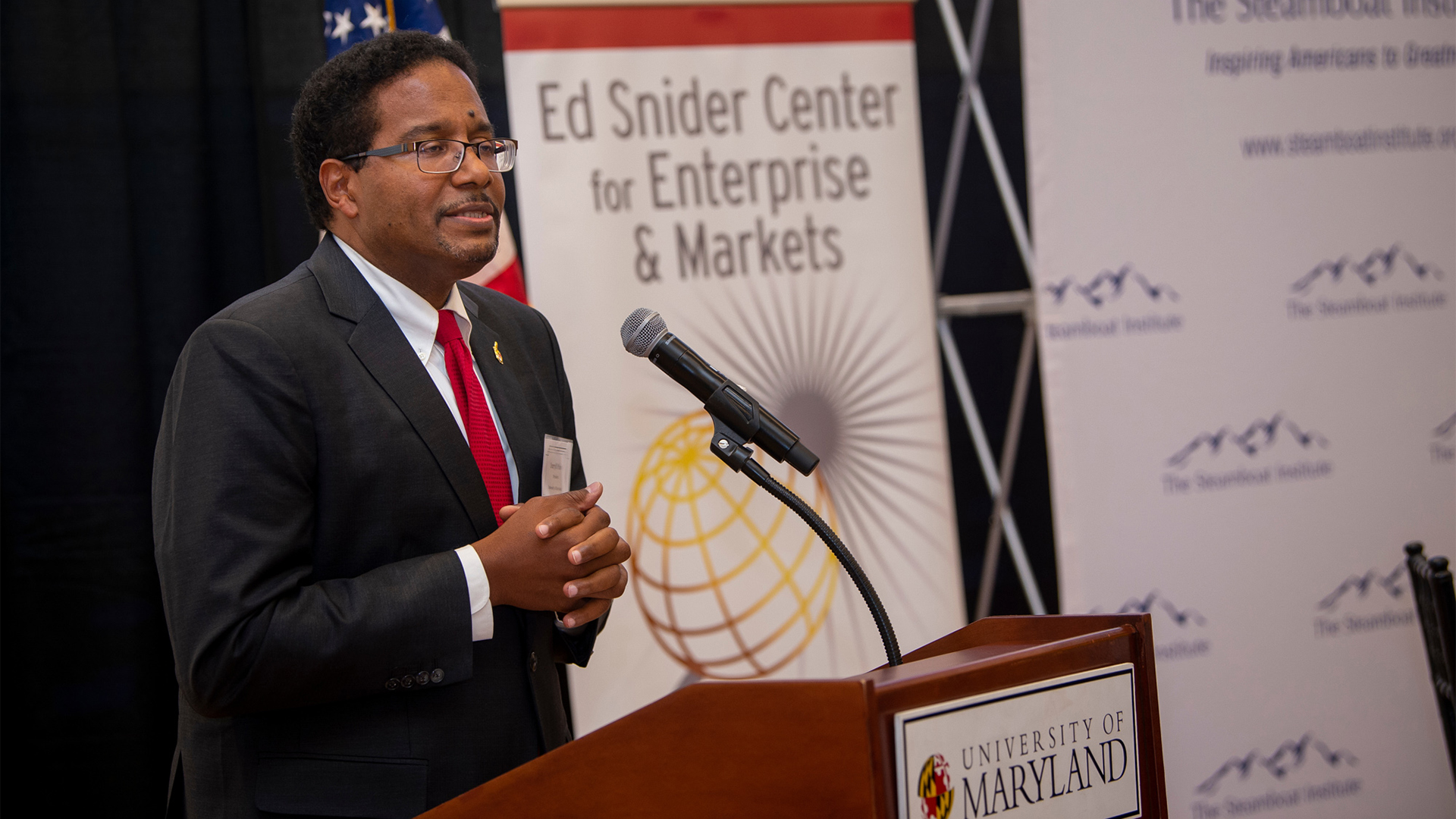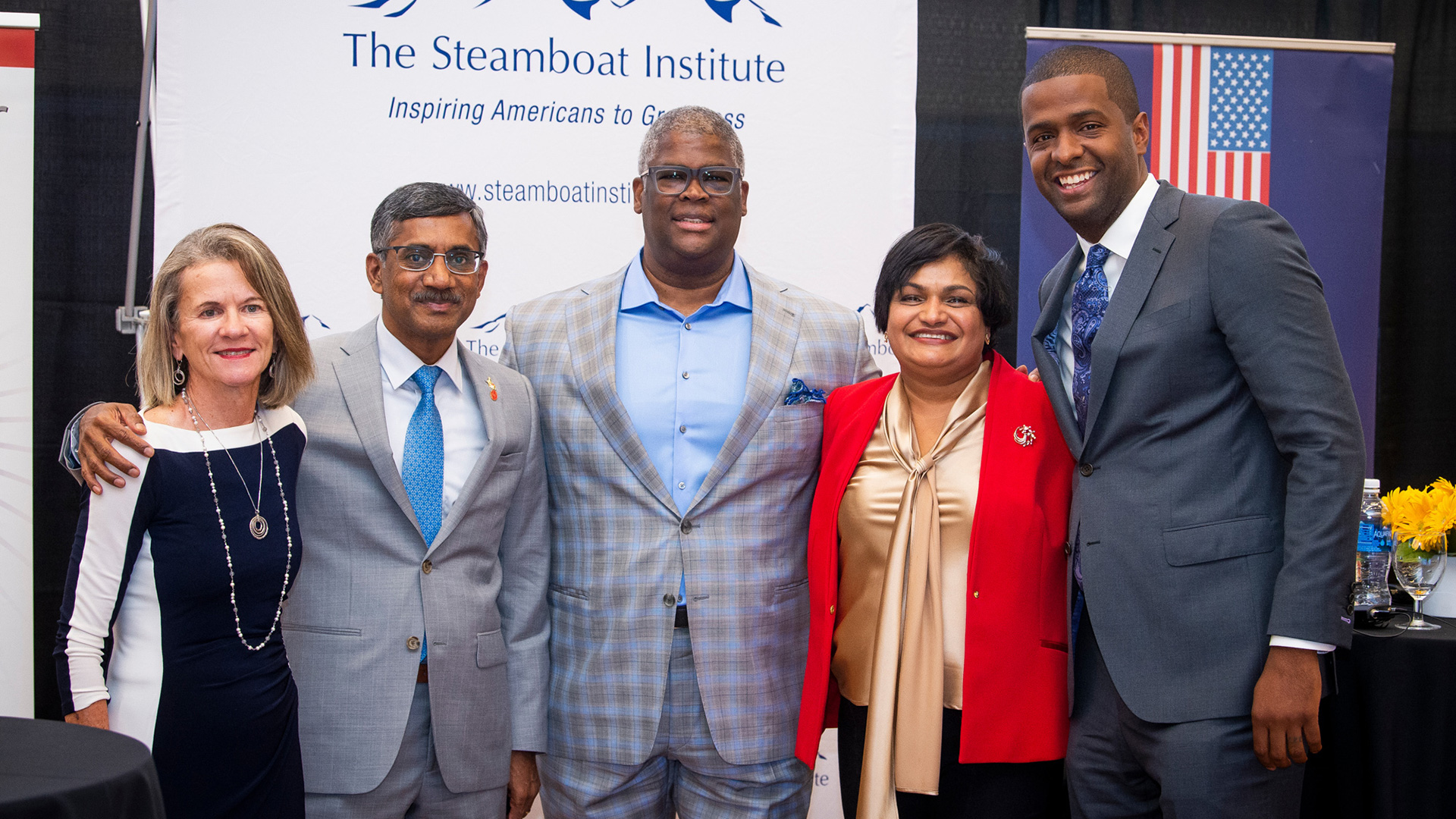 What is the best pathway to unlock opportunities that will allow Americans to realize their dreams? And is that route lined with government programs or free enterprise?
Those questions were at the center of a debate tour recently hosted by Maryland Smith's Ed Snider Center for Enterprise and Markets, in partnership with The Steamboat Institute.
The event, "Pathways to Personal Prosperity and Achieving Your Dreams: Government Programs or Free Enterprise?" featured Charles Payne, host of "Making Money" on Fox Business Network, and Bakari Sellers, CNN political commentator, and was moderated by Tom Rogan, commentary editor at The Washington Examiner and a Steamboat Institute Tony Blankley Fellow.
Payne, who later spoke about the tour on Fox Business, debated firmly on the side of free enterprise at the Maryland event, saying he disagrees with what he called "can't-ism – this idea that he can't and they can't. There are so many ways to get from point A to point B in this country." He argued in favor of improving K-12 education, but argued against raising taxes against wealthy Americans or corporations, subsidizing college education, increasing the minimum wage or adding regulations to achieve societal change. "Importantly," he said, "I think that there has to be some onus on the individual to grow."
Sellers argued that the government does have a significant role to play. Like Payne, he argued in favor of improving K-12 education, but he said that improving schools everywhere in the United States will require a revised and more equitable system of funding than what's currently in place. He argued in favor of expanded infrastructure spending, government-paid-for community college and universal pre-K, as a way of "getting kids off on the right foot." He argued that wealthy Americans and corporations should "pay their fair share" of taxes, to help middle-class Americans finance those endeavors. He also argued in favor of increasing the minimum wage. "If you live in this country and you work 40 hours a week, you should not be poor," he said.
At the opening of the event, Payne introduced himself, describing his early childhood as idyllic and "almost like a bubble," moving often but living a carefree life on Army bases across the United States and abroad. Later, however, he and his siblings moved with his mother to Harlem, where they struggled financially and spent the first winter without heat or hot water. Payne began working at 12 years old, scrubbing windscreens at stoplights and working in small groceries. "Being the oldest I said I've got to help my family; I've got to figure this out. And eventually I decided, well, like everybody else, you equate money with Wall Street so I started reading The Wall Street Journal whenever I could." He enlisted in the Air Force at age 17, would attend college, and become an analyst with E.F. Hutton in 1985. And he later founded a stock market research firm, Wall Street Strategies.
"I've been able to see all parts of life and I've been able to grow through that," Payne said. "I feel pretty lucky that I've seen it all firsthand. I've lived it all firsthand. I'm not guessing what other people do or think, and I'm not judging. I think where we are as a nation is: the most important thing is we get to know each other better, let down some of our guards because ultimately all we all want the same thing. And so that's what I'm here for."
Sellers, a lawyer and political commentator, described being elected to the South Carolina House of Representatives in 2006, the youngest Black elected official in the country at age 22. He then added, "I like to remind folk that my life has been bookended by tragedy."
In 1968, Seller's father was shot and 28 others were wounded, while three were killed, when state troopers fired shots into a group of students participating in a civil rights demonstration in what became known as the orange rug massacre. "It was the first time that law enforcement were actually charged with federal civil rights crimes for killing unarmed black folk. They were all found not guilty – I mean, history repeats itself," Sellers said. "The only person who was charged, tried and convicted over that night was my father, who was charged, tried and convicted of rioting." He said his father, a founding member of the Student Nonviolent Coordinating Committee (SNCC), was pardoned in 1990, but refused to allow his record to be expunged. "He wanted, you know, this country and everyone to understand the injustice that he went through."
He also described in 2015 the fatal shooting in Charleston, S.C., of "one of my very good friends," Clementa Pinckney, a state senator and pastor of the Emanuel African Methodist Episcopal Church, who was shot along with eight others by a white supremecist in a historically Black church.
"I think back to my father often and understand that he could have lashed out with righteous anger but instead he looked at this country a lot like I do and he believed in what Abraham Lincoln called 'the better angels of our nature' and so I approach tonight's discussion not thinking anything about this country is irredeemable. But I do think we have to reimagine what she looks like."
Open dialogue is one way to get to that reimagining, the event organizers and hosts said.
"Discussions like this are how we will generate fearless ideas for the grand challenges of our time," UMD President Darryll Pines said, opening the debate event on Oct. 27.
"We may not agree today on everything or arrive at answers or arguments that make sense for everyone. The good news is we don't have to agree with one another. Our responsibility is to raise questions, listen to one another's points of view, respectfully, with an open mind and move toward building a better understanding of the particular problem that we're talking about."
Maryland Smith Dean Prabhudev Konana, echoed those sentiments, saying the evening's discussion, held in person and live streamed, "gives us all the opportunity to ponder challenging topics. As President Pines said earlier not everyone will agree with every issue but it is valuable to listen to both sides with respect in order to understand different perspectives so we make things better for all in the future."
Universities are "truly the marketplace for ideas," Rajshree Agarwal, director of the Ed Snider Center, told the virtual and in-person audiences. "And  in that spirit of marketplace for ideas the Ed Snider Center has always hosted events such as what you're seeing and participating in now because we believe that rather than providing just one ideological perspective,  true conversations happen when we get into reasoned respectful discourse," she said.
"It may very well be that the speakers themselves may not change each other's minds but to the extent that they have helped you challenge and question your own perspective and open it up we will have succeeded, first and foremost as teachers and instructors for all of you students that are out there."
Media Contact
Greg Muraski
Media Relations Manager
301-405-5283  
301-892-0973 Mobile
gmuraski@umd.edu 
About the University of Maryland's Robert H. Smith School of Business
The Robert H. Smith School of Business is an internationally recognized leader in management education and research. One of 12 colleges and schools at the University of Maryland, College Park, the Smith School offers undergraduate, full-time and flex MBA, executive MBA, online MBA, business master's, PhD and executive education programs, as well as outreach services to the corporate community. The school offers its degree, custom and certification programs in learning locations in North America and Asia.