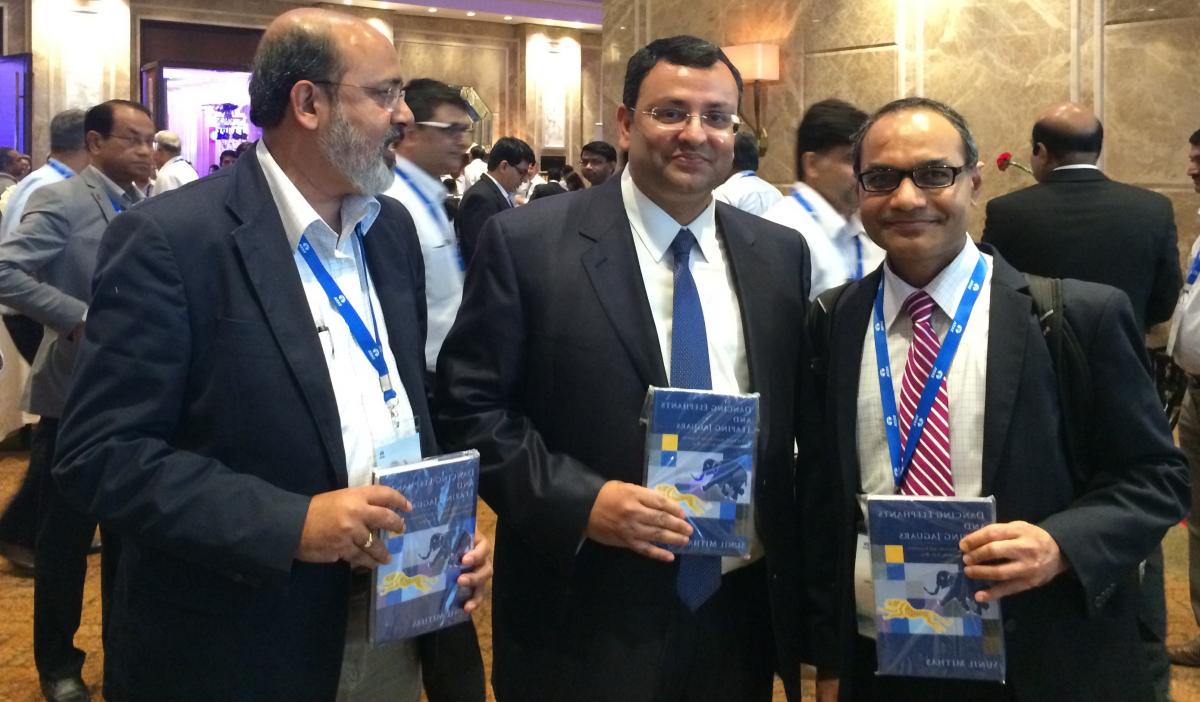 Tata Group acquisitions such as Jaguar Land Rover may have American consumers taking notice of the Indian company as a global force for the first time, but the company has been a subject of an in-depth study on how to transform large corporations by Sunil Mithas, professor of information systems at the University of Maryland's Robert H. Smith School of Business. His new book, "Dancing Elephants and Leaping Jaguars," documents the leadership strategies and management interventions that drove Tata's growth following the liberalization of the Indian economy in the early 1990's. Such peers as GE, Siemens and IBM have struggled to grow in comparison. Mithas, who recently discussed his Tata-based study in an "Innovation Engine" podcast, says his work gives "a framework for organizations to rediscover their potential and charge ahead using the levers of business excellence and innovation." 
Tata's Leap to Excellence
By Sunil Mithas
Because of its broad holdings and massive scale, the Tata Group is sometimes called "the GE of India." But in terms of growth, if not sheer size, Tata outsmarts its American cousin. GE had revenues of $146 billion in 2013, up from $54 billion in 1991. Tata lags GE at $103 billion today, but that's up from a mere $5.8 billion in 1992. Another eye-opening stat: Tata's revenues have multiplied 10-fold since 2002.
Although many consumers in the West took notice of Tata when it acquired brands like Tetley Tea (in 2000) and Jaguar Land Rover (in 2008), it has long been a dominant player in its home country in industries as diverse as steel, power, chemicals, hotels, technology services, and consumer goods like watches and jewelry. Today, sales from outside India account for about two-thirds of Tata's revenue, up from about 5 percent in early 1990s. Tata is the largest private-sector employer not only in India but also in the United Kingdom.
What is the secret of this Indian giant's success? As I discuss in my new book, Dancing Elephants and Leaping Jaguars, one key factor has been relentless focus on tracking and improving every measurable attribute of corporate excellence, from customer satisfaction to employee morale to strategy development and implementation. As it happens, Tata's corporate leaders were greatly influenced by the principles behind the Malcolm Baldrige National Quality Award, established in the United States in 1988 amid fears that Japanese companies were trouncing American companies in product development and follow-through.
While management fads come and go, Tata's steadfast commitment to this metrics-driven system has paid huge dividends, literally and figuratively. Few companies have so consistently used business analytics in a real sense to follow the blueprint laid out by the Baldrige criteria. 
In 1994, Tata's adopted what it called the Tata Business Excellence Model, to track seven broad categories, from "leadership" to "results," with multiple subcategories. Of course, most companies say they pay attention to customer satisfaction, but Tata's system means that companies have to prove that they do so to evaluators from outside the division. They do site visits. They drill down by asking managers questions like, "How do you know that you know your customers well?" They adjust the final scores based on what they see.
Tata also funds a group called Total Quality Management Services, with 30 professionals and a budget of about $5 million, to oversee the excellence program. Companies and divisions receive scores on a scale of 0 to 1000. In 1995, when the first companies and divisions were measured, the average score was 215. By now, more than 14 Tata companies or divisions have scored above 600, with the best annually awarded the J.R.D. Quality Value Award, named after J.R.D. Tata, the chairman of Tata Sons from 1938 to 1991.
Over the last decade, the Tata group has applied its metrics-driven approach to encouraging innovation among employees. The Tata InnoVista program rewards excellent ideas that are implemented and even those that do not come to fruition (that one is called the "Dare to Try" award). InnoVista creates products and efficiencies that add as much as $1 billion to the group's bottom line each year, according to internal estimates.
There are some areas in which the Tata group could stand to improve. By making pioneering investments in human capital, and other intangibles such as information technology and research and development, Tata can continue to thrive in today's knowledge economy, as it has done successfully in its close to 140 years of existence.  
The long-term effects of Tata's acquisition of Jaguar Land Rover remains to be seen, but some of the company' new products, such as the Jaguar F-Type, have excited customers and the automotive press. Tata has clearly passed the point of being a noteworthy Indian corporate giant. Thanks in part to its solid commitment to business excellence and innovation, it's a global giant. Tata's success demonstrates that even giants can dance if they can combine the discipline of consistent processes with autonomy needed for innovation.    
Photo: Sunil Mithas (right) launched his new book as part of the Dec. 10-11 Business Excellence Convention in Chennai, India. Attendees included about 300 senior Tata managers and executives, including Tata Group Chairman Cyrus Mistry (middle) and Sunil Sinha (left), resident director for Tata Sons, Middle East and North African Region.
Media Contact
Greg Muraski
Media Relations Manager
301-405-5283  
301-892-0973 Mobile
gmuraski@umd.edu 
About the University of Maryland's Robert H. Smith School of Business
The Robert H. Smith School of Business is an internationally recognized leader in management education and research. One of 12 colleges and schools at the University of Maryland, College Park, the Smith School offers undergraduate, full-time and flex MBA, executive MBA, online MBA, business master's, PhD and executive education programs, as well as outreach services to the corporate community. The school offers its degree, custom and certification programs in learning locations in North America and Asia.