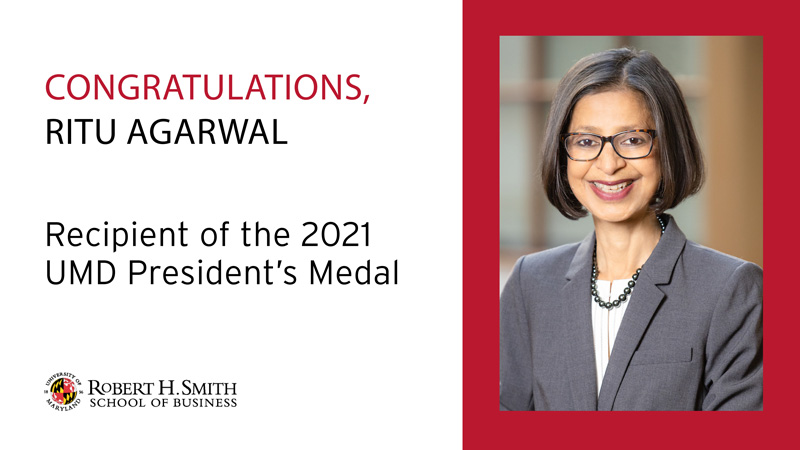 Often referred to as "superwoman" by colleagues for her tireless work, Ritu Agarwal has dedicated her career to enhancing the experience of students at Maryland Smith.
Now, the Distinguished University Professor and Dean's Chair of Information Systems will be recognized for her hard work and accomplishments as the recipient of the highest honor the University of Maryland bestows, the President's Medal.
"[This award] recognizes Ritu's exemplary record of sustained service, professional accomplishments and campus service, and her wide-ranging positive influence on the entire university community," Smith Dean Prabhudev Konana said in email to faculty and staff.
Agarwal has received numerous awards during her time at Maryland Smith, including the Association for Information Systems' prestigious LEO Award, which recognizes lifetime achievements in the field of information systems. She has also received all of the school's major teaching awards since joining the Smith School faculty in 1999. 
In addition to having taught at every level at Maryland Smith, Agarwal is a founding director of the school's Center for Health Information and Decision Systems (CHIDS). Her current research focuses on how information technology is used in healthcare, health analytics and artificial intelligence applications in health. She also started the annual Conference on Health IT and Analytics (CHITA) which acts as a leading research forum for technology, analytics and health for a variety of healthcare reform professionals and leaders. 
"Her unrelenting focus on excellence in every touch point at the university is now recognized with the President's Medal," said Konana.
Agarwal will join former Smith dean Rudy Lamone as one of only two Smith faculty to receive this award.
The President's Medal will be awarded at the 38th Annual Faculty and Staff Convocation, at 2 p.m. on Sept. 15. The event will be held at the Memorial Chapel (7600 Baltimore Ave., College Park, MD 20740) and will be livestreamed online. For more information, visit umd.edu/convocation.
Media Contact
Greg Muraski
Media Relations Manager
301-405-5283  
301-892-0973 Mobile
gmuraski@umd.edu 
About the University of Maryland's Robert H. Smith School of Business
The Robert H. Smith School of Business is an internationally recognized leader in management education and research. One of 12 colleges and schools at the University of Maryland, College Park, the Smith School offers undergraduate, full-time and flex MBA, executive MBA, online MBA, business master's, PhD and executive education programs, as well as outreach services to the corporate community. The school offers its degree, custom and certification programs in learning locations in North America and Asia.